TEAM USA Mosconi Cup XXIV
DAY ONE LINE-UP:
The captains have announced their picks and this is how the teams will line-up on day one of the partypoker Mosconi Cup.
The action begins 11am local time Las Vegas (2pm ET, 7pm GMT, 8pm CET)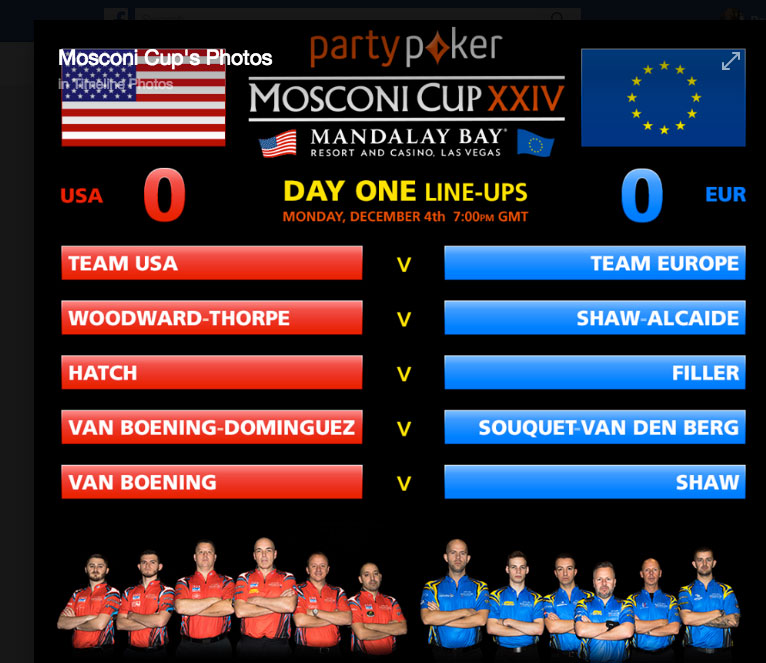 Caption Johan Ruisjink
Shane Van Boening (South Dakota)
Appearances: 10; Wins: 1; Matches: 60; Victories: 27.
Skyler Woodward (Kentucky)
Appearances: 2; Wins: 0; Matches: 10; Victories: 5.
Dennis Hatch (New York)
Appearances: 4; Wins: 1; Matches: 23; Victories: 11.
Oscar Dominguez (California)
Appearances: 1; Wins: 1; Matches: 6; Victories: 3
Billy Thorpe (Ohio)   (Debut)
ESPN3 To Broadcast partypoker Mosconi Cup In USA
Matchroom Multi Sport can today announce the 2017 partypoker Mosconi Cup will be shown live in its entirety in the USA on ESPN3, ESPN's multi-screen sports network.
Starting at 2pm EST on Monday 4th December, the partypoker Mosconi Cup is the annual Europe v USA 9-ball pool face-off, taking place at the Mandalay Bay Resort in Las Vegas, with Team America looking for their first win in eight years.
The ultimate champions will be the team that reaches 11 points first and play runs from Monday 4th concluding in an exciting climax on the afternoon of Thursday 7th December.
In addition, ESPN Latin America will bring exclusive coverage of the partypoker Mosconi Cup to South America.
Matchroom Sport Chairman Barry Hearn said, "We're excited that once again, ESPN has given sports fans across America the chance to see what is without a shadow of a doubt pool's greatest show.
"This year's partypoker Mosconi Cup should be a close-run thing and anyone who thinks the USA will be brushed aside should think again. Europe has had it all their own way for a long time now but I think they'll be in for a mammoth battle against an American side under the captaincy of Johan Ruijsink.
"The partypoker Mosconi Cup is pool at its very best and with so much at stake, it is a not-to-be-missed sports event," he added.
ESPN3 is ESPN's live multi-screen sports network, a destination that delivers thousands of exclusive sports events annually. It is accessible online at WatchESPN.com, on smartphones and tablets via the WatchESPN app and streamed on televisions through Amazon Fire TV, Apple TV, Chromecast, Roku, Xbox 360 and Xbox One.
The network is currently available to 95 million homes at no additional cost to fans who receive their high-speed Internet connection or video subscription from an affiliated service provider.
Follow the PartyPoker Mosconi Cup on www.mosconicup.com and @mosconicup across social media.