The 2nd Southern Classic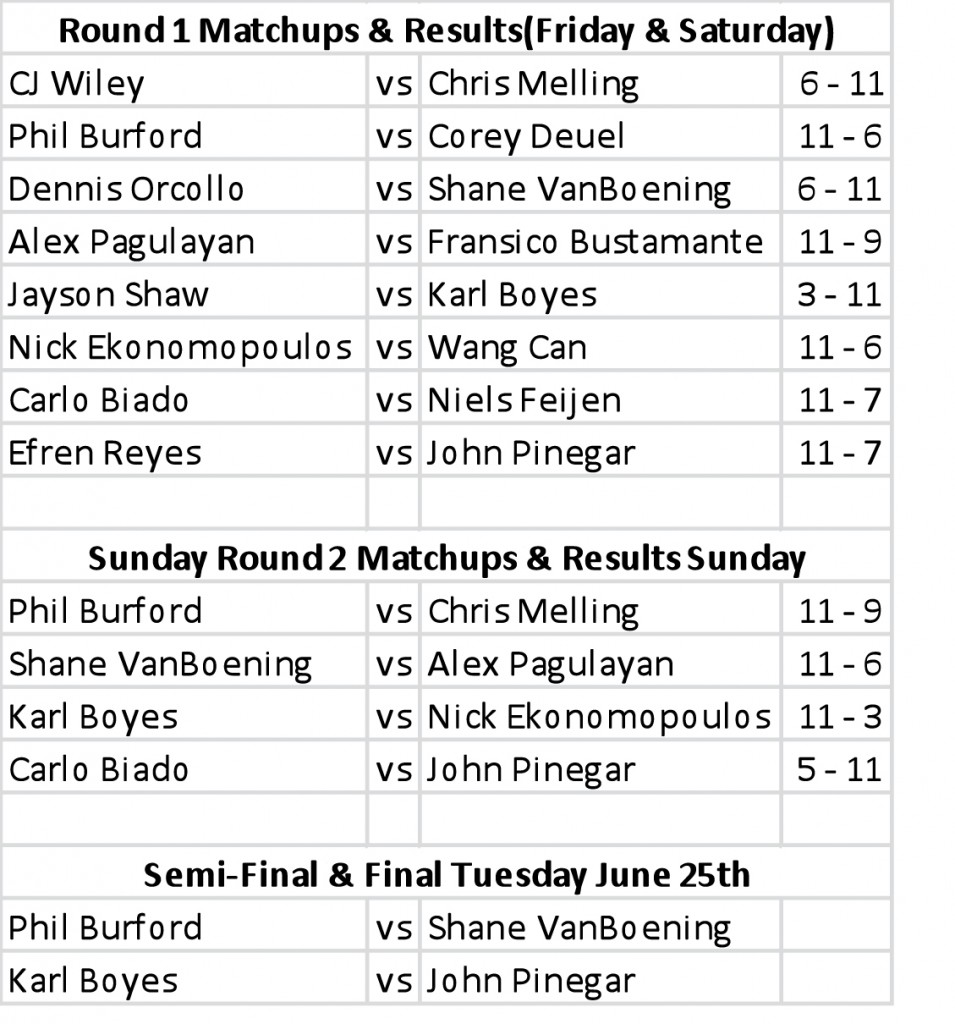 The Banks continued through round 8 on Sunday. There are now 5 players remaining going into the finals which are Monday night. The remaining players are John Brumback, Troy Jones, Alex Pagulayan, Richie Richeson and Skyler Woodward.  Alex and Richie are still playing without a loss going into round 9.  The match-ups for round 9 are John Brumback vs Alex Pagulayan, Troy Jones vs Skyler Woodward with Richie Richeson getting the bye.
The One Pocket kicked off on Sunday with a strong field.
The Big Foot Challenge completed round 2 (see the results below). This brings the field to 4 players and they are now all in the money. The semi-finals and finals will be streamed from the Accu-Stats arena on Tuesday.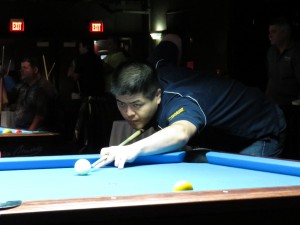 Huidji See
After two days of play the Banks competition is in the middle of round 5.  Going into Sunday, day 3, there are 30 players still alive in the Banks. There were two big items from Saturday.  The first item, Shane VanBoening after his second round loss to Huidji See he did not re-buy.  He second item was the fourth round match between young Skyler Woodward versus Efren Reyes.  The match went Hill-Hill to the last ball on the table before Efren put Skyler on his first loss.  Skyler after his re-buy drew another world champion, John Brumback.  Skyler put John on his first loss with as 3 to 2 defeat.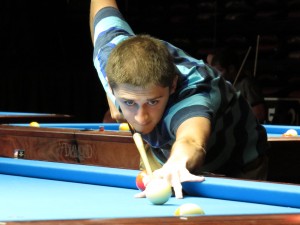 Skyler Woodward
Skyler is definitely a player to watch. There are three players with no losses that have completed 5 rounds, Justin Hall, Chris Melling and Alex Pagulayan.  There are also two players in round 5 on Sunday morning with no losses, Francisco Bustamante and Niels Feijen. Banks play continues at 10 AM Sunday.
The other action on Saturday was the Big Foot Challenge. Four matches were played to complete the first round of the single elimination event and the second round is scheduled for approximately 6 and 8 pm Sunday night.
The second Southern Classic kicked off on Friday June 21st with 123 banks players. The first round had 61 winners and the one bye went to Eldon Guittar.  There were 34 players that exercised their re-buy to go to the second round.  The second round starts at 10 AM on Saturday.
The Big Foot challenge also started on Friday. This is the 10 Ball on 10 foot Diamond tables.  The event is single elimination with a field of 16.  The following is the draw for the event and the results of the first four matches.
Results and Photo's by Ricky Bryant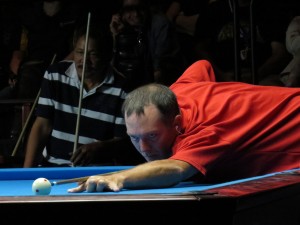 John Pinegar