Six of the greatest one-pocket players on the planet at Accu-Stats "Make-It-Happen"
"‹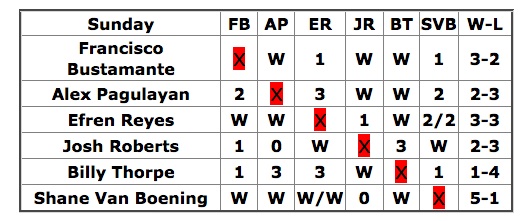 The game of One-Pocket is Accu-Stats' most popular discipline, the "chess game" of pocket billiards. We're proud of assembling a quality field with the best credentials anyone could ask for. This guarantees you match-ups that will be as hard as ever to predict winners.
This is Accu-Stats' fourth One-Pocket Invitational, and the tenth event in the "Make-It-Happen" series. After entry fees, travel, and lodging, players are usually out of pocket $2,000 before a ball is struck, but at "Make-It-Happen" events, the six players pay no entry fee, pay no travel expenses, and pay no lodging expenses. It's the one event players can't pass up. The chosen six will play in a round-robin format where everybody plays everybody else.
This kind of event has succeeded because supporters purchased the "Make-It-Happen" package. As always, 100% of the support money goes into the event. Accu-Stats takes nothing! This is a home run for six talented one-pocket specialists.
This four-day round-robin event was staged in the Aramith/Simonis Arena at Sandcastle Billiards in Edison, New Jersey. In addition to an all expense paid trip, each player will receive $1,000 for each win and YOU are guaranteed that every match will be of "finals" caliber.

Previous One-Pocket Invitationals were races to three. At this event, all races was to four and played on a regulation 9-Foot Diamond Pro Am Table with Simonis 860 Cloth and Aramith TV Balls. The best commentators in the business, Bill Incardona, Danny DiLiberto, and Kenny Shuman provided the play by play.
Finals 
SHANE VAN BOENING 4  EFREN REYES 2
Reyes won the lag and broke poorly. Van Boening made a bank combo and one more, then played safe. Reyes missed a bank and left Van Boening with a shot. Van Boening scratched in the far corner on a draw shot. Van Boening 2, Reyes 0. Reyes made one, then missed a combo. Reyes hung a bank and left a cut shot. Van Boening made it, but stuck on the rack. He kicked in the ball in front of Reyes pocket.  Van Boening led, 3-2. Reyes made a backcut bank, broke a cluster and made a ball for Van Boening, and completed a run of six and out.
Reyes left Van Boening a shot and he ran four but failed to play shape. Reyes made a long rail bank, then jerked during his stroke and missed. Van Boening now led, 4-1. He had an easy shot to begin with and he ran four and out to tie the match at 1-1.
Van Boening played safe, but sold out an easy shot. Reyes had a golden opportunity, but he only ran four, then sold out. Van Boening ran one, but froze on a ball with no shot. He tried a kick, but left a shot. Reyes, who was ahead, 4-1, ran four and out to take a 2-1 lead.
Van Boening made a long shot and ran three more before missing when jacked up. On his next turn he made a bank and ran three more to win the game, 8-0. The match was now tied at 2-2.
Van Boening made a ball for Reyes. He then fouled and Reyes now led, 1 to -1. Van Boening opened with a long back cut, then ran eight more for a superbly played run of nine and out! He now led, 3 games to 2.
Reyes struck first with a cross table long rail bank. Reyes kicked and fouled, and the score went back to 0-0. Reyes hung a bank and he left Van Boening with a single shot, so he made the ball for Reyes. 1-1. Reyes found a dead ball and he blasted the rack wide open – but only ran three, then jawed a bank. He left Van Boening with a hanger and he ran five and then made one for Reyes. Van Boening led 6-5. On his next turn he made a long railer to reach championship point leading 7-5. Reyes tried for a bank, scratched, and Van Boening made an easy shot with ball-in-hand to win the match, 4-2.
SPONSORSHIP
I am pleased to announce that Ivan Lee and Simonis Cloth will be sponsoring my coverage of the Make It Happen 1-Pocket Invitational. For more information of Simonis Cloth and Aramith balls, please be sure to visit their web site at:
COVERAGE
Coverage provided by Phil Capelle.