Pechauer Announces 2016 Winner and 2017 Cue to Support the Juniors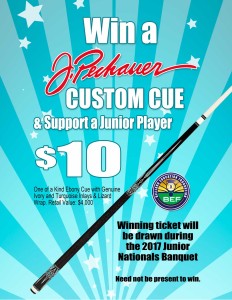 2017 Cue to Support the Juniors
August 17, 2016 (Denver, CO): J. Pechauer Custom Cues continued its support for the Billiard Education Foundation (BEF) and its junior players with their annual custom cue donation to the foundation. For the past three years, the custom cuemaker has donated a special cue each year toward the foundation's fundraising efforts. As part of an initiative this year to directly support more juniors, 100% of funds raised went to each individual student-athlete.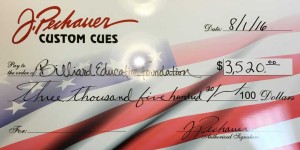 That's right. Over $3,500 was raised by the dozen youth players across the country who needed help raising funds to get to junior nationals. Shout out to 12-year-old Brianna LaRatta of Michigan and 9-year-old Samual Smith of North Carolina who each raised nearly $700 for their trips.
Congratulations to Bryan Rodriguez from Edinburg, Texas! His winning ticket was drawn during the Junior Nationals banquet to claim this year's custom cue & case valued at $1,100.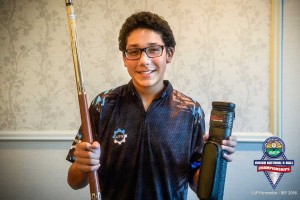 Pechauer steps up its efforts in 2017 with a one-of-a-kind Ebony Cue with Ivory and Turquoise Inlays and Lizard Wrap. This stunning work of art is valued at $4,100! The company hopes more players will take advantage of this opportunity to sell more tickets and raise more funds to help them get to junior nationals.
"I am thrilled to have the opportunity to contribute to the BEF and support the junior players who are the future of our sport. Through the support of the BEF, I've been so impressed with how these kids and their parents balance academics and their love for billiards," said Joe Pechauer, owner of J. Pechauer Custom Cues.
Tickets for this exquisite cue are being sold now by the 18 players that will be representing the U.S. at the upcoming World Junior 9-Ball Championships in Shanghai, China. They are also available here:
http://billiardeducation.org/2017-pechauer/
Pechauer also plans to continue their support of the Junior State Championship program in 2017. Stay tuned for more details.
About the Billiard Education Foundation (BEF)
The BEF was formed in 1993 as a 501(c)(3) nonprofit charity committed to promoting a lifelong love of pool and building the next generation of players through youth programs and academic scholarships. Visit billiardeducation.org or call (303) 926-1039 to learn more about junior billiard programs in your area.
About J. Pechauer Custom Cues
Founded in 1963, J. Pechauer Custom Cues is a family owned, 2nd generation custom pool cue maker. Every Pechauer cue and its components are American made in their facility located in Green Bay, Wisconsin. Winner of multiple ACA People's Choice Awards, Pechauer is focused on quality, innovative designs and providing outstanding customer service. For more information, visit www.pechauer.com or call (800) 934-7735.