Krome Billiards Arkansas Open 9-Ball Championships Huge Sucess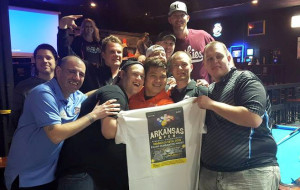 A big shout out to the crew at Krome Billiards for their tireless effort at the Inaugural Arkansas Open this past weekend.
This event was SO huge for pool in Arkansas. To fill a field of 128 with still a week to spare is pretty amazing. To do it on the 1st try is almost unheard of.
The field of players was also really strong. From the Minis on Friday night till the finals between Roberto Gomez and Shane Mcminn on Sunday……any given table had a champion on it.
All of our local players jumped in and helped wherever they could. Big Truck Ray Hansen did an excellent job as our auctioneer for the Player's Auction and put outs a great stream at every event. Finally, a big THANKS to all the pros and road players who took a chance at this first-time event. They could have hit other ones, but they gave Arkansas a shot.
Also thank you so much to our anonymous donor, who gave an additional $2000.00 which allowed us to pay 36 more spots than we would have.
We plan on continuing to put Arkansas on the pool map. Look for our next event coming this Fall!
$3,000 Added
Payout              Auction
1st $3,070         + $6,765
2nd $1,500       + $3,285
3rd $1,140         + $2,518
4th   $800         + $1,740
5/6th  $525       + $1,160
7/8th  $300       + $675
9/12th $150       + $338
$2,000 Extra Donated to prize fund
13/16th   $110
17/24th   $75
25/32th   $50
33/48th   $35