Kiamco Blanks Hohmann: Fulcher Runs 103: Filler Creates Buzz at Andy Cloth 75th World 14.1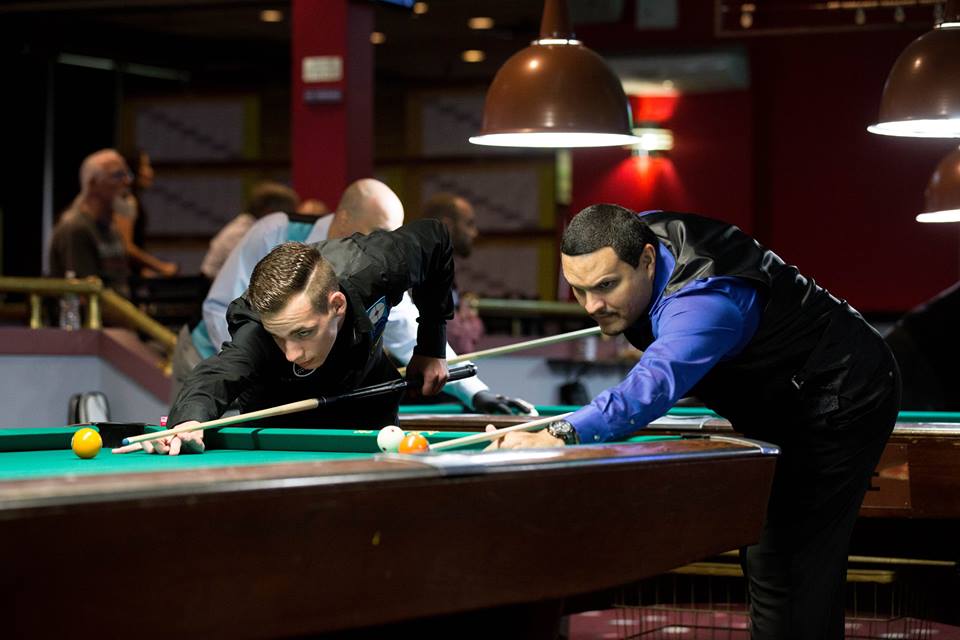 Photo Credit to Charles Eames Photography
Day 2  17 year old European Junior champion Joshua Filler has had a lot of hype built up before the event with numerous requests to put him on the stream. He is living up to it.
New York City, NY – In some dramatic matches, it was another record setting day of runs on Day 2 of the Andy Cloth 75th World Tournament of 14.1 . 3 Times World 14.1 Champion Hohmann ran into a buzzsaw named Kiamco and USA favorite Danny Harriman held a good lead before Scotland's Jonni Fulcher ran a tournament high 103. And young German Joshua Filler is all the buzz with his fast paced offensive style taking down champions. A who's who of world class players are in attendance to etch their name into history's elite of the father of all pool games. Darren Appleton, Thorsten Hohmann, Stephan Cohen, Shane Van Boening, Johnny Archer, Earl Strickland, Mika Immonen, Tony Robles and many, many more. The main event will take place once more in New York City. Dragon Promotions is pleased to keep the oldest billiard event in the world alive with the 75th production on July 13th-19th, 2015. As usual, a star studded field is expected this year at Steinway Billiards Cafe, who is once more hosting this world class event. The World Tournament Official Equipment include Viking Cue with all matches played on Andy Cloth. Event partners include Mr.Tom Gleich, Dr. Gregory Diehl, Mr. Greg Hunt of Amsterdam Billiards, & Mr. Jim Gottier of Greenleaf's Pool Room. Patron sponsors include Mr. Harold Siegel of Excelsior Graphics, Dr. James Heller, Mr. Charles Eames of Charles Eames Photography, Frank Scharbach of Frank's Billard Cafe, Focused Apparel and the National Amateur Pool League.
The World Tournament will be live streamed on AZBTV , order by going to www.worldstraightpool.com . Official media partners are www.NYCGrind.com , Pool & Billiard Magazine, & tech support by Gotham City Technologies.
Complete group schedule at www.worldstraightpool.com for all matches. Tickets to watch live in person sold on site.
In a feature match, Warren Kiamco (PHL) was up against Thorsten Hohmann (GER), for more than likely the decider on who would win the group and get a bye in the round of 24 next. For those who remember last year, Kiamco knocked Hohmann out in the final 16. And he didn't look like he was concerned with revenge when he ran a perfect 101 to skunk the 3x World Champion 100-0. Hohmann still looks good to qualify with the second spot in the group.
Dennis Orcullo hasn't broken a sweat yet with his win over Bob Jewett, and Roberto Gomez has cruised to undefeated matches. Actually, all three Filipinos who entered the event remain undefeated for a 15-0 record collectively.
On the opposite side, Mika Immonen faces a challenge as he has dropped 2 losses already and will need to win both his final matches on Day 3 to qualify. He nearly spoiled his chances to even advance last night when Eisenberg of CA needed only a rack to finish off the Iceman, but Mika came back for a narrow 100-86 win.
Danny Harriman also escaped Frankie Hernandez's comeback and will need to win his remaining 2 matches to qualify.
Junior European champion Joshua Filler was wiped out on Day 1 by another fast shooter Jayson Shaw of Scotland, but today he showed his talent by defeating one of the event's darkhorse favorites Tony Robles 100 – 39.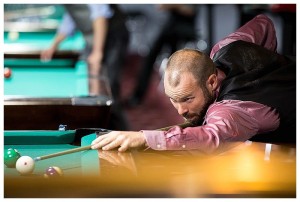 Fulcher living up to his 14.1 passions taking on the high run of the event
Down 53 to -3, Jonni Fulcher made an amazing comeback with a 103 ball run against Harriman and now carries the event high run. But with 4 days coming up with races to 150, 200, and 300, it's likely there will be bigger runs to come!
Germany's European Seniors champion Reiner Wirsbitzki also went to 5-0.
Day 3 will conclude with 32 players eliminated from the field and remaining 24 players in the money, racing to 150 points, and in the hunt for the World 14.1 title.
Tonight 8pm Hall of Fame Banquet Live Streamed for FREE at www.Ustream.tv/channel/azbtv