Pedro, wins 2nd year in a row Champion of Champions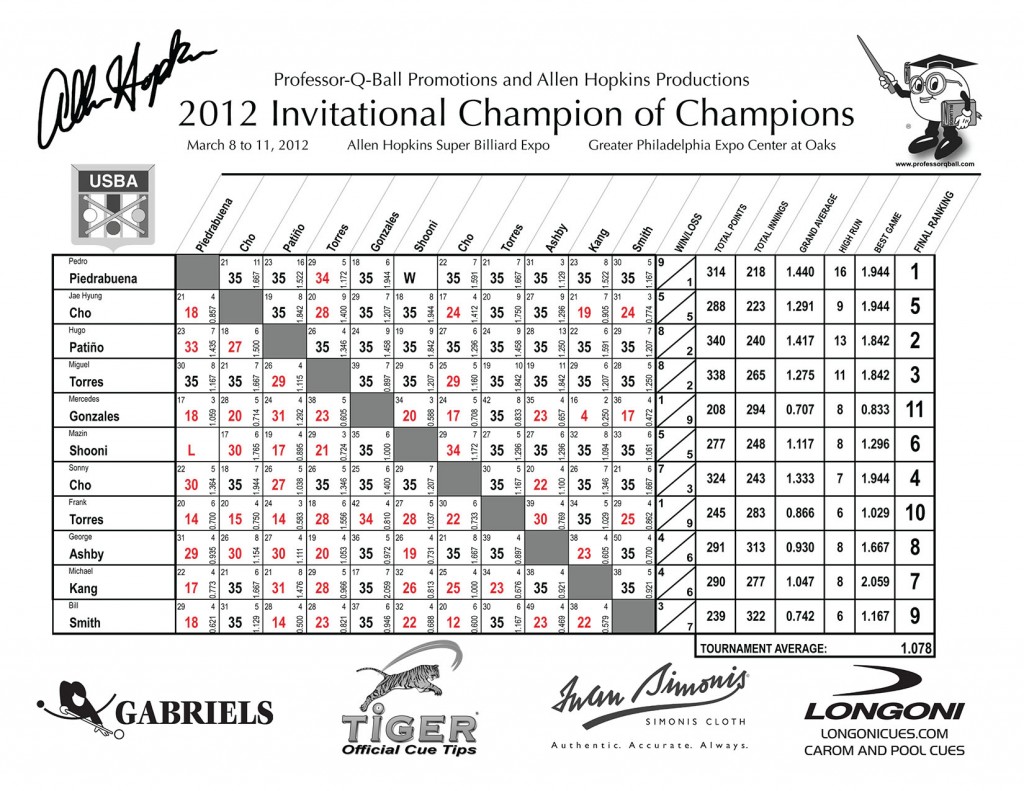 After four days of play, Pedro Piedrabuena had only to make one more billiard to repeat as the winner of the prestigious Champion of Champions invitational tournament at the Allen Hopkins' Super Billiard Expo in Oaks, Pennsylvania.  Holding a precarious 35 to 33 lead over Hugo Patiño, Piedrabuena stood at the foot of the table and eyed the three balls, which rested unfavorably in a line, with Piedrabuena's cue near the foot rail, ball number two in the middle and ball three near the head spot.  A miss would allow Patiño back to the table.  A victory by Patiño would give him the trophy.
Earlier in the game, Piedrabuena built a solid lead over his rival with stellar play, including a marvelous run of 16, but Patiño stormed back just when it seemed Piedrabuena had it won.  Knowing that he could not let Patiño back to the table, Piedrabuena pondered the situation for well over a minute.  A three rail natural was impossible, and a five rail had more kisses than Hershey's.  There seemed no easy solution.  Finally, Piedrabuena leaned over the table.  After half a dozen practice strokes, he struck the cue ball, feathering the first object ball.  The crowd followed the rolling ball along its path: the cue struck the long rail, then the short, then traveled the length of the table and touched the opposite short rail.  It rebounded off the third rail and rolled straight and true toward ball three.  When it made the billiard, Piedrabuena dropped to his knees, triumphant and exhausted, and the crowd erupted in applause.  One post on the chat room on the live stream summed up the shot: "Wow!"
Piedrabuena's last shot was a fitting end to the fabulous event, which was sponsored by Paul "Professor-Q-Ball" Frankel and endorsed by the USBA.  Gabriels, the Official Partner of the USBA, supplied three newly designed Kronos tables cover with Simonis 300 Rapide cloth. Mechanic Yura Ra of New Jersey and his helpers made sure the tables were set up the day before the event so the players had enough time to practice.
 Special thanks from all the players and myself to Chad Scharlow of Diamond Billiard Products whom supplied the Diamond Professional Tournament Edition Lighting for this great event. 
 All the players want to thank Allen Hopkins Productions who generously donated $5,000 & Trophy to the winner. 
Eleven of the best players in the United States participated. With ten former national champions, and two runner-ups, the field was tough and experienced.  Piedrabuena proved to be the best over the four-day event, losing only once and posting a 1.440 grand average. Close behind was Hugo, who suffered two loses and had the second highest average at 1.417. Finishing third was Miguel Torres with a record of 8-2 and an average of 1.275.  Sonny Cho took fourth (1.333), and Jae Cho finished fifth (1.291).
Each of the other participants played well.  Bill "Mr. Three Cushion" Smith returned to competition after many years and posted several wins, including a victory over Jae Cho on the first day.  Mr. Three Cushion was hampered by recent eye surgery, and he played with an artificial lens over one eye, which caused great discomfort and affected his play. Mercedes Gonzales played well throughout the tournament (save for the last two games), but she could manage only one win.  Mazin Shooni suffered a devastating loss to Sonny Cho on day one.  Leading 34 to 28, he missed his out shot by a hair, and Sonny ran 7 and out. Shooni finished sixth.  Michael Kang had a notably win over Jae Cho and finished seventh.  George Ashby started slow but finished with strong victories on the last day.  He took eighth place. Frank Torres struggled with the slippery and fast tables.  By the time he rounded into form on the last day, the tournament was over. The overall grand average was 1.078.  The overall prize money was $15,500.
To the Champion of Champions Official sponsors – Allen Hopkins Productions, Gabriels, Longoni Cues, Tiger Products, Simonis (and to all those who made individual contributions)- Special thanks goes out to all you in making this event a huge success.
Special thanks also goes to Jamie Sibley who plays out of Southside Billiards from Savannah, Ga.  Jamie worked long and hard under adverse conditions to get the Live-Stream up and running.
Salvatore Dinenna was the proud winner of the Longoni Cue (Dick Jaspers model).
Special thanks to Tom Paley, USBA board members (Andy Janquitto, Doug Deitel and Merrill Hughes), and our Tournament Director, Charlie Brown.
Prize Fund
1st Place $5,000.00
2nd Place $2,000.00
3rd Place $1,500.00
4th Place $1,200.00
5th Place $1,100.00
6th Place $1,000.00
7th Place $900.00
8th Place $800.00
9th Place $700.00
10th Place $600.00
11th Place $500.00
Best Game $100.00
High Run $100.00
Total $15,500.00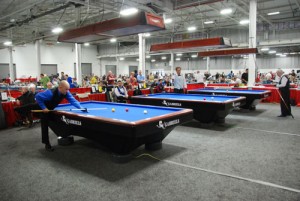 The Champion of Champions event opened Thursday morning with 11 of the best players in America, each a former national champion or second place winner, anxious to prove who would lay claim to this year's title.  Following a short practice schedule on the three Gabriels Kronos tables, the first round began.  Last year's trophy holder, Pedro Piedrabuena beat Bill Smith (35-18/30/29) on table 1.  Miguel Torres, after driving 3 hours from New York and testing the table for a few minutes, won the lag and soon was in the midst of a run of 10. A 35 to 20 victory over Frank Torres in 19 innings quickly followed.  Not to be outdone, Hugh Patino had a run of 13 in his opening round victory over George Ashby (35-20/28/27).
Good play continued during the second round.  In a mild upset, Michael Kang bested Jae Cho 35 to 19 in 21 innings.  Hugo Patino won his second of the day by a score of 35 to 14 over Frank T. in just 24 innings.  Sonny Cho topped Mercedes Gonzales in 25 innings, holding his opponent to 17 innings.  Mercedes played well but missed several close billiards and could not keep pace.
The struggles began in the third round.  Mazin Shooni averaged 1.0 in beating Mercedes, who scored but 20.  Again, Mercedes missed half a dozen close ones, and it was clear that both she and Mazin had trouble adjusting to the slippery and long tables.  Pedro won his second of the day but also had trouble, needing 31 innings to defeat George Ashby, who managed 29 in the same number of frames.   But the real story-and the first surprise of the event-happened on table 3 in round 3.  Bill Smith and Jae Cho traded billiards for the first dozen innings, but Mr. Three Cushion started to pull away after the score was knotted at 10.  By playing careful defense, Smith left his opponent without any good leaves inning after inning.  Gradually, Smith pulled away, finally securing a 35 to 24 victory in 31 innings.
At the end of two rounds, Pedro Piedrabuena has two victories and is averaging 1.148.  Hugo Patino also has two victories but a better grand average, at 1.346.  Mercedes Gonzales, Frank Torres, Jae Cho and George Ashby are winless, each 0-2.  Bill Smith is 1 and 1, and Michael Kang, Miguel Torres and Mazin Shooni are each 1-0. The tournament average is at 1.064.