The Pros Giving Back-By Bob Hunt

In Memphis and Tennessee on a whole, smoking laws shut our youth out from enjoying the game we love so much. Shut out of billiard facilities where we learn, compete, and interface as adults. Poolroom owners suffer from a fear of losing business if they go nonsmoking. I suppose this is understandable from a business point of view, but sad. What do these kids do? Well, in Memphis, we fortunately have the Boys and Girls Clubs who promote and support the game we love to play. Teaching these children falls on the shoulders of volunteers. Obtaining volunteers and mentors in Memphis to work with these children is totally another matter!
I always have a lot of volunteers that want to help, but few actually do. HighPockets owner Tracy Whitney is a great leader and source of help. Tracy is kind enough to keep all of our cues up to standards at no charge. A couple of weeks ago at HighPockets, I was asking the house pro to demonstrate some teaching methods to use on my Boys and Girls Club students. Robb Saez, the house pro became excited by what I was doing and immediately volunteered to help. Robb also said he would approach his friend and pro player Shane McMinn to give us a hand. Robb stated he would like to give back to the people that have helped him through his career. I was a little shocked, because this is not the reaction I am used to receiving.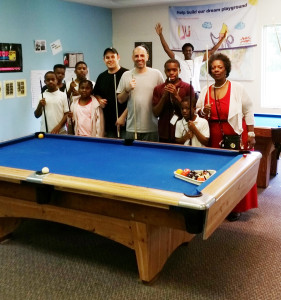 Well, we set up a date and yesterday both Robb and Shane showed up at the Oakhaven Boys and Girls club to work with our young players. This was a real treat for me, our kids, and the director of our club. For once, I got to sit back and watch enthusiasm grow in the room as these two players began to work. All of our kids became involved, amazed, and curious about the level of skill that they were witnessing. Trick shots brought smiles to all. These kids have never been around professional players before. Robb and Shane worked with them on stance, stoke, all the basics. They eventually played games like Cut Throat and Nine ball with the kids, coaching them through the session. We have two tables and both players were right at home.
I cannot thank these players enough for their involvement and time. I think the look on those kids' faces said it all. Taking the time to give back is something we all need to think about. Following the example these two set is primary to our sport. Hopefully, more players will come forward to support and grow our sport. You do not need to be a pro to mentor and teach the youth in our city. Adult involvement is in short supply and key to solving the problems our youth suffer in society today.   The Boys and Girls Clubs of Greater Memphis is constantly working toward these goals mentoring our youth in a positive direction. They cannot do it alone and without your help! Robb and Shane are definitely leaders in our community and set a standard that we all need to follow. Thank you Robb and Shane for a job well done and we hope you will continue supporting the future of our sport.
Thank you for reading and please feel free to contact me, GoodRolls@aol.com. We need mentors and pool instructors like Robb and Shane to keep our sport alive and support our youth. Come and join us, everyone is welcome. This is a chance to give back to your community in a positive and needed way.