Ferrara, DeAmato Win at Amazin Billiards Nationals Qualifier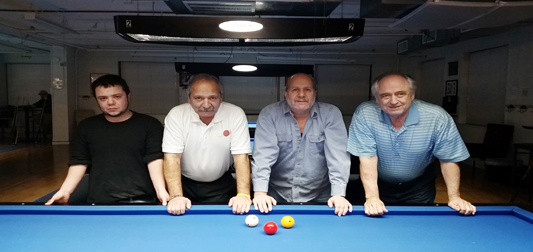 Left to Righ: Tony Ferrara, Joe DeAmato, Bob Page, Charlie Delorme
Ferrara, DeAmato Win at Amazin Billiards Nationals Qualifier
MALDEN – Tony Ferrara and Joe DeAmato secured spots at the USBA 3-Cushion Nationals during the qualifier held at A'Mazin Billiards Sunday, January 11, 2015.
Ten 3-cushion players competed for the two spots in the Nationals, two be held in New York this year. Two flights of five playing to 25 points with the top two players heading into a four-man final, also to 25 points, was the format decided upon.
One flight had Myron Goldenberg, Eric Zeiwey, Scott Hewitt, Charlie Delorme and Bob Page in it, while the other five-man flight consisted of Tony Ferrara, Bob Ferrara, Dave Egdahl, Kevin Perry and Joe DeAmato.
Ferrara went undefeated in his flight and advanced alongside of DeAmato, who finished 3 and 1.
In the other flight, three players finished 3 and 1 leaving the result to be determined by points scored. Delorme, Page and Hewitt (all 3 and 1) took turns beating each other, but Hewitt lost out by scoring only 14 points in his one loss. Delorme and Page advanced to the final four.
The final had a round robin format. Game one saw DeAmato beat Delorme 25 to 10 while Ferrara edged out Page by 25 to 24. The winners and losers matched up in round two, resulting in another Ferrara win over Delorme 25 to 15. DeAmato bested Page with the tournament's best averaging game, 25 to 5 in only 11 innings.
As a result of two 2 and 0 records versus two 0 and 2 records, the third round was cancelled as mathematically Ferrara and DeAmato had already secured first and second place and became winners of the qualifying spots into the Nationals.
The tournament was highly competitive and lasted a grueling 12 hours for the four finalists.
Congratulations to Tony Ferrara and Joe DeAmato on their wins, and to all the players who participated. A sincere thanks to A'Mazin Billiards and Mazin Shooni, the Tournament Director