Day 3 Mosconi Cup
3rd December
2014 PartyPoker Mosconi Cup
Europe within two points of five-peat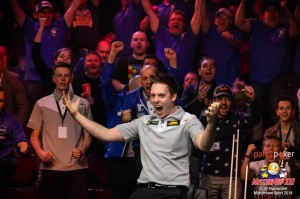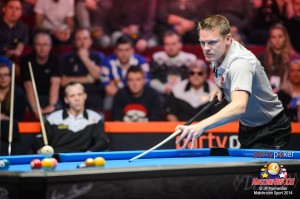 EUROPE 9-5 USA
Boyes / Ekonomopoulos 5-3 Schmidt / Hall
Nikos Ekonomopoulos 3-5 Justin Hall
Gray / Boyes 5-3 Deuel / Schmidt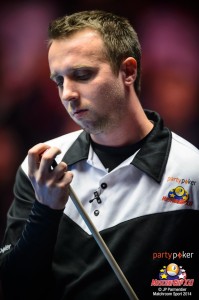 Feijen 5-2 Bergman
EUROPE WON three of the four Wednesday night matches to leave themselves four points clear of their American opponents and within two points of their fifth consecutive PartyPoker Mosconi Cup win following a torrid night at the Tower Circus in Blackpool.
The Americans needed a big session as they trailed 6-4 from the previous night but bad rolls and some poor performances ensured that didn't happen as the Euros increased their vice-like grip on the coveted trophy.
"The Americans are still breaking well but the situations were a bit tougher," said Euro skipper Johan Ruijsink.
"We didn't play our best earlier, it was scrappy at the start of the night but if you win scrappy matches that is huge. If you don't play well but win that hurts the opposition.
"Anything can happen in any match but it would be an ideal plan to immediately step to ten points with Darren tomorrow. We don't want to be over confident because it is the Mosconi Cup and if they pull one or two matches back we are in trouble again and the pressure is back on us. I'd like to win it in the first three matches tomorrow."
For Mark Wilson it was a dispiriting evening. "It is disappointing because this is decision day and we could have made some progress. We had enough shots but we didn't take advantage of them and you are vulnerable to some misfortune when you do that.
"Maybe the crowd and the week have got to them a little bit and I am sort of glad that we do have tomorrow because I feel we can come back well. I feel if we come out tomorrow, put our big horses out there early, get some momentum and catch a break then we can do it.
"Naturally the first match tomorrow is enormous. Shane, up to this point, has not had a chance to perform but that is just the way it has gone."
The opening game was a comedy of errors as John Schmidt and Justin Hall gifted opportunity after opportunity to the European pair of Karl Boyes and Nikos Ekonomopoulos, who ran out 5-3 winners.
The Euro pair hardly covered themselves in glory but with the presents they were getting it didn't really matter. The low spot was when Schmidt impossibly scratched into the middle pocket as he knocked the 9 ball in down the rail, but there were others.
That took the score to 7-4 as it began to look ominous for the Europeans. However, Justin Hall dug out a fine win over Ekonomopoulos in the opening singles match of the evening.
5-3 was the score line and it was a tense battle as Hall held his nerve under pressure. The 27 year-old has looked relaxed throughout the event and his temperament stood him in good stead tonight.
He ended the match with a difficult 4/9 combination much to the relief of his team mates.
Commented Hall, "I could have run the rack out but the four ball was close and I would need to pinch the cue ball and I might not get a good shape on the five. I was trying to go for the win.
"I felt like I had to win. It felt like I was going to win but we had so many things happen in the first match that I was trying to clear my head and not think about it. It is tough to lose and go out there and play again straight away so I had to clear my head. Our whole focus in this Mosconi Cup is to keep the heat on them.
"I am not really happy with how I played but at least I got us a point."
John Schmidt's miserable night continued as he and Corey Deuel relinquished a leading position to allow Karl Boyes and Mark Gray to win the Euros second point of the evening.
At 3-2 in the lead, Schmidt missed a 5 ball that he should have made which allowed the Europeans to level. A break and run in the next put them on the hill and when Schmidt's failed safety left the 2 ball open it was game, set and match.
It was Gray's first point of the 2014 Mosconi Cup and well-deserved as the European lead moved to three points.
"I have played as well as anybody else, I am breaking well and making balls, but before tonight there had been ten break and runs against me," said Gray.
"You feel like you have to play like God to win your match and you try your hardest and it is nice to be on the winning side this time.
For Boyes, it was an impressive performance coming off the back of a defeat; "Nikos was in a great position after coming off a doubles win with me and made a few good shots in our doubles, but had a bit of a mental block halfway through his singles match and Justin Hall played really well.
"So it was important we went out there and put that behind us and got the win because 7-6 instead of 8-5 is massive for America and their confidence.
"Schmidt is really struggling in the arena. He is twitching a lot of balls and is a bit edgy. Justin and Shane have been the star two players. We are a solid team and we back ourselves to pot balls against anybody in the world. "
The final match of the day saw Niels Feijen take advantage of a nervy Justin Bergman to win the third European point of the evening.
The Dutchman said, "Bergman has looked pretty solid and playing nice shots, but he made some small errors which cost games tonight. He scratched on the eight ball to get be back at 1-1 and I had break and run to lead.
"But it is experience and I remember my first Mosconi Cup, it isn't easy. He is doing well but sometimes the small errors count.
"This session was getting a little close when Nikos lost singles. The next match was close but we won and I clinched this one so instead of it being 8-6 it is 9-5, so it is a big point."
Play continues tomorrow with a potential of seven more matches.
The 2014 PartyPoker Mosconi Cup is broadcast live throughout on Sky Sports in the UK and Ireland and ESPN3 in the United States. For fans outside those territories, it is available on www.livesport.tv
For further information go to www.matchroompool.com or like our Facebook page (search 'Mosconi Cup') or follow us on Twitter @mosconicup
The 2014 PARTYPOKER Mosconi Cup is sponsored by PartyPoker, the world's leading online poker site. The Official Table of the Mosconi Cup is supplied by Diamond Billiards, the cloth is supplied by Iwan Simonis and the Official Balls are Super Aramith by Saluc. Predator is the Official Cue of the event.
Luke Riches, Matchroom Sport: luke.riches@matchroom.com
Notes: Matchroom Sport are one of the world's leading producers of televised sport and are responsible for over 1,000 hours of original programming across a range of sports. Based in the UK and chaired by charismatic founder Barry Hearn, the Mosconi Cup is one of a stable of pool events that include the World Cup of Pool and the World Pool Masters.