THORSTEN HOHMANN WINS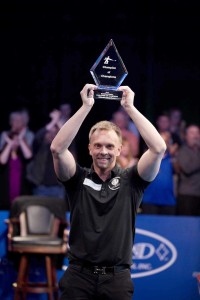 Photo by David Thomson meduimpool.com
THORSTEN HOHMANN WINS
THE 2014 INTERNATIONAL CHALLENGE OF CHAMPIONS
One more inning had earned Hohmann $25,000 in the winner-take-all, 23rd Annual Challenge of Champions held at the Harrah's Resort Southern California in Valley Center, CA. on October 8, 2014.
In the "Sudden Death" final game, Darren Appleton allowed Thorsten Hohmann one more turn at the table. Darren's badly played safety attempt left an opening. Thorsten now faced a long and very missable 7. Calm and poised, perfect pocket speed ensured the ball found its pocket as did the 8 and 9.
"I thought it was over," said Toasti-as his friends call him. "I felt that I had nothing to lose. That took the pressure off a bit."
The semifinal and the final matches require a player to win two sets, race to 4 games, with an alternate break. Tied sets are broken by a Sudden-death one game shootout.
Earlier, Hohmann had easier time with Filipino Dennis Orcollo to earn that shot at the title. With the 1st set under his belt, and down 2-3 in the 2nd, Hohmann kicked in the 2-ball and Dennis never won another game.
Darren had a tougher time with Shane Van Boening in the other semis. With one set apiece, Shane won the lag and was on his way to the finals when he, unexpectedly, missed the 8. "I took it for granted," he later admitted. Appleton, under normal circumstances, addressed an off angle 8 that, when pocketed, left natural position on the deciding 9.
The Challenge of Champions Trophy was presented by Billiards International's Gregg Hovey.
In addition to Harrah's Resort, the event was sponsored by Simonis Cloth, Aramith Billiard Balls, Diamond Tables, OB Cues, Delta 13 Racks and, Cuetec.
The semifinals and finals is slated to air on ESPN2 in December.