52nd Annual Southern Oregon Fall Billiard Tournament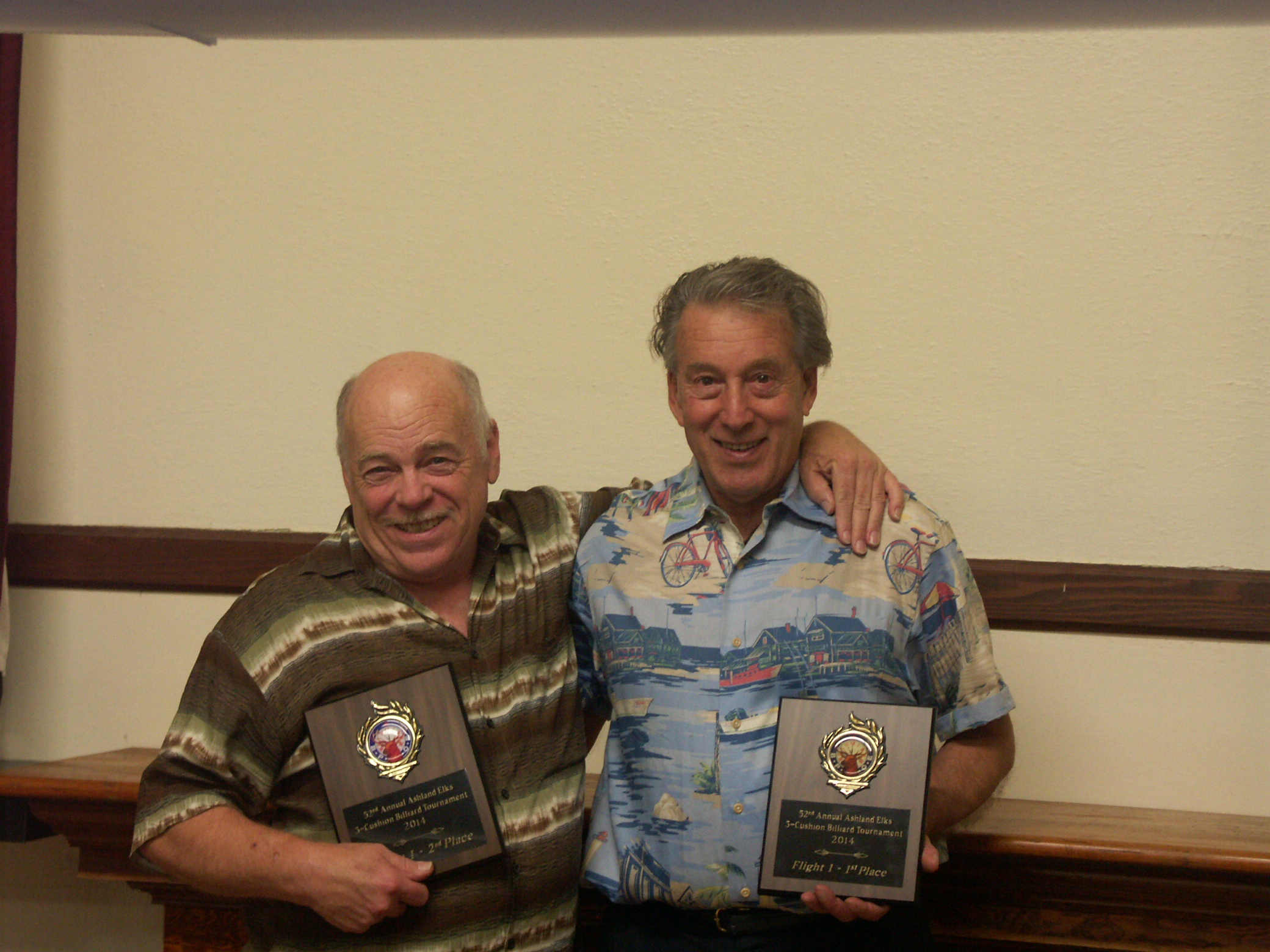 Flight 1 Finalists, 1st Place Gary Cohen (R), 2nd Place Mark Hansen (L)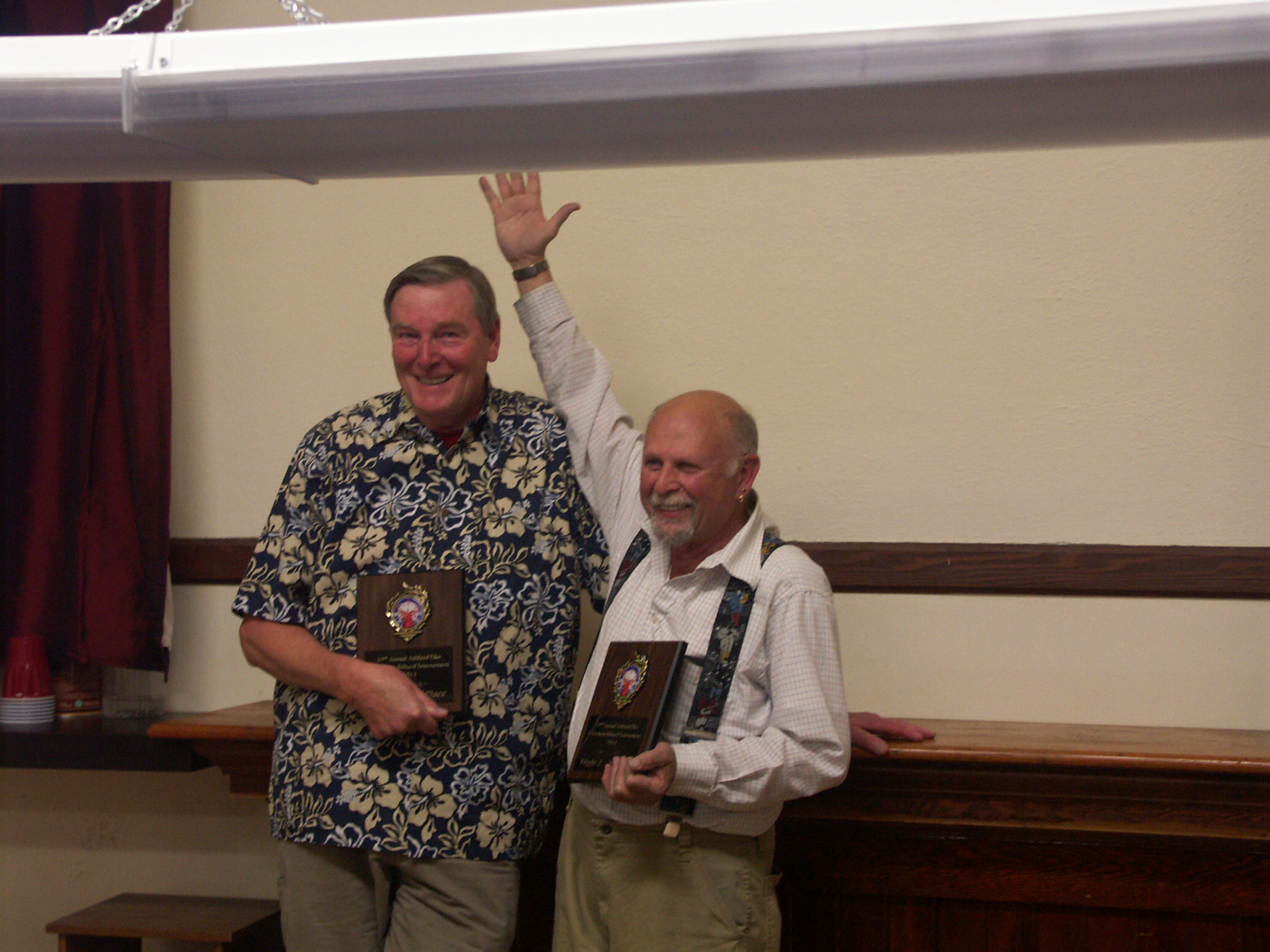 Flight 2 Finalists, 2nd Place Harvey Wixman (R), 3rd Place Dave Ehlers (L); not pictured, Galen Lee, 1st Place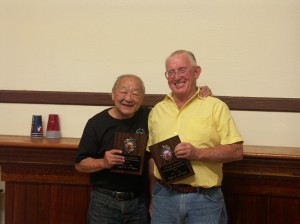 Flight 3 Finalists, 1st Place Toshi Moriguchi (L), 2nd Place John Hughes (R)
52nd Annual Southern Oregon Fall Billiard Tournament Results
October 4, the Ashland Elks Lodge finished hosting the weeklong 52nd Annual Southern Oregon Invitational 3-Cushion Billiards Tournament. This was the first year that this tournament was played completely at the Ashland Lodge, having moved from the struggling Medford Elks Lodge where it had been headquartered for the previous half-century. A total of 36 players participated in the event, including 26 players from all around the country, from Florida and Ohio to Washington State and California. We had planned for as many as 48 players, but ill health and other issues prevented more players from attending, and when four out of town players all cancelled within the last few days before the start of the event, we had to scramble to find local players who could fill in for them.
When this tournament was held at the Medford Elks Lodge, where we had as many as 9 billiard tables for the event, we were able to include both a weeklong team tournament as well as three simultaneous singles tournaments. Since we only have 6 tables at the Ashland Lodge, we had to try to combine the best features of these multiple events into a single tournament. The teams were abandoned, and the 36 players were divided into three flights of 12 by ability level, and each player had to play everyone in his flight once plus the other five players in their half of the flight a second time, for a total of 16 games over the course of the week. The two top finishers in each flight then played in simultaneous finals matches after the final evening's award banquet and raffle.
Overall the players were extremely impressed with the facilities, staff, volunteers, and the members of Ashland Lodge #944. They commented positively about how well the lodge is run and maintained, how kindly and professionally they were treated by the lodge officers, the bar staff, and the serving volunteers, and just how friendly so many of the members were to them. The players were able to enjoy two excellent Friday night dinners, a PER Steak Fry and Pie Judging Contest, lunches every weekday plus weekend spreads of deli sandwiches, all in addition to the delicious banquet and excellent pumpkin and apple pies prepared on the final Saturday of the event by the lodge's excellent chef Jim Potter, former owner of Rooster's Restaurant and Pie Shop in Medford. And on top of that, players were able to take advantage of the fact that the lodge is in the heart of downtown Ashland in the full swing of the Oregon Shakespeare Festival season, with easy access to the theaters as well as to numerous restaurants and cafes, bars and brewpubs, shops and movie theaters.
In the First Flight, the top three finishers, in order, were Gary Cohen of Palm Springs, CA, Mark Hansen of Sacramento, CA, and Bob Tracy of Oroville, CA, with Gary Cohen winning the high run prize in this flight for a run of 7. In the Second Flight, Galen Lee of Union City, CA came in first and also had the high run in the flight of 8. Galen had to leave the tournament a day early because of a family emergency, so Harvey Wixman of Hood River, OR, and Dave Ehlers of Federal Way, WA played for 2nd place after the banquet, with Harvey winning that game and Dave Ehlers going home with the Most Improved Player Award. Rarely has this award been so obviously deserved, as this was the first time that Dave moved up to play in the Second Flight, and not only did he play respectably there, but he finished with an impressive 12 wins and third place. In the Third Flight, the top three finishers were Toshi Moriguchi of Seattle, who also had the flight's high run of 5, our own local player John Hughes, and Harold Reid of Burns, OR, a regular at many of our tournaments throughout the year.
This year's Friendship Award was given to yours truly for all the work it took to organize and run the tournament. Of course this event would never be able to function smoothly without the tireless efforts of Dick Meyers who runs the tournament desk all day long throughout the event. And we had the good fortune to have Don Dayan back to host the awards dinner and raffle, which he has done superbly for every one of the past 15 years. Thanks to everyone who provided items for our raffle, including Harold Reid, Don and Twiggy Dayan, Darrel Stutesman, Dave Smith of Rack'Em Billiards in Medford, and numerous Ashland businesses.
And a lot more thanks are due. Thanks to first time tournament attendee Rudy Vigil of Benicia, CA (and to Khalil Diab for encouraging him to attend), and thanks to Scott Cooksey for returning for his second year. Thanks so much to those players who needed to cancel their attendance but still donated their entry fees to the lodge, namely Max Fisher and Pete Folsom. We were sorry to miss you this year but hope to see you next fall. The tournament's organizers all extend their heartfelt gratitude to the officers, staff, and members of the Ashland Elks Lodge, who were so crucial to making this event a success. I personally want to offer special thanks to Gary Johnston, Fred Hatfield, Ron Corallo, and Victoria Lane for their help and advice in the planning and execution of the event, and to Steve Booth and Karyn Usselman for making the financial aspects of the event run so smoothly. And Andy Dalisa deserves all of our gratitude for the masterful job he did of designing, building, and installing benches in the upstairs billiard room to accommodate the many spectators watching the tournament games.
This year's tournament was definitely a learning experience for us all, and many ideas for improvement were offered for next year's event. The main goals for next fall's tournament will be to increase attendance, by creating options for the tournament's length and by adding a prize fund for at least one part of the event. There was a strong consensus among the out-of-town players that this tournament should be continued, and players also decided that they would prefer that we go back to organizing by teams, and that players get a chance to compete against players at all levels. Stay tuned for updates on the tournament format for next fall, but most of all, reserve the dates September 26 through October 3, 2015, plan to attend yourself, and plan to bring with you at least one more player.
Mark Williams   mark.b.williams@charter.net  541-941-1291