Casino Del Sol Warm-Up Qualifier 3-Cushion Tournament Results
Congratulations 1st Place Winner Ricardo Carranco
Berkay Keskin – 2nd Place
3rd Place Richie Britt  – 4th Place  Sean Angelesco
Click on image to enlarge and check out the chart of Real Averages Below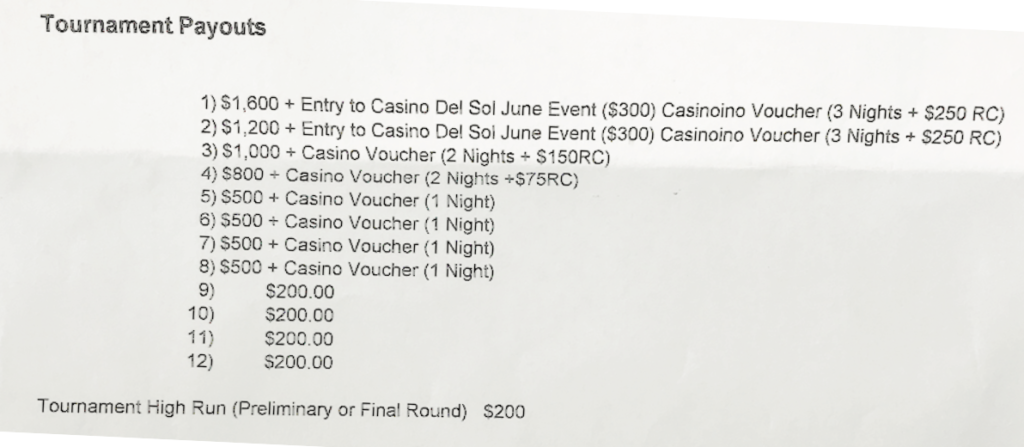 REAL AVERAGES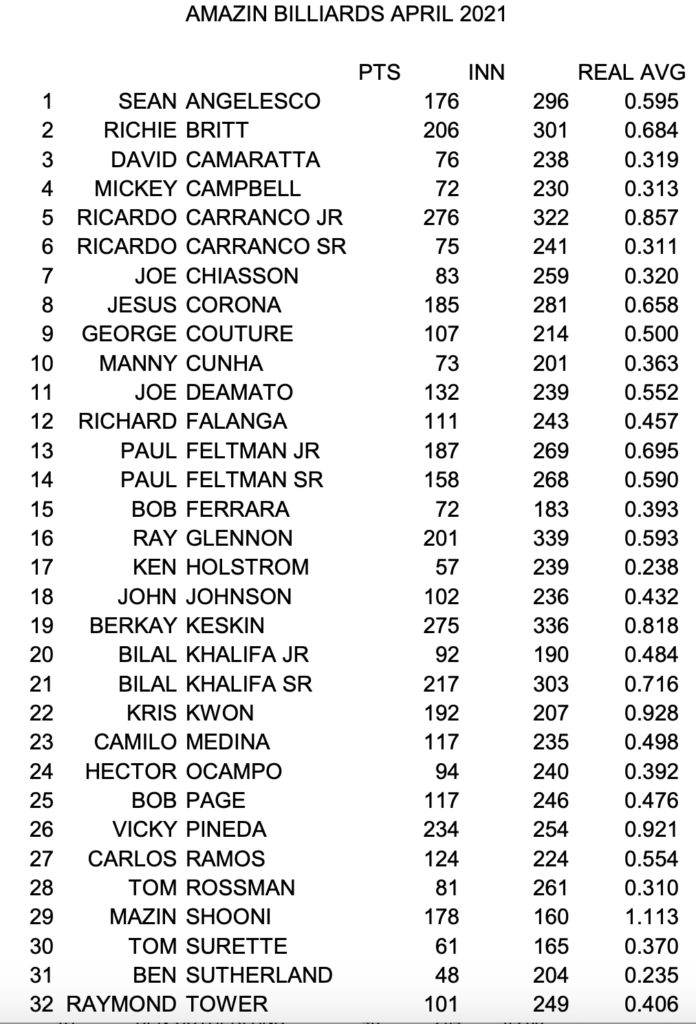 Check out the Preliminary Charts Below

Mazin Shooni proud owner of Amazin Billiards
Casino Del Sol Warm-Up Qualifier 3-Cushion Billiard Tournament at Amazin Billiards.
From April 15th thru April 18th, 33 players from around the country converged at Amazin Billiards in Malden, MA, in a tournament that was as grueling as any handicap tournament to date. Players from every level seemed to be in a battle to win virtually every game they played.  Even top players who would average over 1.90 in a particular game were then life and death against a player going to 18 or to 23.
Apparently the handicapped system that 3 Cushion USA has honed and now established was working, in that everyone had a chance to be the lone victor at tournaments end.
The lone victor however was a very deserving top player from the state of California by the name of Ricardo Carranco.  And it wasn't easy.  Although going 5 & 1 in the prelims and losing to up and coming Richie Britt (23), Ricardo earned a bye in the single elimination finals.  And it was there in his first match with Ray Glennon (23) that Ricardo escaped with a 1-point victory.  That victory earned him the right to face Richie Britt again in the semi-final and Ricardo was then victorious.  Carranco then faced Berkay Keskin in the final match and despite a tremendous showing from Berkay throughout the tournament, Ricardo efficiency proved too tough.
Congratulations obviously to our Champion but also to Berkay Keskin who grinded out a 4 & 2 record in his prelims, featuring a win over one of the tournament favorites, Kris Kwon who didn"™t advance and lost 3 very close matches in this handicap event.  The top qualifier in that flight was Balil Khalifa Sr. who went 5 & 1 losing to Carlos Ramos.  Balil then was defeated by Richie Britt in another grueling match with the winner advancing to the top 4.
Richie Britt went on to finish 3rd overall, a great showing after escaping from the prelims.  Richie lost 2 games in his flight, one to John Johnson (18) and the other to first timer Tom Surette (15) who wreaked havoc in his flight going 3 & 2 and just missed advancing to the final rounds.  Truly a strong performance by Richie Britt throughout the 4-day tournament.
Fourth place went to Sean Angelesco (18) who's 3 & 2 record in his flight was good enough to advance.  The big story here is that Sean suffered a walloping loss to one of the tournament favorites, 2006 National Champion, Mazin Shooni as Shooni scored his 35 points in just 18 innings.  The two would meet again in the single elimination final and with Sean starting at 17 to 0, playing to 35, he got a great jump on Mazin and lead at one point 29 to 4.  It began to look dismal for Sean as Mazin never quit and made a run at him but the early lead was too much to overcome and Sean was able to advance and ultimately finish 4th.
Finishing 5th thru 8th were Vicke Pineda, Paul Feltman Jr., Paul Feltman Sr and local Ray Glennon. All 4 of these players were literally points away from being top 4.
Then finishing 9th thru 12th and tasting a bit of the spoils were Bilal Khalifa Sr., John Johnson, Mazin Shooni and Jesus Corona.
Again, this tournament was as hotly contested as any recent tournament at Amazin Billiards.
Some other notables had both Paul Feltman Sr and Jr once again making their way into the single elimination finals.  Their quest ended there but they both played very well once again in Boston.
The 3rd place finishers that did NOT make it into the finals were Richard Falanga, Bobby Page and Richard Vitzthum.  These 3 guys competed hard and just missed advancing.
Three other locals, Dave Camaratta, Tom Surette and George Couture also had 3 wins and finished a close 4th in their respective flights.
Some individual highlights saw Ricardo Carranco Sr throw a 1.2 game at Ken Holstrom while Mr. Carranco won 3 games in his flight.
It looked early as though Hector OCampo would advance and he DID play well but ran into some tough games on day 3.  Hector looked really strong at times resulting in a highly competitive flight.
Great to see Camilo Medina back in Boston and him along with Carlos Ramos showed the 15 locals in Boston that Florida is known for more than just its weather.  These guys played tough and Carlos just missed advancing.
Mickey Campbell and Ray Tower, although in different flights did win a couple of games but fell a bit short of what some people thought they might do at their respective handicaps. Next time.
Two more locals, Jo Jo Chiasson and Manny Cunha competed hard, won 2 games and gave some top players fits as they put heat on all throughout.  Jo Jo coming off a successful tournament in Tucson, played to a higher number (18) but still showed well.
Dr. Cue, Tom Rossman was considered by many to finish high and he did make a lot of points finishing 2 & 3 but a few more points and he in as well.  Tom put on another one of his uniquely entertaining pocket billiards exhibitions and truly a great time was had but a very nice crowd on day number 1 of the event.
Lastly, BBTV own Ben Sutherland, a pool player who apparently fell in love with the game of 3 cushion while live streaming play from Tucson in January and vowed to participate in April at Amazin Billiards and participate he did.  Ben got his first 3 cushion match win against a real tough player in Paul Feltman Sr. and honestly, competed while going to 15 making it tough on most everyone.
Congratulations to Ricardo Carranco once again and to all the players.  Many congratulatory thanks went to Mazin Shooni and rightfully so, whose tireless dedication to his quest of making 3 cushion truly beautiful while engaging ALL levels of players to participate is working.  His dream, his formula and his format is catching on all over the country.
It was a beautiful 4 days and nights of 3 cushion excellence, 3 cushion love and 3 cushion camaraderie for the entire event.  Congrats to one and all.