Allison Fisher joins the OB Pro Team of Players!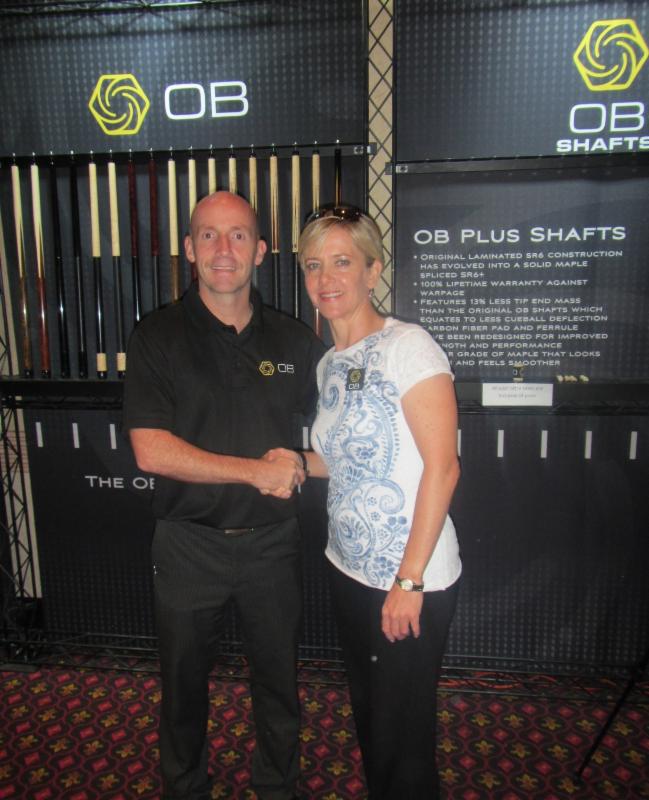 Press Release: Allison Fisher joins the OB Pro Team of Players!
Plano, Texas – Hall of Fame player Allison Fisher and cutting edge Texas based billiard manufacturer OB Cues proudly announce the signing of Allison to the OB Pro Team of Players.
"As a fan of pool, I have always admired Allison's game but how she conducts herself away from the table is equally as impressive" said Royce Bunnell, President of OB.
"I am proud to have accomplished what I have so far in both snooker and pool but I am not done yet! I love my OB equipment and truly believe that the consistency and accuracy of my equipment will play a big part in my future success on the table" said Allison Fisher.
"Allison is quite simply a living legend in the world of pool. Her tournament success is unequaled and she has a fan base that is unmatched. Having Allison join our team and trust her game to OB products is a great honor" said Shane Sinnott, Director of Sales and Marketing for OB.
Allison can be seen competing on ESPN and on International television networks on a regular basis. She also has been known to stop by the OB booth to sign autographs, take pictures and play challenge games with fans and will continue to do so whenever possible.
OB is headquartered in Plano, Texas and is a leading manufacturer of high performance pool cues and pool cue shafts made 100% in the USA since 2005. For more information on OB Cues or OB shafts or to become an authorized dealer, please visit www.obcues.com and for all the latest OB news you can like OB on Facebook at www.facebook.com/obcues
Be sure to also check out Allison's profile page on the OB website here: www.obcues.com/pages/Allison-Fisher.html
Allison Fisher was inducted into the BCA Hall of Fame in 2009. She has won over 80 national titles and 11 world titles in Snooker and in Pool she has an unequaled record, winning 50 WPBA titles, which includes 4 World 9-Ball championships. Despite her busy schedule, Allison still manages to offer private lessons, group lessons, public appearances, keynote & public speaking. For more information on Allison visit her website at www.allisonfisher.com and don't forget to like Allison on Facebook at www.facebook.com/AFathlete