The One-Pocket Hall of Fame Banquet
The One-Pocket Hall of Fame Banquet
Tuesday January 27th was evening for the One Pocket Hall of Fame dinner hosted by Steve Booth. This was a bitter sweet night with honoring Friend, Player, Hall of Famer and Master of Ceremonies, Freddy "The Beard" Bentivegna,1940-2014.
Freddy's daughter Cat was in attendance. She and longtime friend John Bosnak put together a slide show that brought back many memories to those in attendance. John spoke about his friend and how people thought they were brothers. And at heart they were and John even commented they spent so much time together they started to look alike. Following the tradition that Freddy started a recording of Freddy reading the Pool Hustlers poem was played with an accompany slide show of the players listed in the poem.
Players and friends that shared stories and thoughts about Freddy included Scott Frost, Mary Kenniston, Angle Levine and Nick Varner. And lifelong friends and fellow commentators Billy Incardona and Danny Diliberto talked about Freddy. Even though our hearts are a sad at missing our Friend he still brings a smile to our faces.
There was a special guest in the house, legendary  Marshall "Squirrel" Carpenter. Scott Frost told about The Tuscaloosa Squirrel being his first road partner. "And now, at 87, he's still matching up!" The shout out "Do you have the nuts?" came from the floor? With the Squirrel firing back "I never had the nuts, I just liked to crack 'em".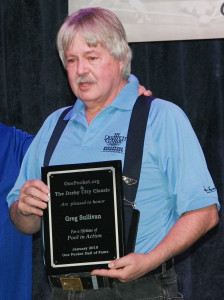 The surprise of the evening came with Bank Pool Hall of Famer Hogue at the Podium. He indicated it was time to honor the "Lifetime Pool in Action" award.
"When I was a kid, this man had so much faith in me that he took me on the road as my stake horse and it took me six months to book a winner. He always stood by me. His whole life has been dedicated to allowing people to see the beauty of Pool"¦" Greg Sullivan the president of Diamond Billiard Products and the founder of the Derby City Classic. This was the best kept secret in the history of pool. Greg was over whelmed to tears as the room stood and applauded our Friend in Pool.
Thanks Steve and everyone for the great event and sharing your memories. Everyone is looking forward to 2016.