Van Boening Takes #1 Seed: Strickland vs Immonen. Deuel vs Appleton. 74th World 14.1 Heating Up
New York City, NY-  Shane Van Boening has stayed undefeated through both stages of the World 14.1 and with the elimination of Thorsten Hohmann, he has taken the #1 seed.  The third and final stage of the Andy Cloth 74th World Tournament of 14.1 has begun with the final sweet 16 players.
The ANDY CLOTH 74th World Tournament is taking place on August 4th-9th, 2014. Dragon Promotions and Dr. Michael Fedak are pleased to bring the 74th production of the oldest billiard event in the world . Also sponsored by Andy Cloth, Kamui Brands, OB Cues, Amsterdam Billiard Club, Realrealcool.com, Pool & Billiard Magazine , Aramith Balls, and George Beckman Kinetic Sculptures. Official patron 14.1 aficionados are Stu Mattana, Tom Gleich, Harold Siegel, Dr. Greg Diehl Plastic Surgery, and Official World 14.1 photographer Charles Eames.  A star studded field has made it back once again to the 14.1 extravaganza taking place at Steinway Billiards Cafe, who is once more hosting the world's greatest straight pool championship.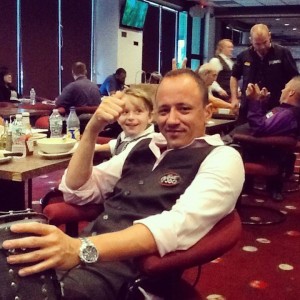 Van Boening crushed Scotland's Fulcher 150- 46 to earn his spot into the sweet 16 final races to 200. Shane made it to this stage last year but lost to John Schmidt and tied for 9th. He is looking better this year in his 14.1 skills and could be making a run to the finals if he can get by Archer today.
"Shane is definitely the most consistent player I've seen this week. He's been blowing out all his opponents, so it appears he has been working on his straight pool skills. I would definitely pick him as the top dark horse favorite to win", said Charlie Williams, Executive Producer of the World Tournament.
Even though they will not be the main feature TV match, the Strickland vs Immonen match will be entertaining. At the speed they both play, it likely won't be a long match even with 200 points to play.
Appleton and Robles remain to be the other undefeated players left. Appleton has not performed like last year yet, but still managed to win his matches and will face Corey Deuel today. Robles has never made it to this stage of the event undefeated before, and is looking like a real threat. He faces Jonni Fulcher of Scotland.
Brackets & Watch online Pay Per View at www.worldstraightpool.com
Stream TV Match schedule are the following for today August 8th:
The Final Bracket.
Day 5 TV today at www.worldstraightpool.com .
11:00 am Lackner(GER) vs Shaw(SCO)
1:30 pm Van Boening(USA) vs Archer(USA)
5:00 pm Robles(USA) or Fulcher(SCO) vs Bergman(USA) or Stalev(RUS).
7:30 pm SVB or Archer vs Strickland or Immonen .
$15 price for races to 200 points. Order PPV Matches LIVE for today at www.worldstraightpool.com