Million Dollar Billiards 3-Cushion Event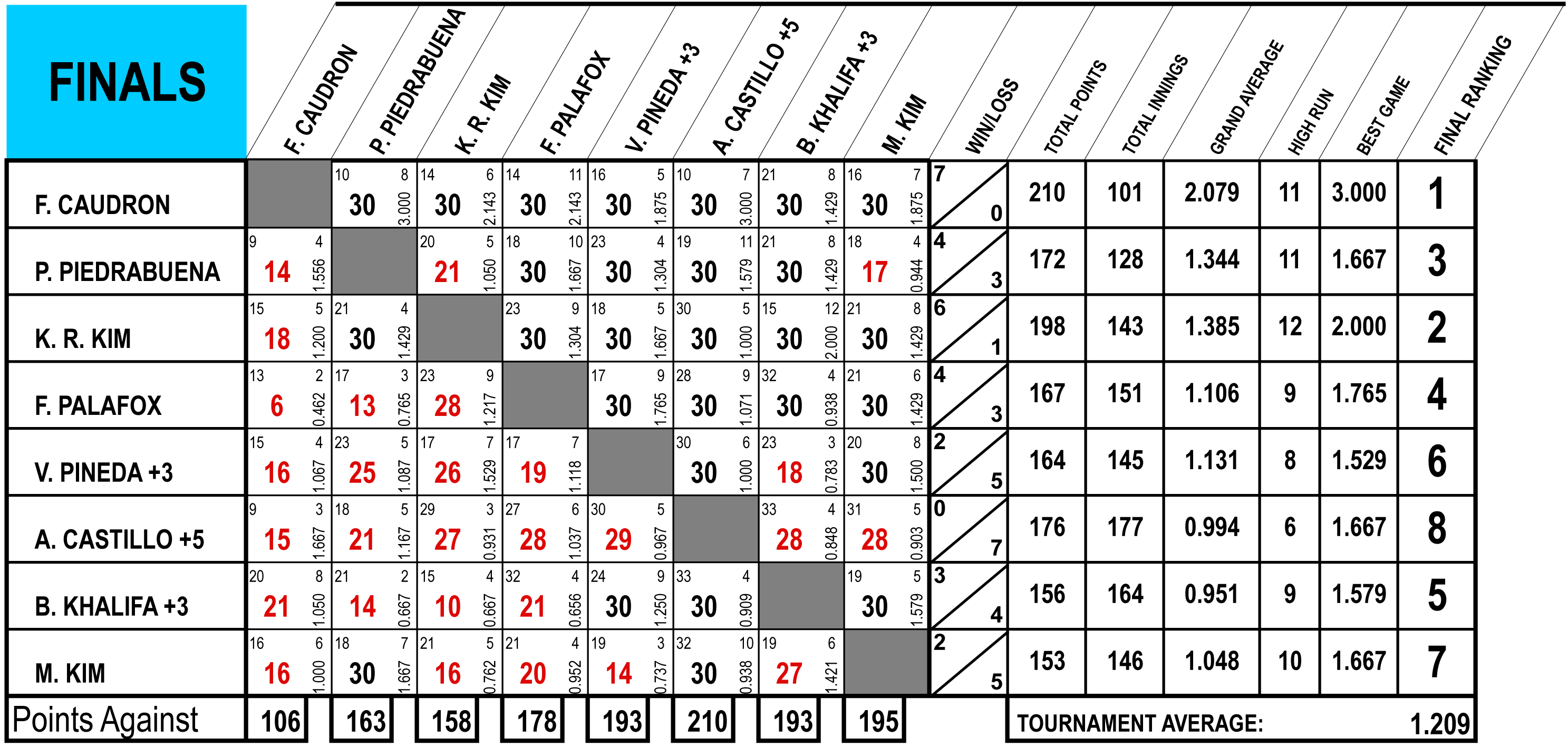 Million Dollar Billiards Open Tournament
The tournament was played on 7 Verhoeven tables. 4 flights of 7 with the top 2 moving on to an 8 man round robin final. The four flights included seeded players, Frederic Caudron, Pedro Piedrabuena, Kyung Roul Kim, and Francisco Palafox.
The event was live stream on www.povpool.com, By Daniel Bush and was free for all to enjoy.
It was held at Million Dollar Billiards at 12135 Victory Blvd. in North Hollywood, Ca. Tournament Director was Ricky Carranco. Who did a great job in all; there were 28 players in attendance, with the competing professionals accepting a slight handicap.
All four made it to the finals as expected. Joining them were Mike Kim, Vicky Pineda, Bilal Khalifa, all three of them from the Los Angeles area, and Allen Castillo from Milpitas, California.
Final day was round robin, fight to the finish, racing to 30 points!
Only surprise in the finals was the defeat of Pedro Piedrabuena by Mike Kim. With Pedro lost to Mike Kim, and then to Kyung Roul Kim, we were left with a last round winner-takes -the -championship match between favorites Frederic Caudron and Kyung Roul Kim. Caudron would come out on top and be crowned champion of the first Million Dollar Billiards Open Tournament.
Payout
1st   $2,500
2nd  $1,550
3rd   $900
4th   $500
5-8th $250