22nd annual PartyPoker Mosconi Cup

Returning to Las Vegas, the high-octane Mosconi Cup pits two five-man teams in an intense battle over four days of play in December. Now entering its 22nd year, the Mosconi Cup is pool's biggest brand and the most drama-packed event in the billiards calendar.
Europe versus USA is always a sporting battle like no other and the Mosconi Cup delivers on every level as top pro pool shooters from Europe and America fight it out over four days of intense action to determine the destination of the most prestigious trophy in world billiards.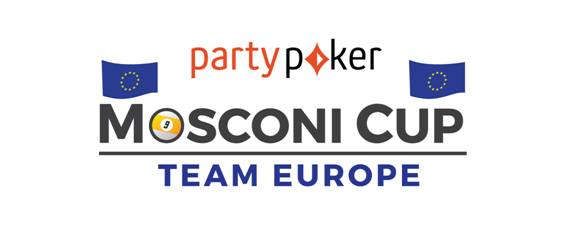 TEAM EUROPE-Marcus Chamat (Captain)
Neils Feijen  –  Darren Appleton
Albin Oushcan  –   Karl Boyes
Nick Van Den Berg
Prize Fund Total $150,000
Winners $20,000 (per player)
Runners up $10,000 (per player)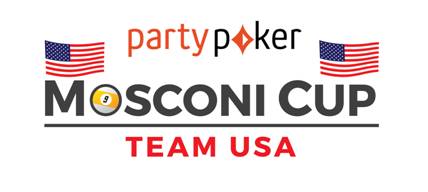 The Team USA-Mark Wilson (Caption)
Shane Van Boening  –  Corey Deuel
Mike Dechaine  –  Justin Bergman
Skyler Woodward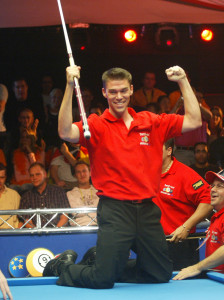 Corey Deuel: "Plenty of tricks up my sleeve"
COREY DEUEL will be the senior member of Team USA at this year's PartyPoker Mosconi Cup, and with eight appearances under his belt, all his experience will be required as the Americans attempt to reassert themselves at the annual transatlantic 9 ball showdown.
Deuel, 38, first competed in 2000 when the Americans enjoyed a hard-fought 12-9 win over their European counterparts and he reappeared the following year in the infamous 12-1 slaughter which saw the Europeans hit rock bottom.
Since then, Deuel's Mosconi Cup fortunes have mixed the rough with the smooth and in recent times it's been significantly rougher as the Europeans have extended their dominance of the event.
Deuel though is coming into the event on a high after an excellent performance at the US Open where he recorded wins over Ko Ping Chung, Josh Roberts, Carlo Biado, Albin Ouschan and Shane Van Boening; "This is my ninth Mosconi Cup and I'm super exited to play every year. I'm really glad that I made the team via the ranking list again and my form is good at the moment.
"Over the years I've played some of my best pool and made some of my greatest shots in the Mosconi Cup and I hope this year can be even better. I think our team is really good this year and all of our players have been finishing high in their last few starts so we are going in with some confidence!"
Despite the Europeans being on a lengthy winning run in the event, Deuel believes it counts for nothing when the players enter the arena on Monday 7th December.
"I'm not worried about streaks; we all know how to play the game and I feel good about this year. Last time, Europe got off to a lead and our players had some fluke scratches. We broke better though but the bottom line was they got lucky!
"To be honest, all Europeans are annoying in general but as far as their team this year goes, I actually get along good with all of them. The more positive and energetic the crowd gets though, will only reinforce our home court advantage. Come December 7th, I will have plenty up my sleeve but everyone will just need to wait and see. I can't give our secrets away just yet!"
Deuel has some good memories of Mosconi Cup successes that he will hope to draw on next week. Overall he has a 60% win record in the event which is pretty impressive and second only to Earl Strickland among players who have competed in three Mosconi Cups or more.
"My favourite year was 2001 and the 12-1 victory. I believe I was MVP that year. Also retaining the Cup in Rotterdam in 2006 was very exciting. That year the score was so close and we made a nice comeback and I was able to win the final match to make it 12-12."