Yu Ram Cha Heads Korea Team: Jeanette Lee Leads USA to Women's World 10-Ball Championship
Yu Ram Cha Heads Korea Team: Jeanette Lee Leads USA to Women's World 10-Ball Championship
By Sally Lee
Manila, Philippines- A strong group of Korean women led by 21 year old Yu Ram Cha are invading Manila for the Women's World 10-Ball Championship . The USA is also sending their finest with famed superstar Jeanette Lee at the helm. The Women's World 10-Ball Championship by JBETpoker.net is produced by international billiards giant Dragon Promotions and will be broadcasted to more countries and viewers than any other women's event in the history of billiards. ABS-CBN and ESPN Star Sports conglomerate will combine 20 hours of live coverage and 20 hours of taped matches. The event takes place in Manila, Philippines at the SM Mall North Edsa June 2-6,2009. 48 top women pros from around the world will vie for gold to become the Women's World 10-Ball Champion. The historic event is supported by JBETpoker.net, ABS-CBN, SM Mall North Edsa, Magic 89.9, Predator Cues, Philippines Star, Bugsy Promotions and recognized by the BMPAP and BSCP.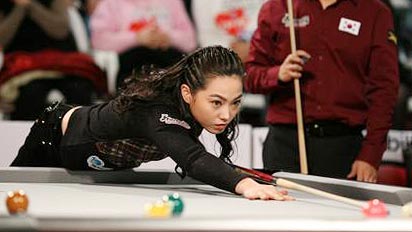 The Thunderously rising Yu Ram Cha is taking the pool world by storm
The South Korean women have taken the sport of women's billiards by storm the past few years. Currently, the top two players from South Korea are Yu Ram Cha and Ga Young Kim. Kim is a veteran pro player with titles including the US Open and the World 9-Ball Championship. Cha on the other hand has only played one year as a professional but made an astounding impact in 2008 going unranked to the top 20 in rankings in less than a year. Cha,known as the "Little Lightning", won Billiards Digest Breakthrough Player of the Year and also the Women's Pro Tour Most Improved Player. But perhaps her greatest accomplishment happened last week in Las Vegas when she defeated USA Men's #1 and US Open Champion Shane Van Boening in a stunning comeback from behind upset during the Predator International 10-Ball Championship. Both Kim and Cha are ranked #2 and #5 respectively in the world.
"I feel 10-Ball is a better game for me because it suits my abilities. I have a strong break and good cueball control. I'm more comfortable playing 10-Ball against this field",said Cha.
"As objectively as I can say, I'd pick her as one of the top five favorites to win the event. 9-Ball is quickly fading because 10-Ball takes more skill and power, which favors Yu Ram's talented all around game. She is definitely the hot hand out of the women right now",said US Pro Charlie Williams, who also coaches and mentors Cha.
The Korean contingent also have a great supporting cast including Yun Mi Lim who finished 5th at the World 9-Ball Championship, Eun Ji Park Korea Rookie of the Year, and Ji Won Hyun who has been a professional in Taiwan for years.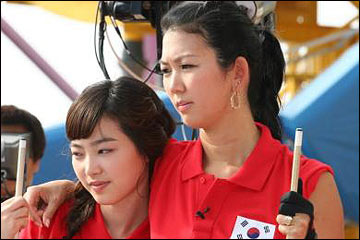 Cha and Lee both have strong South Korean roots
Jeanette Lee will be the biggest threat out of the USA team to win gold during the event. Ironically, Jeanette Lee is Korean American, born in New York but from South Korean parents. Lee is a former #1 on the women's pro tour (current ranking #3 in the world) and Gold Medalist at the World Games. Known as the Black Widow, Lee is considered to be the most famous billiards player in the world. She is known in the Philippines by her match against Efren "Bata" Reyes years ago (which she lost in a respectable score). This is her first appearance in the Philippines in 8 years.
Other top names from the US will be former USA Junior Champion and now top pro Sarah Rousey, Melissa Little, Angel Paglia, Tina Meraglio, Jeannie Seaver, and Kim Jones.
Lee will be a huge fan favorite during her return to the Philippines
The historic event is considered to be the biggest women's sporting event of the year for the Philippines, and one of the biggest in Asia as it draws massive media attention with 40 hours of match coverage going to over 40 countries with 20 hours live on ESPN and equally in its local partner ABS-CBN, the leading TV channel of the Philippines. 48 women from around the globe will attend the event vying for $20,000 (1M) 1st place prize out of the $75,000 (3.75M) purse available. SM Mall North Edsa, Magic 89.9, Philippines Star, Crowne Plaza Galleria Manila, Predator Cues, and JBETPOKER.net are some of the primary sponsors of the event.
"Billiards, the sport of the Philippines. The sport of the people." For more info email womensworld10ball@gmail.com
Open qualifiers for the event will be held May 31 and June 1 at Paeng's Skybowl on 4th Floor at Robinsons Galleria Mall connected to the Crowne Plaza Hotel in Manila. The winners will join the main event at SM Mall North Edsa June 2-6,2009. All players are welcomed to join to try to qualify for the event. There will be three qualifiers over the two days with six winners entered into the main 48 women field. For more info email womensworld10ball@gmail.com