Pedro Piedrabuena Does It Again-2014 USBA 3-Cushion National Winner
Pedro Piedrabuena
USBA Champion: 2002, 2004, 2007, 2011, 2012, 2013
Pedro Piedrabuena returns as the 2013 defending champion and the presumptive favorite for another
crown. Since 2002, Piedrabuena has won six championships and finished second five times. And it seems
that the best is still to come for the 43″year"old resident of San Diego.
The Total Prize Fund is $18,750.
1st Place=$4000
2nd Place=$3000
3rd Place=$2000
4th Place=$1750
5th Place=$1500
6th Place=$1300
7th Place=$1100
8th Place=$1000
Total=$15,650
9th-12th=$325 each
13th-16th=$225 each
17th-20th=$125 each
Total for 9th through 20th=$2700
High Run = $200
Best Game = $200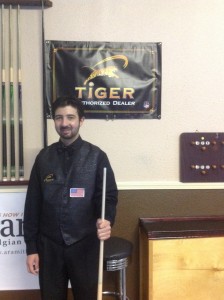 2014 Nationals: Another Rarity
Coupled with the rare "all 3 frozen balls" phenomenon which occurred at the 2014 Nationals in Houston, TX was another rare event: a new USBA Nationals record for best game.
In 2006, Mazin Shooni played a 35 point match in 9 innings for a 3.889 average. It was the Nationals Record for best game. In the same game, he had a high run of 18 which still holds till this day as the high run for a USBA Nationals.
On Saturday, April 12th, 2014 Pedro Piedrabuena etched his name once again into the USBA record books by playing a world-class 40 points in just 8 innings for a 5.000 average. Ironically, his opponent was none-other than Mazin Shooni. Pedro joins a very exclusive club of world-class players who have achieved a 5.000 average in a match lasting longer than the 15-point sets that have been predominant around the world for so many years.
Congratulations to Pedro once again for achieving such a monumental milestone!