The 5th Annual Yalin Women's World 10-Ball Championship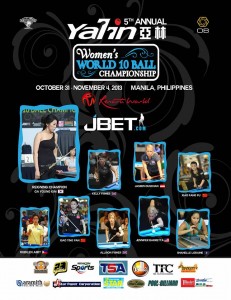 10-Ball,The Toughest Game.     
Philippines, the Biggest pool fans.
Dragon Promotions, brings the Biggest TV and
Media covered women's pool event.
     The World's Greatest Female Players

The Yalin World Championship is where players such as Jasmin Ouschan & Kelly Fisher became  World Champions
Manila, Philippines-  Dragon Promotions is pleased to announce the fifth installment of the greatest women's tournament in the world, the 2013  Yalin Women's World 10-Ball Championship!  This year's edition will take place October 28th – November 4th,2013  to luxurious Resorts World Manila, an upscale hotel and casino adding onto the dynamic atmosphere of the coveted championship. Final Stage 1 Qualifiers will be held at Star Billiards Manila on October 28-29th and the pre-event press conference on October 30th. An elite 48 world class lady pros, the best of the best from 20 countries, will attend the event to decide who is the World Champion. This year's event is again title sponsored by Yalin Tables, one of the premier billiard table manufacturers of the world.
The Yalin World Championships will be live streamed on www.insidepool.tv and sponsored by www.JBET.com , Official Table YALIN, Official Cue OB Cues, Official Balls by Aramith, Official Cloth Championship, Official Chalk Master by Tweeten Fibre, Official Magazine Pool & Billiard Magazine, Star Paper Corporation,  www.SabongKing.com, and www.BaseGameph.com .
The Women's World Championship is produced by Dragon Promotions and filmed by ABS-CBN Sports airing on BALLS, Studio 23, and a dozen other networks in countries worldwide. With massive media and global networks covering the Yalin Women's World 10-Ball Championship, it will continue as still the biggest and most watched women's billiard event in the world.