The Fifth Annual Marti Tracy Memorial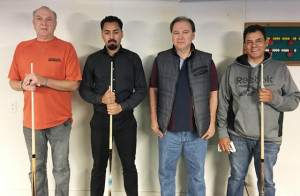 Final Four B Finalists: L to R: Robert Spicknall, Allen Castillo, Jesus Quinonez, Antonio Rivera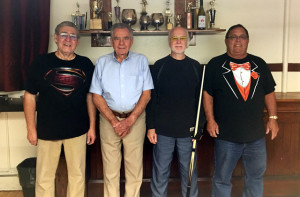 Final Four C Finalists: L to R: Rudy Vigil, Bob Horecky, Alfred Wenzl, Marc Smith
The Fifth Annual Marti Tracy Memorial 3 Cushion Billiard Tournament, a USBA B/C Tour Event, took place again this year during the first weekend in October, at the Ashland Elks Lodge in Ashland, Oregon. As we did last year, this event was scheduled to follow the 54th Annual Southern Oregon Invitational 3 Cushion Billiard Tournament, a non-USBA team event that has been played annually since 1963. This format allows the participants to choose to attend only the team tournament or the USBA singles tournament, or to attend both events stretching over nine days.
This year, in order to include as many players as possible, we moved the original limit from 32 players to 36. To make this work, we made a few adjustments to the schedule and we did manage to finish on time, but it required more effort than usual both from the players and from those of us running the tournament, so I am unsure whether we will decide to exceed our 32 player limit next year.
Players were divided into four preliminary flights of nine players, with each flight consisting of players of mixed abilities, from C through B+. (One player dropped out at the last minute, so one flight ended up with 8 players.) The tournament format called for the top two B/B+ finishers in each flight to move into an eight-person single-elimination B final, and for the top two C/C+ finishers from each flight to move to an eight-person single-elimination C final. All games were played to 25 points with no handicaps, but when two C/C+ players were at the table, each would add 5 points to their string before they began in order to shorten the games so we could finish on time. All of the innings reported were later adjusted upwards to more accurately reflect the averages.
Overall, the level of play was higher than it has ever been at this tournament. Twelve players had games with fewer than 30 innings, many of those turning in multiple excellent games. All together, there were 24 games played in 29 innings or less, and 17 of those games had 25 innings or less. Quite a showing for a B/C tournament! At the B level, this tournament again drew many very strong players from both the Pacific Northwest and from Northern California. Allen Castillo, the young player from Northern California who won first place last year, again dominated in the finals, finishing in first place by winning his final two games in 21 and 18 innings. Allen was also undefeated in the prelim round and had the best grand average of 0.778. Jesus Quinonez, who plays at the Tacoma, WA Elks Lodge, came back from behind in the first finals round against Jose Castillo, Allen's father, who attended this event for the first time, and then Jesus finished the tournament in second place. Third place went to Antonio Rivera, who beat Robert Spicknall in a very tight finish. Antonio plays at Edgie's Billiards in Milpitas, CA, and Rob now plays at the Tacoma Elks Lodge. Besides taking 4th Place, Rob won the High Run prize in the B's with his run of 10.
In the C Finals, Marc Smith from the Ashland Elks Lodge finished first with single pointwins in both of his last two matches. (Marc was hoping to make it through the entire tournament in spite of an injury to his right shoulder, which was scheduled for corrective surgery the day after the tournament ended. Fortunately, his shoulder held up fine, and he reports that the surgery was a success.) Bob Horecky, who plays at Aurora Billiards in Colorado, finished second. Third place went to our own Rudy Vigil, who recently moved to Southern Oregon from the San Francisco Bay Area. Fourth place went to Alfred Wenzl, also of the Ashland Elks. Dave Ehlers, another of the eight finalists, again won the High Run prize in the C's with a 6 run, just as he had done the year before.
Thanks to all the players who participated, and to the members, officers, and staff of the Ashland Elks Lodge who hosted the event and provided such a friendly, comfortable venue for our tournament. Much gratitude is also owed to Bob Tracy, a continuing sponsor of this event, which is dedicated to the memory of his wife, Marti. Bob again donated $3,000 to this year's tournament prize fund. Unfortunately, he was unable to attend this year due to poor health.
Thanks are also due to Mazin Shooni, Merrill Hughes, and Tom Paley, officers of the US Billiard Association, which sponsored this tour event and provided matching donations for the prize fund, trophies, and a cue to raffle off. And finally, I personally want to thank Marc Smith and Tommy Thomsen for helping me run the tournament desk, and to everyone who pitched in to help with the event. Mark Williams, Tournament Chairman