Ginky Wins His Second Predator Tour Event of the Season
Ginky Wins His Second Predator Tour Event of the Season, While Raphael DaBreo Claims His First Win on the Tour
By Alison M. Fischer, NYCgrind.com
On May 29-30, the Ozone Billiards Predator 9-ball Tour brought a crew of 64 players to Master Billiards for the $1,000 added eighth tour stop of the 2010 season.  The tour's A/B/C/D division hosted a number of the New York area's toughest amateur players"¦ including Mike Wong, Wali Muhammed, John Alicea, Scott Simonetti, Michael Yednak, and many others.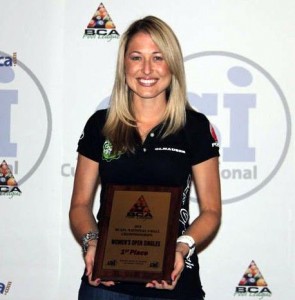 Gail Glazebrook
Among the field were also a number of NY's top female players, including house player Diana "Snooky" Rojas, Borana Andoni, Yomaylin Feliz, 2010 BCAPL Women's Open Champion Gail Glazebrook, Sandie Patarino, Kim Meyer, and Olga Gashkova.  Of these ladies, Borana Andoni, who often plays in Master Billiards' weekly tournaments, was the highest finishing female in the event, tying for 9th place.
With the bracket for the amateur event being divided with A/B class players on the top half of the bracket, and C/D level players on the bottom half, one player from each grouping would meet in the winner's side finals.  Coming through the end of day one unscathed, only four players remained on the winner's side come Sunday to get a chance to make it to the final two.
Facing off at 11am, Raphael DaBreo solidly defeated Stewart Warnock, 7-4 in the A/B half of the bracket.  On the bottom half, Asif Mostafa sent Arturo Reyes packing to the one-loss side, 7-5.  In the winner's bracket final, Raphael DaBreo had a serious battle with Asif Mostafa, which was claimed in the final game by Mostafa, 7-6.
The one-loss side saw some tenacious performances on both the upper and lower sides of the bracket.  In the C/D section, Sam Li had an early 7-5 loss to Asif Mostafa in the second round, but bounced back for a strong run on the one-loss side, defeating Tran Tran (7-4), Sameer Mohamed (7-5), Kajone Ky (7-2), Andrew Kane (7-6), Borana Andoni (7-5), Chris Karp (7-3), and Arturo Reyes (7-4) to land in the quarterfinals.
On the upper half of the bracket, John Alicea also received a surprisingly early loss from Gary Murgia (7-5) in the second round.  But, Alicea also made a big rebound with match wins over Michael Yednak (7-1), Shawn Sookhai (7-3), Gary Murgia (7-4), Scott Simonetti (7-5), Derek Schwager (7-3), and Mike Wong (7-5) before being eliminated by Stewart Warnock (7-6) to finish tied for fifth place with Arturo Reyes.
The quarterfinal match between Stewart Warnock and Sam Li would be another close set, with Warnock pulling ahead to close it out 7-5 and move on to the semifinal.  But that would not be the last challenge Warnock would face, as he and Raphael DaBreo went toe-to-toe in the semifinal, where DaBreo would finish out the hill-hill game to win 7-6.
In the final match, which was a single race to nine games, the undefeated Asif Mostafa and Raphael DaBreo would again go all in, fighting through to the very last game, with DaBreo coming out victorious.  Congratulations to Raphael DaBreo on a hard-fought win!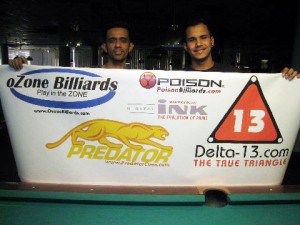 Payout:
1st: Raphael DaBreo – $1,000
2nd: Asif Mostafa – $650
3rd: Stewart Warnock – $450
4th: Sam Li – $325
5th/6th: Arturo Reyes, John Alicea – $250
7th/8th: Chris Karp, Mike Wong – $150
9th-12th: Billy Chang, Nicholas Chan, Borana Andoni, Derek Schwager – $100
In the Open/Pro 10-ball division, "Ginky" George Sansouci was on point, defeating Carl Yusef Khan (8-2) and Oscar Bonilla (8-5), to meet with Frankie Hernandez for the hot seat, who he would also send to the one-loss side.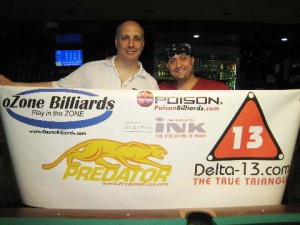 Oscar Bonilla was also showing dominance in this event, having defeated Tony Robles 8-6 before his loss to Ginky.  Following that loss, Oscar would defeat Shaun Wilkie 8-6, then make quicker work of Tony Robles (8-4), before demolishing Frankie Hernandez in the semifinal, 8-2.
Although Oscar Bonilla did not pose that much of a threat to Ginky earlier on in the winner's bracket, Oscar would come back with a vengeance in the finals"¦ but come up short, with Ginky winning the hill-hill game to close out the event with an undefeated victory.
1st: George Sansouci – $600
2nd: Oscar Bonilla – $400
3rd: Frankie Hernandez – $160
Tony Robles and the Predator 9-ball Tour would like to thank their sponsors: Predator Cues, Poison Cues, Ozone Billiards, Delta-13 Racks, The Seminole Tribe of Florida, The Seminole Pro Tour, Poolonthenet.com, AZBilliards.com, Digital Ink Printing, Billiards Press, Cuetable.com, Master Chalk, RJH Custom Cues, Webb Custom Cues, Jim Murnak Cue Cases, Go4Pool.net, NYCgrind.com, Billiards Digest, Inside Pool Magazine, Pool & Billiards Magazine, Maxim Billiards & The Tournament Guide.
For more information on the Ozone Billiards Predator 9-Ball Tour, please log on to: www.predator9balltour.com
The next stop on the tour's schedule will also be held at Master Billiards this weekend, June 5-6th.