Ray Martin had fans on their feet when he upsetted reigning World Champion Oliver Ortmann of Germany Today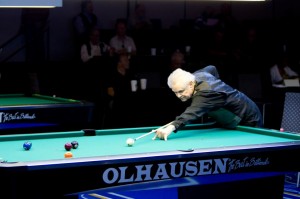 photos by Charles Eames
New Brunswick, New Jersey- Hollywood could not have scripted this any better. 76 year old retired pro pool player enters his first pro championship in over 20 years and plays against the reigning World Champion and is victorious. Today that is what exactly happened as Ray "Cool Cat" Martin gave Oliver Ortmann his very first loss at the 71st World Tournament of 14.1.
Fans packed the arena and the match was on the TV stream table. Ortmann had the lead at one point, but Martin kept the score close throughout the match. Both players engaged in several key safety exchanges, which seemed to throw the German champion off his rhythm. Martin won the bulk of these defensive exchanges using his fountain of old school knowledge.
Needing only a rack, Martin had a very difficult cut shot that would break the stack open. He made a terrific cut but the cueball got kissed into the corner as well. Ortmann could not end the set however, and Martin was given another chance. Needing less than a rack, he faced another deep cutshot as his breakshot, and made an incredible backwards cut into the sidepocket and busted the rack open, but again the cueball somehow found a pocket. Ortmann again could not wake up and erred once more and Martin ran out what he needed for the win. The audience rose to their feet in joy!
"This is something we may never ever see again. What a way to remember Ray!", said one player.
"It feels really good. I can't play like I use to, but I'm happy I can still do it", said Martin of his historic win.
Ortmann continued to have a bad day as he ran into a red hot Sigel next. Sigel talkative as always, managed to put together rack after rack. After many self oohs and ahhs, Sigel finished the match with a 100 ball run to shut Ortmann down 100-0. This is the first time anyone has shutdown Ortmann in the World Tournament. Sigel remains undefeated and looks to be prime for the top ranking for his group.
Today's new lineup on the stream table include Rodney Morris vs Brandon Shuff, Steve Lipsky vs Mike Davis, Kunihiko Takahashi (JPN) vs Charlie Williams, Allen Hopkins vs Dennis Hatch, Jose Parica vs Mike Sigel, and Zion Zvi vs Hatch.   The match will be live streamed on www.insidepoolmag.com