JBET.com Joins Queens Cup: Vivian Villarreal Represents USA!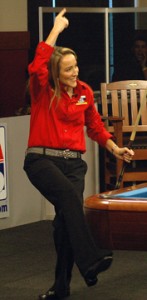 JBET.com Joins Queens Cup: Vivian Villarreal Represents USA!
The high energy American Vivian Villarreal, known as the Texas Tornado, is bound to get the fans to rally for Team West while in Asia. JBET.com joins as the title sponsor of the intercontinental competition
Manila, Philippines – JBET.com has come on board as the title sponsor of the inaugural Queens Cup. Joining the Euro-USA West Team will be USA's 19x Pro Tour stop winner Vivian Villarreal, a huge fan favorite on the pro circuit. Villarreal joins fellow champions Jasmin Ouschan of Austria and England's Kelly Fisher who will captain the West Team. They take on powerhouse Asia led by Captain Ga Young Kim of Korea along with Filipina Rubilen Amit and two more players who will soon be announced in the JBET.com Queens Cup.  The East vs West ultimate team showdown between the world's greatest lady professional billiards players will take place at Resorts World in Manila, Philippines on November 5th-7th, 2013 . The Queens Cup will be played on MIN Table of Korea with Andy Cloth as the Official Cloth to be used during all televised matches.  OB Cues is the Official Cue of the JBET.com Queens Cup which is co-sponsored by www.SabongKing.com. The Queens Cup is produced by Dragon Promotions and filmed by ABS-CBN Sports and will be live aired in over a dozen countries in five continents. The JBET.com Queens Cup will also air internationally for free on www.insidepool.tv
"The JBET.com Queens Cup will be a historic event in the sport of billiards. The fans have been waiting for the rivalry between East and West for years, and now they will have it officially as the best of the best ladies come to represent their continents", says John Suzuki,  Spokesperson for BaseGame Philippines Inc. Suzuki explains BaseGame's further goals with JBET.com and the company's venture into Boracay Island. "JBET.COM is operated by Red Velvet S.A. in Costa Rica and provides all device mobile and pc based social and gaming entertainment.  JBET will joint venture with local online technology and gaming investment firm Basegame Philippines Inc  and is said open new office in the Philippines in 2014.  Incidently, BaseGame Philippines Inc is the same company owning the only official local authorization for gaming, including Junket Operations in the famous island of Boracay. It hopes to bring this Queens Cup event to Boracay towards end of next year at its planned soft opening of its foreign tourist only entertainment center.
"We are very pleased to have JBET.com back on board with our Dragon Promotions line-up of events. They are a long running and successful entity in the gaming industry and great for our sport", said Cindy Lee, CEO of Dragon Promotions.
" An event like the Queens Cup has never been done before and this is what we needed for women's pool. And I love that it's 10-Ball because it's harder to make a ball on the break", said Villarreal, a winner of the Women's Pro Tour National Championship and ESPN World Open. " I feel its going to be great! I think its about time we do something different."
Vivian's fast paced go for broke style has led her to be one of the most successful pro women players
"Vivian is a great asset to our team and I'm excited with our lineup.  Viv's flamboyant style will be sure to make her a favorite with the fans, she is a great team player and has the heart of a lion!", said Team Captain Kelly Fisher, a 2x World Pool Champion.
"Vivian is about as experienced as they come. Like the other ladies on the team, she's a former World #1, and knows how to win. And she has a unique style full of energetic offense. And psychologically she knows how to gain advantage with winning over the crowds. She's definitely going to give Team Asia a hard time", said Charlie Williams, creator of the Queens Cup.
The JBET.com Queens Cup is predicted to be another Dragon Promotions hit with this star studded world class event, this time spotlighting women's pool     www.facebook.com/thequeenscup
The Queens Cup will showcase the rivalry between the Asians and their western counterparts in Europe and USA, much similar to the Ryder Cup in golf or Davis Cup in tennis. The absolute best ladies from their respective countries and continents will be selected for the teams. The event will last 3 days in a 10-Ball format that will race to the first team reaching 10 matches for the win. Style of play will include singles, doubles, triples, and 4-on-4. Captains will be put to the test to create the best strategy in partnerships and chemistry of match-ups. If the matches go 9 to 9 hill hill, a final 4-on-4 play will create the dramatic conclusion.
The Queens Cup will play all its matches on the feature MIN TV table with Andy Cloth as the surface used for this monumental competition.
JBET.com is dedicated to providing an enjoyable, state-of-the-art online casino experience focused on fair play and top first rate customer support. JBET.com operates under a licence issued by the Gaming Commission and players can be safe with the knowledge that they are playing within regulations. We pride ourselves on the level of support we are able to offer our customers. Our support team is available 24 hours a day, 7 days a week to solve any issue, or answer any questions you may have. Please visit www.JBET.com  for more information.
SabongKing.com is operated via the local cockfight law (it actually exists) and is the premiere online live streaming site for this heritage sports of the Philippines. Its operation and service are second to none and has the highest quality of stream online. Sorry. No USA players are ever allowed.
Stay tuned for more exciting news and follow the event on Facebook at www.facebook.com/thequeenscup
Sponsors may now contact Dragon Promotions at support@dragonpromotions.com or 1-407-782-4978 . More official equipment sponsors will be announced shortly.
The #1 Technology Cue.  Top Asian Table.   Best quality cloth at unbeatable prices. www.SabongKing.com
Chicago, Illinois – South Korea's Ga Young Kim has been selected as the Captain of Team Asia at the inaugural Queens Cup. The East vs West team showdown between the world's greatest lady professional billiards players will take place November 5th-7th,2013. The event is produced by Dragon Promotions which has signed on OB Cues as the Official Cue of the Queens Cup.
"I really envied the guys because they have their own yearly team event, so I was really happy to hear about the Queens Cup.  I'm very excited for all the women because we have our own annual rivalry now. I think this a really important event for women's billiards to help encourage more players and grow pool further", said Ga Young Kim, the current reigning Yalin Women's World 10-Ball Champion. She adds, "Now we have alot of young people in Asia that are coming out now to play. There's more skill in the game, and that's why I'm happy we are playing 10-Ball in Queens Cup. There is less luck especially on the break, so everyone will have to play good to win. This will help determine who's better in the East or West."