2013 PartyPoker World Pool Masters -Feijen is the Master!
The Final

Niels Feijen (HOL) 8-6 Darren Appleton (ENG)
Semi-Finals
Niels Feijen (HOL) 8-2 Alex Pagulayan
Darren Appleton (ENG) 8-4 Chang Jung-lin (TPE)
HOLLAND'S NIELS FEIJEN captured the 21st annual PartyPoker World Pool Masters crown as he came through a tense final to defeat England's Darren Appleton 8-6. It was Feijen's first victory in an event he has been competing in periodically for ten years and he picks up a $20,000 winner's cheque.
It was consolation for his heart-break defeat in the final of the World Cup of Pool last month when he and his Dutch team mate Nick Van den Berg narrowly went down to the Philippines.
"The crowd was cheering hard for Darren. We had both been playing well all week and that is sport, somebody has to lose and somebody has to win. He played really well all week and it could have gone either way. I managed to win and it is a great feeling," said a thrilled Feijen after being presented with his magnificent trophy by six-times Masters champion Ralf Souquet.
Feijen had enjoyed wins over Mosconi Cup team mates Karl Boyes and Mika Immonen in the opening rounds and then beat Alex Pagulayan in the semi-final and it was another Mosconi team mate who awaited him in the championship match.
In front of a packed and vocal crowd at the Barnsley Metrodome, Appleton won a cagey opener that was full of safety. Feijen had played a superb table length jump shot that banked the 2 ball down table into the corner pocket. He missed the 4 though and Appleton, egged on by an excitable crowd, ran out.
He looked set to make it 2-0 but missed a shocker of an 8 ball, a straight in shot from around four feet, leaving it in the jaws of the pocket. Feijen didn't hesitate to make it 1-1 and he broke confidently in the next.
A long pot on the 2 ball missed in the intended pocket but dropped into the opposite corner, but the Dutchman was blocked on his path to the 3 ball. They swapped safeties before Feijen once against made an outstanding jump shot to set up a run out and give himself the lead.
They shared the next two and when Appleton cleared up in the sixth, the match returned to parity. Feijen got back to the table after a dry break and played a couple of great combination shots  – a carom off the 2 ball to sink the 8, then a 2/4 combo – to set up a run out and get to 4-3.
Feijen though scratched in the next as the white was kicked in and Appleton made no mistakes as he drew level at 4-4.  Appleton ran out the next to take the lead and edge one step closer to the title but his march was halted as Feijen won the tenth.
It was now a race to three with the Dutchman breaking but he snookered himself behind the 5 ball and his escape left Appleton a shot on the 4. He made that and ran out, under some pressure, to regain the lead.
In the next Appleton jumped out of a snooker but missed the 4 ball up table to gift ball in hand to Feijen and he cleared for 6-6 and with the break he was now favourite for the match. He won the next from the break and his fate was now in his hands.
The final rack was a nerve wracking game as both had visits and chances. Feijen broke down when his 4/7 went in but he left himself no shot on the 4. Appleton looked like he was going to take the match into the 15th rack when he banked the 5 ball brilliantly down table but he overcut the 6 ball and missed the middle pocket.
Feijen then composed himself and ran the last three balls and with that he let out a huge victory roar.
"It was really nerve wracking. It went back and forth the whole time. I went 3-1 up, 3-3, 5-4 to him. Then I went 6-5 and 7-6 and thought I had blown it when I had a combination in the corner and had to make both balls. The last one didn't go in and he played an unbelievable bank. But he missed the 6 and I took it from there," said the Dutchman.
"Four weeks ago Nick Van den Berg and myself lost in the World Cup final. We gave it away when we had a chance to make it 9-7 to us but we ended up losing 10-8. That is in the back of your mind, you don't want to lose another final when it is close. "
Appleton, playing in a major tournament for the first time in his home county, was devastated: "This is probably the most disappointed I have even been on a pool table. The balls might have punished me for missing an 8 to go 2-0.
"I feel that had I won that game I might have run away with the match. From there I was down 3-1. I played really well after that without getting any luck in the match. I hit the break perfectly at 6-5 but I didn't get a shot so I put him in a good snooker and he came out and made that ball.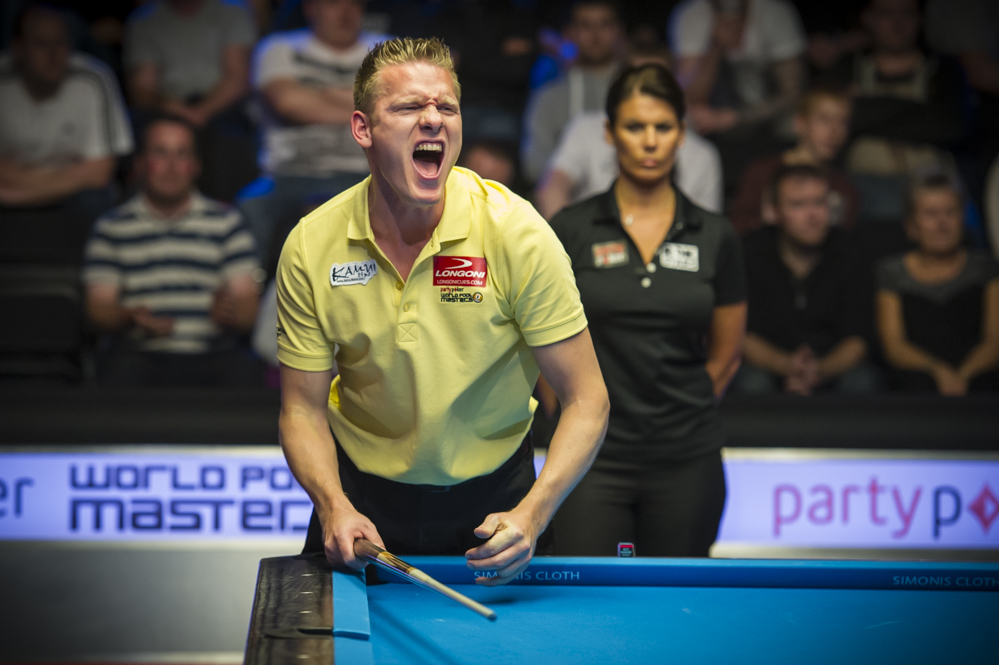 "In the last game he had a chance to win and missed it. I played a really good bank shot on the 5, landed a bit funny on the 6 and didn't know whether to take it in the side pocket or the corner. The crowd was so loud I waited for them to calm down and by the time I played the shot there wasn't long left on the clock. It was a really tough shot on the 6 ball."
This was the 21st annual running of the PartyPoker.com World Pool Masters following its inaugural event in 1993. Some of the greatest players in the modern era of pool have won this title including the likes of Souquet, Strickland, Orcollo and Appleton. With a field of 16 players there are 15 matches in total – all race to eight racks.
The Scores

Round One
Chris Melling (ENG) 8-3 Karol Skowerski (POL)
Nick Ekonomopoulos (GRE) 8-2 Ralf Souquet (GER)
Niels Feijen (HOL) 8-6 Karl Boyes (ENG)
Mika Immonen (FIN) 8-6 Efren Reyes (PHI)
Alex Pagulayan (CAN) 8-2 Ga Young Kim (KOR)
Chang Jung-lin (TPE) 8-6 Daryl Peach (ENG)
Shane Van Boening (USA) 8-4 Omar Al Shaheen (KUW)
Darren Appleton (ENG) 8-3 David Alcaide (ESP)
Losers receive $2,000
Quarter Finals
Alex Pagulayan (CAN) 8-4 Chris Melling (ENG)
Niels Feijen (HOL) 8-0 Mika Immonen (FIN)
Chang Jung-lin (TPE) 8-3 Nick Ekonomopoulos (GRE)
Darren Appleton (ENG) 8-3 Shane Van Boening (USA)
Losers receive $2,500
Semi Finals
Niels Feijen (HOL) 8-2 Alex Pagulayan (CAN)  
Chang Jung-lin (TPE) v Darren Appleton (ENG)

Losers receive $5,000
The Final
Niels Feijen (HOL) 8-6 Darren Appleton (ENG)
Winner received $20,000, runner-up receives $10,000.
The 2013 PARTYPOKER.COM World Pool Masters is sponsored by PartyPoker.com, the world's leading online poker site. Cloth is supplied by Iwan Simonis and the Official Balls are Super Aramith. Diamond is the supplier of the Official Table and Predator is the Official Cue.
Luke Riches, Matchroom Sport: luke.riches@matchroom.com
Notes: Matchroom Sport are one of the world's leading producers of televised sport and are responsible for over 1,000 hours of original programming across a range of sports. Based in the UK and chaired by charismatic founder Barry Hearn, the World Pool Masters is one of a stable of pool events that include the World Cup of Pool and the Mosconi Cup.