WPBA MASTERS: AND THE WINNER IS… EWA MATAYA LAURANCE!!!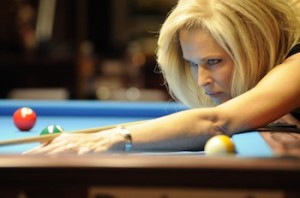 WPBA MASTERS: AND THE WINNER IS… EWA MATAYA LAURANCE!!!
Epic Battle of the Hall of Famers!
MT. PLEASANT, MI – The WPBA Masters at the Soaring Eagle Casino & Resort has now concluded, and the winner is none other than Ewa Mataya Laurance (right), defeating #2 ranked Allison Fisher (left) in an epic battle of two veteran champions!
BCA and WPBA Hall of Famer and former Grand Ledge, Michigan resident, Ewa Mataya Laurance took an early 2-1 lead in the short televised race to 7 against fellow BCA Hall of Famer, #2 ranked Allison Fisher. Ewa then extended the lead to 3-1, 4-1 and 5-1… And then Allison mounted a comeback!
5-2, 5-3, 5-4 and suddenly the score was tied 5-5; a race to two, with Allison breaking. Ewa dug deep and pulled out the next two games for a 7-5 victory and $10,000 payday in the first WPBA event of 2012!
In the first sem-final, Ewa proved she'd be a formidable contender when she defeated #1 ranked Ga Young Kim 7-6 for her place in the title bout.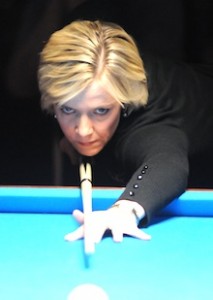 The other semifinal was a battle of the Fishers: Kelly Fisher vs. Allison Fisher (pictured left). Though they're not related, they both hail from the U.K. and both yield a deadly cue. Allison pulled out all the stops and defeated Kelly 7-4 to head to the finals against Laurance.