Dyno Darren joins Euro Squad for Vegas
2013 PartyPoker.net Mosconi Cup
Dyno Darren joins Euro Squad for Vegas
'DYNAMITE' DARREN APPLETON  becomes the second member of the 2013 PartyPoker.net Mosconi Cup European team as he crowns another successful 12 months with a place among the games' elite at the Mirage Hotel and Casino in Las Vegas from 2nd to 5th December.


Appleton, 35, will join Ralf Souquet in the line-up for what will be his fifth Mosconi Cup appearance in a row following his debut in 2009.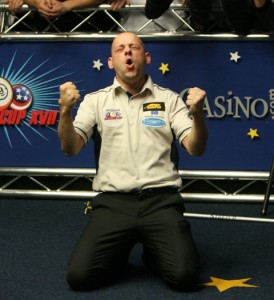 "I expected it this year to be honest as I'd done well in the Mosconi in the last two years but I wasn't expecting to get picked so early so I'm very excited about it," said Appleton.
"I don't take anything for granted but knew I had a great chance of making the team and joining Ralf.
"It's my fifth straight Mosconi Cup and I'm the only European to have played in all of the last five so I'm pretty proud of that achievement. I told myself after in 2008 when I didn't get picked after winning the World 10 Ball, that I'm never going to miss the Mosconi Cup again so I'm really proud of myself."
Appleton was fairly anonymous on this debut, a losing effort at the MGM Grand in 2009, but bounced back the following year with a storming display in Bethnal Green that saw him snatch MVP honours.
"I didn't want to be one of those players who maybe plays in it once or twice and then doesn't play for two or three years. It's the pinnacle of all players' careers and at the beginning of the year we have two main goals – to win a major title and get in the Mosconi Cup team at the end of the year.
"I've managed to win a major title in winning the World Games gold medal and now I'm in the team for the 20th Mosconi Cup which will be a special occasion so I'm very excited."
Appleton also played well in '11 and then last year when he helped Europe to two more victories. It's been a meteoric rise for the Yorkshireman who made the decision to give up English 8 Ball and try and make his name on the world stage just a few years ago.
"It's hard to believe five years ago that I would be considered one of the best players in Europe or even the world but I don't take anything for granted and keep working hard, and keep trying to improve. A lot of people think it all comes naturally but in some ways you have to work harder after success as they're all after you.
"The Mosconi Cup is a unique event and we'd play even if there wasn't any money as it's all about pride and passion, and to be amongst the best players in Europe is a good feeling.
2009 was a great memory even though it was my first year and we lost but I'd watched it on TV for so many years so it was a great to finally be there.
"The following year in London I got the MVP award and that has to be one of my biggest achievements. It was just the way I played as I couldn't have played any better than I did that week and my best personal moment was when I beat Dennis Hatch on the Saturday night, the atmosphere was crazy, absolutely amazing!"
Despite a solid run of wins for the Europeans, Appleton is taking nothing for granted when the two sides meet once again in December.
"I know I'll bring a lot of heart because that's what gets me through a lot of matches. I always bring a lot of passion and let my emotions out in the arena. I'll be in tip top shape as the Americans will have a great team this year.
"They've brought Johnny Archer in as playing captain which is a good idea and Buddy Hall is one of the most well respected people ever with American fans and that will encourage their team. This year, they're playing good and I think this could be the most exciting yet!"
The PartyPoker.net Mosconi Cup takes place at the Mirage Hotel and Casino, Las Vegas from Monday 2nd to Thursday 5th December and features two five-man teams representing the USA and Europe.
The Europeans are the defending champions, having won 11-9 in London last December, their fifth win in six years.
Tickets are available from www.ticketmaster.com (Search 'Mosconi Cup') or directly from the Mirage on (+1) 702 792 7777 or 1-800-963-9634.
*This is the sixth of 11 announcements naming the two 2013 PartyPoker.net Mosconi Cup teams.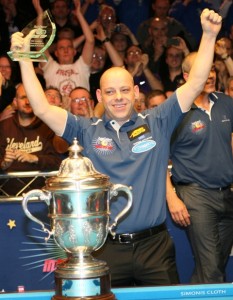 The 2013 Mosconi Cup is delighted to work with our valued suppliers -Diamond Billiards: Tables; Iwan Simonis: Official Cloth; Aramith: Official Balls and Predator: Official Cue.
Luke Riches, Matchroom Sport: luke.riches@matchroom.com
Notes: Matchroom Sport are one of the world's leading producers of televised sport and are responsible for over 1,000 hours of original programming across a range of sports. Based in the UK and chaired by charismatic founder Barry Hearn, the Mosconi Cup is one of a stable of pool events that include the World Pool Masters and the World Cup of Pool.