Volunteer State Championship at J.O.B. Billiards
They were 13 women players competing and when it came down to the final 3 it was  Amy Acerra and Janeen Gardner on the loser's side both from Memphis TN.
In the hot seat it was Amanda Wilder from Brentwood, TN.
Amy Acerra                         Janeen Gardner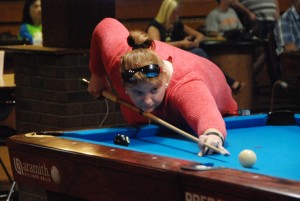 Amanda Wilder wins 5 – 2 over Janeen and takes home the bragging rights with $325 cash
Format:Loser's break

Race: Men-7, Ladies'-5 -Rules-BCA 8 & 9 Ball rules
Winner of Lag has choice of game, 8 or 9 Ball, Game will change at the end of 5 (Ladies') or 7 (Men) games.
Played on 7 ft Diamond Bar Tables.
Sponsored By: Alex Brick Cue's and Diamond Billiards Products
46 player's in Men's Division down to final 6
Winner's Bracket-Jason Evans vs. Kevin Joiner – Evans won 7 – 3
Loser's Bracket -Adam Ledlow vs. Nick Hickerson – Hickerson won 7 – 6
Loser's Bracket -Tim Miller vs. Josh O'Neal  – O'Neal won 7 – 5
When it came down to the final 3 it was Josh in the hot seat. Tim and Nick played to see who will battle it out
to play Josh O'Neal. Nick won and had to beat Josh O'Neal twice, and that is exactly what he did.
First game 7 – 2 and then 7 – 4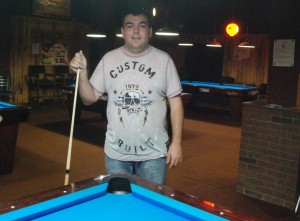 $600 -Nick Hickerson wins the Volunteer State Championships
Tournament directors:
Barry Felts and Peg Legman also with the help of Pam Bennett