USBA Regional Qualifier 2013 – Pendennis Club of Louisville, KY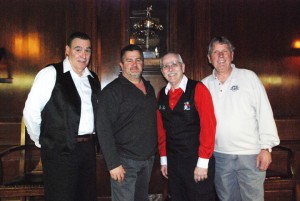 Jim Bishop, Brian Haff, Tom "Dr. Cue" Rossman, George Theobald
Four players going to USBA Nationals 
Sunday, February 10, 2013:
Players continued to exhibit the finest in competitive shot making and professional demeanor as match games began right on schedule.  Early match games for the day produced a must win for Rossman over Piper, and special victories for Haff and Theobald over Anderson and Frankel respectively.
Bracket E revealed a high run of 7 for Bishop, but a determined Friedman fought back to win by a score of 20 – 15.  This victory for Friedman set the stage for an exciting finish with all 4 players in this bracket tied at 1 win / 1 loss each.
Rossman maintained focus against Friedman and produced a comeback victory winning 20 – 16.  Bishop played superbly against Piper with a victory score of 20 – 10 – Rossman and Bishop had secured 2 of the 4 spots for the Nationals!
Bracket F demonstrated great tournament play by Haff and Theobald.  Haff went on to win one of the National spots (4 total for the event) as he remained undefeated in the finals.  George Theobald played Haff in the final match and gave it his best, but fell short by a few points.   Even in this loss Theobald showed great poise and assured himself a spot in the Nationals also with a 2 – 1 win/loss record.
The final positions of finish were: Brian Haff (1st), Jim Bishop (2nd), George Theobald (3rd); Tom "Dr. Cue" Rossman (4th); Ed Friedman (5th); Paul "Professor-Q-Ball" Frankel and Joe Piper (tied for 6th / 7th); and Jonathan Anderson (8th).  Frankel and Bishop tied for high run of 7 and shared the $100 prize for this accomplishment. The top 4 players each earned a National berth in the USBA Nationals in April for their Pendennis Club victories.
A special thanks to the Pendennis Club and their staff members for opening their historical and beautiful venue to the world of USBA 3 Cushion once again.  Special memories for all in attendance were recorded for prosperity, as we are hopeful for a return to Louisville and the Pendennis Club next year.
See completed brackets (E & F) for final results and photos of top 4 finalists!! (click on this link)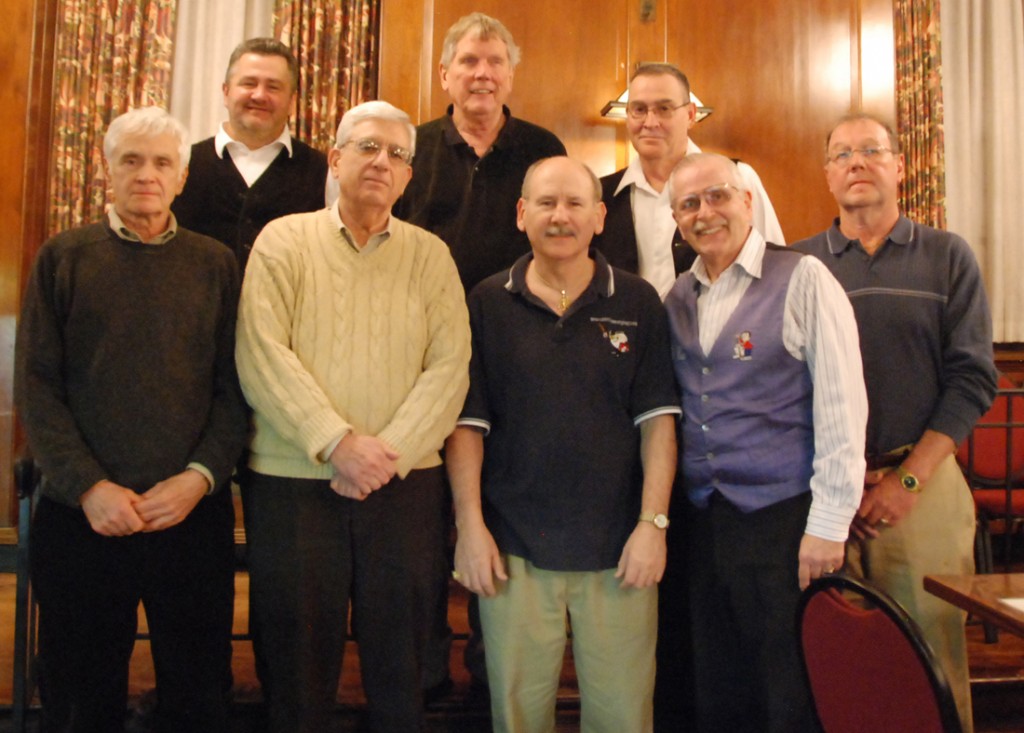 8 Finalists
Saturday, February 9, 2013:
Play once again started right on time with several players performing very well.   Professor-Q-Ball had a high run of 7 for the prelims and made the finals; Jim Bishop and "Dr. Cue" had perfect records going into the finals at 5 wins and no losses.  Other players making the finals were Ed Friedman, Joe Piper, Brian Haff, George Theobald, and Jonathan Anderson.   The first round of the finals began on Saturday evening with Bishop defeating Rossman, Piper besting Friedman, Theobald winning over Anderson, and Haff taking a victory over Frankel.
More exciting finals competition will start at 9:30AM on Sunday.
Stay tuned for final results tomorrow afternoon.
Friday, February 8, 2013 (evening):
Tom "Dr. Cue" Rossman     Chris O'Brian
Matches continued at a fever pitch with excitement and magnetic play as Friday matches came to a close.  Close contests remained definite crowd pleasers as Tom "Dr. Cue" Rossman came from behind to defeat a consistent Chris O'Brian by the narrow margin of 20 – 19.
Gary Eake                      Paul "Professor-Q-Ball" Frankel
Gary Eake edged out Paul "Professor-Q-Ball" Frankel by a score of 20 – 18, Dennis Douberteen squeaked by Brian Haff in breathtaking fashion with a final score of 20 – 19, and in an unusual game between Joe Piper and Eric Hughes with the score tied at 10 – 10, Joe ran the high run for the tournament to date of 6 and went on to win 20 – 10.  Players finished the evening right on schedule and look forward to an on time start on Saturday of 10:00AM.
Friday, February 8, 2013:
Greg Warren                              Jonathan Anderson
Players were eager to compete on Friday and ready to go.  Match play started right on time with most of the matches reflecting one player on his game and one player off slightly.  One match went to the wire with Greg Warren defeating Jonathan Anderson by a slim 1-point margin 20 – 19 and newcomer Nick Kenny edging out veteran Chris O'Brian by 2 points 20 – 18.   Players continue to "enjoy the roll" in mid-afternoon match sessions"¦
More to come"¦
After the players' meeting at 1:00PM each competitor prepared for battle and a great time to be shared by all at the beautiful Pendennis Club.  First round 3-Cushion action started right on time and several of the matches became fan friendly very quickly.  The second round begins sharp at 10:00AM on Friday and promises to be more of the same.  Bracket scores can be viewed for each player to date by clicking on the banner  on home page.
USBA Regional Qualifier 2013 – Pendennis Club of Louisville, KY
The USBA Regional Qualifier will be a 4-day event starting with the player's meeting on February 7 -Thursday at 1:00 pm. First rounds will start after players meeting.
Format: Entry fee is $165, Dress code, Slacks, Collar shirt and No jeans or sneakers, round robin format, race to 20 points in the prelims and 25 points in the finals.
There will be 4 flights of 6 – Top Two from each flight advances to the finals. There will be 2 flights of 4 players,
Top 2 finishers of each Final flight will win free entry into the USBA Nationals and will receive $200 expense money at the Qualifier.
All 8 finalists receive  money
James Stoner                       Peter Hull
Eric Hughes                                 Dr. Ehlers
For more information, Paul "Professor-Q-Ball" Frankel
Bus. 901 756-2594 or Cell 901 210-7251