The Diamond Women's Open 9-ball Champion – Allision Fisher
Return of the Pro Women's 9-Ball
By Ricky Bryant
The last Pro Women's event at SBX was 2010 and won by Kelly Fisher, who was not present this year.  Kelly may not have been present but another Fisher was. Allison Fisher the 2009 Champion was present and in stroke and on track to win. The Diamond Women's Open 9-ball Professional Players Championship was two days, Saturday and Sunday. The event was played in the Pro-Arena on the Diamond 9 foot tables and was a race to 11, rotate break and single elimination.  There were 19 women entered in the event:
Borona Andoni, Jennifer Barretta, Brittany Bryant, Mandi Capps, Pamela Cimarelli, Lenore Donovan, Emily Duddy, Yomaylin Feliz, Allison Fisher, Dawn Fox, Dawn Hopkins, Li Jia, Erin McManus, Grace Nakamura, Denise Reeve, Sarah Rousey, Morgan Steinman, Junko Tsuchiya, Judie Wilson
After the players meeting on Saturday morning there were three rounds played. In the first round there were 3 matches and 13 players got a bye to the second round. The first round saw Emily Duddy over Yomaylin Feliz, Dawn Hopkins over Junko Tsuchiya and Li Jia over Lenore Donovan.
The second round had some dramatic hill-hill wins, Morgan Steinman over Emily Duddy, Li Jia over Jennifer Barretta and Grace Nakamura over Dawn Fox. The other five players moving to the round of 8 were Sarah Rousey, Brittany Bryant, Dawn Hopkins, Erin McManus, and Allison Fisher.
The round of 8 was the last round on Saturday with only one hill-hill match going to Li Jia over Brittany Bryant. The other four matches had Sarah Rousey over Morgan Steinman, Dawn Hopkins over Erin McManus and Allison Fisher over Grace Nakamura.
The final two rounds, semi-finals and final were set for Sunday. The semi-final had Li Jia verses Sarah Rousey and Allison Fisher verses Dawn Hopkins. Neither of the matches would be that close with Li Jia winning 11-4 and Allison Fisher winning 11-5. This set up the final of Jia against Fisher.  Allison brought her "A" game to defeat Li Jia 11-6 to claim her second SBX Pro Women's Championship, 2009 and now 2013.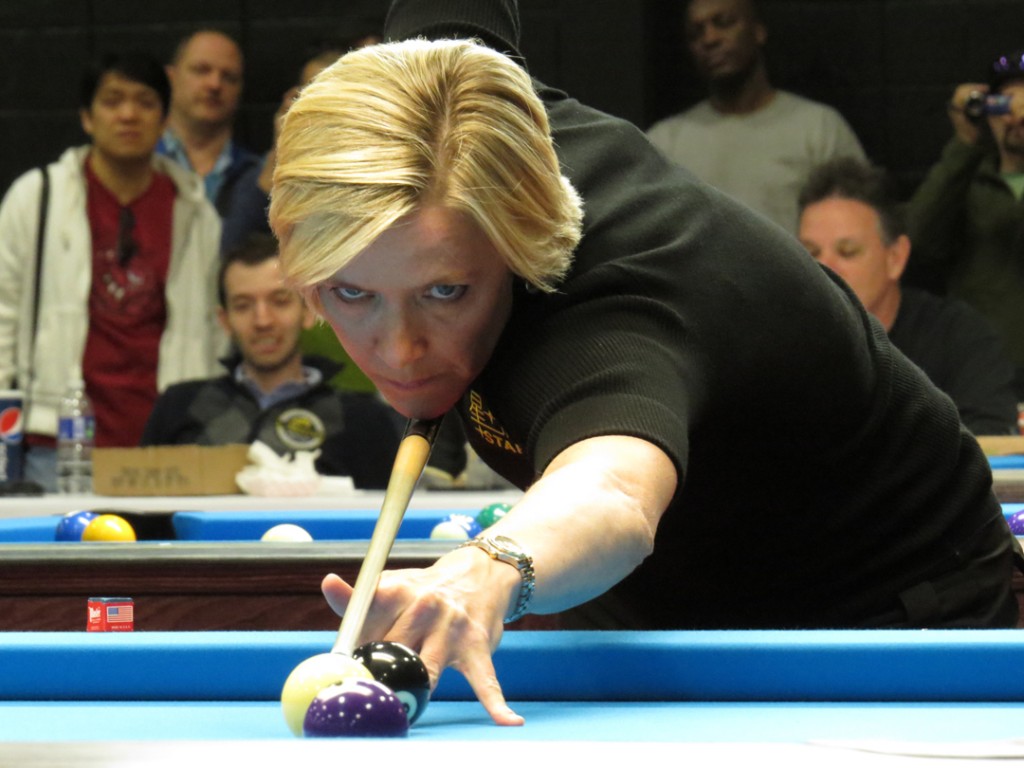 The payouts were:
1st: $5000 -Allison Fisher
2nd: $1500-Li Jia
3rd/4th: $800 each, Sarah Rousey and Dawn Hopkins
5th-8th: $650 each, Brittany Bryant, Morgan Steinman, Erin McManus and Grace Nakamura