2013 Junior National 9-Ball Championships Heads to Vegas
2013 Junior National 9-Ball Championships Heads to Vegas
December 19, 2012 (Englewood, CO): The Billiard Education Foundation (BEF) announces its 25th Annual Junior National 9-Ball Championships to be held July 26-29, 2013 at the Rio All-Suite Hotel & Casino in Las Vegas, Nevada. This special anniversary event will be hosted alongside the CueSports International (CSI) annual amateur and professional events.
Many of the top professional players today got their start with this prestigious junior event and it continues to attract the nation's finest youth with its four divisions: boys' 15-18, boys' 14 & under, girls' 15-18, and girls 14 & under. These young competitors vie for titles, scholarships, and prizes each year, along with an opportunity to represent the US at the World Pool-Billiard Association (WPA) Junior World Championships.
"I'm very excited for next year's venue. With CSI's support, we'll be able to offer professional equipment, live streaming, real-time scoring, online brackets, and more! The juniors will play alongside their favorite pros, and even attend clinics featuring many of them," said BEF Executive Director, Samm Diep-Vidal, "we're looking forward to a memorable 25th anniversary."
"CSI has been actively supporting junior programs for years and look forward to putting them on center stage. We are happy and proud to be able to provide the juniors with the best playing equipment and conditions possible (Diamond tables, Simonis cloth, and Aramith balls)," added Mark Griffin, CEO of CSI.
For more information on the BEF, Junior Nationals, and other junior billiard programs, visit the BEF website at www.billiardeducation.org.
CueSports International (CSI) is dedicated to creating more choices for all players. In the past 8 years CSI has directly paid out $8,000,000 to players. CSI is the parent company of the BCA Pool League and the USA Pool League and will also be producing the following events at the Rio: WPA World Artistic Pool Championship, the 37th BCAPL National Championships and the 3rd USAPL National Championships, and the 14th US Open One Pocket Championship, the 5th US Open 10-Ball Championship and the inaugural US Open 8-Ball Championship. Visit www.playcsipool.com, www.playbca.com, and www.playusapool.com for more information about CSI and its divisions.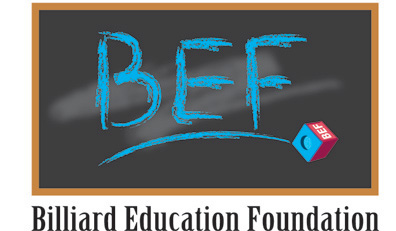 The Billiard Education Foundation (BEF) was formed in 1993 as a 501(c)(3) nonprofit charity committed to promoting a lifelong love of pool and building the next generation of players through youth programs and academic scholarships. Visit billiardeducation.org or call (303) 926-1039 to learn more about junior billiard programs in your area.