RETURN OF THE BOY WONDER-Day 1 Recap from the China Open
TWO TIME FORMER WORLD CHAMPION WU JIAQING(FORMERLY WU CHIA CHING) MAKES A SURPRISE SPLASH IN AN ACTION PACKED DAY 1 AT THE 2013 CHINA OPEN
By Ted Lerner-WPA Press Officer
Photos Courtesy of Jin Li / TOP147.com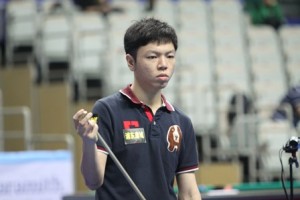 (Shanghai)–You don't come to the China Open with the gall thinking you are going to win this tournament. You just hope to survive long enough, say to the semi-finals, where you then have as good a chance as anyone to pull off a career defining victory.
It's not only the stacked field comprised of most of the world's best male and female pool players that makes the odds so long. It's the conditions. Lightning quick tables, generous pockets, template racking which practically guarantees one, two and sometimes even three balls on the break.   The result is the ultimate equalizer, a wide open shootout with the world's best gunslingers letting it all hang out.  Welcome to the Wild West of professional pool.
"It's really hard to say what's good and what's bad out here because it's so easy to pot balls," said 2011 China Open champion Chris Melling, after he staved off elimination on day 1 with a losers side win over American Oscar Dominguez. "The pockets are so big and the cloth is so fast. Everyone's making two and three balls on the break. It makes the whole tournament level. I think we're going to have a surprise winner here."
Maybe or maybe not. Things may look topsy turvey at the beginning, but the pressure that is unique to professional pool at this level tends to favor the best and the bravest. And pool generally follows the tenets of that famous phrase, "the crème always rises to the top."
Indeed day one of the 2013 China Open  9-ball inside the Shanghai Pudong Yuanshen Stadium arena in Shanghai produced plenty of nail biting, down- to-the-wire drama, but few shockers.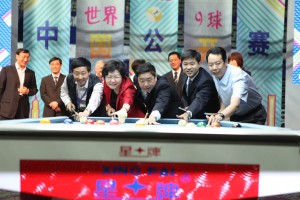 Leading the pack in the men's event, which features 64 players divided into 8 groups of eight playing double elimination, was the defending champion Dennis Orcollo of the Philippines.  Orcollo had no time to get loose as he immediately found himself in a dog fight with unknown Taiwanese Ahen Yuxuan.  Yuxuan had the race to 9 match tied at 7 but succumbed to the pressure late and handed Orcollo a 9-7 win.
China's number one player Li Hewen, who came within one rack of winning the 2012 World 9-ball Championship in Qatar, came from behind in a TV table match against Orcollo's talented countryman, Carlo Biado, and won 9-8. Later on, Li laid down his marker when he easily beat Canada's John Morra to advance to the knockout stage of 32. Biado, who is due to go far in a major tournament, later got his feet back under himself with a 9-1 drubbing on the losers side over China's  Zhou Long.
Taiwan looks set to put its usual dent in the proceedings as world number 1 Chang Jung Lin, along with Ko Pin Yi and Fu Chei Wei all won handily with Fu already advancing. In all, Taiwanese players won 8 out of 11  matches today.
As befitting a major tournament, there were some high quality matches straight out of the gates that could have easily been contested as finals. Former World 9-ball champion Alex Pagulayan went up against former World 8-ball champion Karl Boyes in the first round. Pagulayan took advantage of just a few mistakes by Boyes and won 9-5.
European Mosconi Cup teammates Nick Van Den Berg of Holland and Nick Ekonomopolous of Greece took their match to a one rack decider with the Nick the Greek squeaking by, 9-8.
One of the most intriguing matches of the day pitted Hollands talented Niel's Feijen against two time former world champion Wu Jiaqing(formerly known as Wu Chia Ching.)   Wu, who made pool history back in 2005 when he won the World 9-ball championship when he was just 16 years old, and then went on to win the World 8-ball championship just five months later, only recently completed   a 16 month stint in the Taiwan military.  And this was on the back of four straight years of personal drama and intrigue which has left the sport without one of its biggest stars.  In the military Wu was forced to mop floors and clean windows for the entire time and he never once touched a cue stick. In addition, in August of last year, Wu was diagnosed with Lukemia. Fortunately doctors caught the blood disease in its very early stages and Wu says it can be controlled with medication.
Having only practiced for one month since being discharged from the military, Wu came into the match against Feijen with no expectations. Wu, however, looked like the boy wonder of old as he thumped the Dutchman 9-4.
"I'm happy with the way I played today," Wu, who now resides in China, said afterwards through an interpreter, "but to be honest I have no confidence that I can win the tournament. " Of course nobody who knows pool believes that.
On the women's side, which features 48 player divided into 8 groups of six, defending champion Kelly Fisher kept the express train barrelling down the tracks with a 7-0 win over China's Liu Jia. The match took an incredible 20 minutes to complete.
Hall of Famer Allison Fisher won her first match, then had to face old rival Ga Young Kim of Korea in a marquee affair. Kim won 7-4.
Chinese stars Fu Xiaofang, Pan Xiaoting and Chen Siming all won their opening matches.
The group stages continue on Friday in Shanghai. After completion of play on day 2, the men's field will be down to 32 players and the women's field will be down to 16. Both tournaments will then be single elimination knockout through to the finals on Sunday.
*The 2013 China Open will be held in Shanghai, China from May 12-19 and is sanctioned by the World Pool & Billiard Association(WPA). 64 men and 48 women will compete in separate 9-ball events. The China Open is a WPA ranking event.  The main event will begin on May 16 and run through May 19.
The WPA will be providing full coverage of the 2013 China Open via its website at www.wpapool.com, and through Facebook at www.facebook.com/WpaChinaOpen.  The WPA will be providing live scoring of all matches, daily articles and analysis from WPA Press Officer Ted Lerner, and photographs.  Fans can also follow the event through Twitter; @poolwpa.
The 2013 China Open will be streamed online through several Chinese websites. The WPA will be providing the links through our Facebook page as we receive them.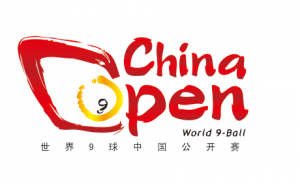 Men's Division Round 1 matches
Group A
Chang Jung Lin(TPE)  9 – 3 SHAW So(IRI)
Zhu Hongming (TPE) 9 – 3. AL SHAHEEN Omar (KUW)
Zhu Xihe (CHN) 9 – 6 HAN Haoxiang (CHN)
Xu Kailun(TPE) 9 – 6 OI Naoyuki  (JPN)
Group B
Nguyen Ann Tuan(VIE) 9 – 8 Yukio Akagariyama(JPN)
AlRiwani, Salah  (UAE) 9 – 8  Mohammed Ahmad Al-Bin Ali(QAT)
Seungwoo Ryu(KOR) 9 – 8 Phil Burford(GBR)
Ke Bign Zhong(TPE) 9 – 7 Thorsten Hohmann(GER)
Group C
Fu Che Wei(TPE) 9 – 6  Sharik Aslam Sayed(SIN)
Dang Jinhu(CHN) 9 – 6 Fu Jianbo(CHN)
Kenny Kwok(HKG) 9 – 3 Rafath Habib(IND)
Alex Pagulayan(CAN) 9 – 5 Karl Boyes(GBR)
Group D
Li Hewen(CHN)  9 – 8 Carlo Biado(PHL)
John Morra(CAN) 9 – 8 Zhou Long(CHN)
Afrinneza Isral Nasution(IND) 9 -7 Oscar Dominguez(USA)
Jeffrey De Luna(PHL) 9 – 5 Chris Melling(GBR)
Group E
Darren Appleton(GBR) 9 – 5 Jalal Yousef(VEN)
Wang Can(CHN) 9 -1 Cristian Tuvi(URU)
Wu Jiaqing(CHN) 9 – 4 Niels Feijen(NED)
Nick Ekonomopoulos(GRE) 9 – 8  Nick Van Den Berg(NED)
Evening Session
Group F
Ko Pin Yi(TPE) 9 – 4 Chu Bingjie(CHN)
Johann Chua(PHL) 9 – 3 Zeng Zhaodong(CHN)
Do The Kien(VIE) 9 – 1 Tursaikhan Amarjargal
Lee Van Corteza(PHL) 9 – 6 Nick Malai(ALB)
Group G
Ralf Souquet(GER) 9 – 0  Zbynek Vaic(RSA)
Chang Pei Wei(TPE) 9 – 3 Hunter Lombardo(USA)
Radoslaw Babica(POL) 9 – 3Bashar Hussain(QAT) vs.
Zhang Yulong(TPE) 9 – 5 Liu Haitao(CHN)
Group H
Dennis Orcollo(PHL) 9 – 7 Ahen Yuxuan(TPE)
Albin Ouschan(AUT) 9 – 1 James Delahunty(AUS)
Daryl Peach(GBR) 9 – 3 Alejandro Carvajal(CHI)
Cheng Tsung Hua(TPE) 9 – 3 Huidji See(NED)
Men's Division Round 2 Matches, Losers Side
Loser is out, Winner continues on
Group B
Yukio Akagariyama(JPN) 9 – 5 Mohammed Ahmad Al-Bin Ali(QAT)
Thorsten Hohmann(GER) 9 – 8 Phil Burford(GBR)
Group C
Fu Jianbo(CHN) 9 – 8  Sharik Aslam Sayed(SIN)
Karl Boyes(GBR) 9-7 Rafath Habib(IND)
Group D
Carlo Biado(PHL) 9 – 1 Zhou Long(CHN)
Chris Melling(GBR) 9 – 4 Oscar Dominguez(USA)
Men's Division Round 2 Matches, Winners Side
Winner qualifies for Round of 32, Loser goes to Losers bracket
Group B
Seungwoo Ryu(KOR) 9 – 7 Ke Bign Zhong(TPE)
AlRiwani, Salah (UAE)9 – 5 Nguyen Ann Tuan(VIE)  vs
Group C
Fu Che Wei(TPE) 9 – 2 Dang Jinhu(CHN)
Alex Pagulayan(CAN)  9 – 5 Kenny Kwok(HKG)
Group D
Li Hewen(CHN)  9 – 5 John Morra(CAN)
Afrinneza Isral Nasution(IND) 9 – 8Jeffrey De Luna(PHL)
Women's Groups 1st round matches
Group A
Liu Jia(CHN) 7 – 2 Xia Yuying(CHN)
Chichiro Kawahara(JPN) 7 – 5 Karen Corr(IRL)
Group B
Chan Ya Ting(TPE) 7 – 4 Hyun Ji Won(KOR)
Yang Fan(CHN) 7 – 1 Doan Thi Ngoc Le(VIE)
Group C
Gao Meng(CHN) 7 – 5 Ma'sum Fathrah(IND)
Wei Tzu Chien(TPE) 7 – 3 Angeline Magdalena Ticoalu(RSA)
Group D
Eunji Park(KOR) 7 – 2  Brittany Bryant(CAN)
Allison Fisher(GBR) 7 – 1 Carlynn Sanchez(VEN)
Group E
Li Jia(CHN) 7 – 1 Mrjana Grujicic(VEN)
Zhu Tingting(CHN) 7 – 4 Jasmin Michel(GER)
Group F
Bi Zhu Qing(CHN) 7 – 4 Charlene Chai Zeet Huey(SIN)
Jing Jia(CHN) 7 – 5 Nicola Ilse Rossouw(RSA)
Group G
Wu Jing(CHN) 7 – 1 Keiko Yukawa(JPN)
Akimi Kajatani(JPN) 7 – 2 Liu Yichen(CHN)
Group H
Liu Shin Mei(TPE) 7 – 3 Bai Ge(CHN)
Rubelin Amit(PHL) 7 – 4 Han Fang(CHN)
Women's Groups, 2nd Round
Group A
Kelly Fisher(GBR) 7 -0 Liu Jia(CHN)
Pan Xiaoting(CHN) 7 – 6 Chichiro Kawahara(JPN)
Group B
Tan Ho Yun(TPE) 7 – 6 Chan Ya Ting(TPE)
Yang Fan(CHN) vs. Lin Yuanjun(TPE)
Group C
Liu Shasha(CHN) 7 – 5 Gao Meng(CHN)
Wei Tzu Chien(TPE) 7 – 6 Chen Xue(CHN)
Group D
Yu Ram Cha(KOR) 7 – 6 Eunji Park(KOR)
Ga Young Kim(KOR) 7 – 4 Allison Fisher(GBR)
Group E
Chen Siming(CHN) 7 – 0 Li Jia(CHN)
Lan Hiushan(TPE) vs Zhu Tingting(CHN)
Group F
Han Yu(CHN) 7 – 2 Bi Zhu Qing(CHN)
Chou Chieh Yu(TPE) 7 – 3 Jing Jia(CHN)
Group G
Tsai Pei Chen(TPE) 7 – 4 Wu Jing(CHN)
Keiko Yukawa(JPN)
Liu Yichen(CHN)
Jasmin Ouschan(AUT) 7 – 3 Akimi Kajatani(JPN)
Group H
Zhou Doudou(CHN) vs Liu Shin Mei(TPE)
Bai Ge(CHN)
Han Fang(CHN)
Rubelin Amit(PHL)
Fu Xiaofang(CHN)