Therese Klomenhouwer Wins

Photo by Merrill Hughes, USBA Director
Top; left to right. Orie Hida, Tokyo, Japan, Mercedes Gonzales, Florida, Gerrie Geellen, Netherlands, Therese Klomenhouwer,Netherlands, Jennifer Shim, Queens, NY, Olivia Lee, Queens, NY
Bottom row l-r: Bora Jeong, Seoul S. Korea, Ester Park, Queens, NY, Karina Jetten, Netherlands
Click on chart to make bigger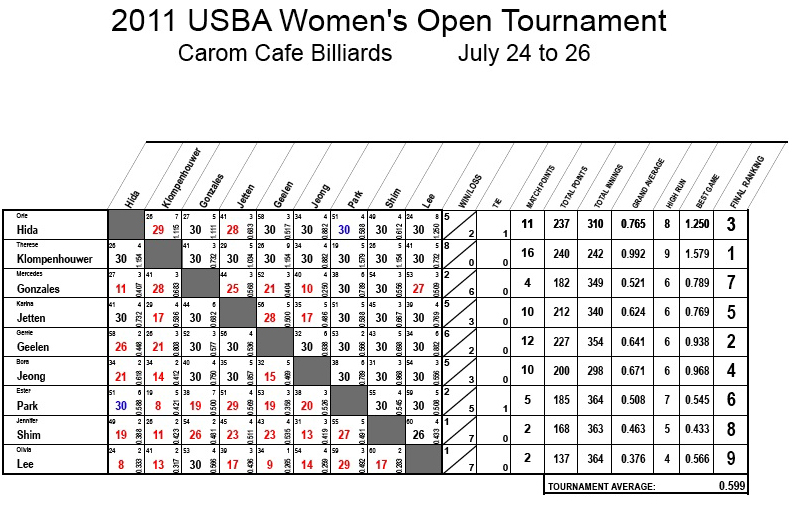 Women's Open Tournament

Nine women from different parts of the world competed in the Women's Open held at Carom Café Billiards in Flushing, NY from July 24-26, 2011.
Therese Klompenhouwer from the Netherlands and the #1 ranked player in the world came out on top. Gerrie Geelen, also from the Netherlands came in 2nd and Orie hida, the current World Champion came in 3rd.
The tournament was live-streamed on CaromTV.com. A special thank you to Jan carl and Merrill Hughes for arranging and running the live-stream. A lot of work went into making this event happen and a special thank you should go out to Steve Andersen, USBA Regional Director and Therese Klompenhouwer for working out all the details behind-the-scenes. As usual, special thanks goes out to Charlie Brown for another outstanding job as tournament director, room owner Michael Kang and all of the players and fans that attended that made this event a success.
Thanks to all the sponsors: David Levine, Michael Kang, Bob Jewett, Jim Shovak, Felipe Razon, Andrew Janquitto, Mazin Shooni, & Verhoeven tables. Special thanks to all the foreign players that participated and came a long way at great expense: Orie Hida, Bora Jeong, Therese Klompenhouwer, Karina Jetten, Gerrie Geelen, Mercedes Gonzales.
Format: Round Robin, 30-point games or 60 innings which ever came first with equal innings.
PAYOUT:
1st – $2,500
2nd – $1,500
3rd – $1,000
4th – $700
5th – $500
6th – $400
7th – $300
8th – $250
9th – $200
Player List:
1. Orie Hida – Current World Champion – Japan
2. Therese Klompenhouwer – # 1 World-Ranked Player – Netherlands
3. Karina Jetten – World Top 10 Ranked Player – Holland
4. Gerrie Geelen – World Top 10 Ranked Player – Netherlands
5. Mercedes Gonzales – Current USA Champion – Florida, USA
6. Ester Park – New York, USA
7. Olivia Lee – New York, USA
8. Bora Jeong – Korean Top Player
9. Jennifer Shim – New York, USA