2013 American Cuemakers Association 21st Dinner and Awards-By Ricky Bryant

The show and the awards dinner at the 21st Super Billiards Expo were well attended and as always one of the highlights of the four day event. The awards dinner was on Saturday night before the final day on the Expo on Sunday.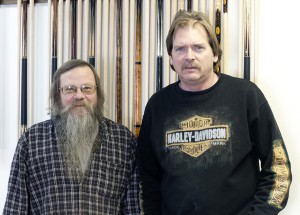 Cuemaker of the Year Award- Dave Doucette & Jim Stadum
The first award given was "Cuemaker of the Year". This award started in 2008 to recognize an ACA member who has provided a top quality product in an ethical, honorable, and professional manner through the years. The 2013 Award went to Jim Stadum and Dave Doucette of Samsara Cues. Samsara cues represent a wide variety of styles and price ranges in a high quality cue. Samsara Cues started in 1991 with a vision to combine modern technology with an ancient technique known as Intarsia to create unique designs. Dave has a background as a master cabinet maker, machinist and design engineer allowing Samsara to custom build most of their machinery. Jim's business sense and drive for perfection combined with Dave's experience makes for a winning combination. They are one of only a handful of cue makers to have a cue permanently on display at the Smithsonian Institute in Washington, D.C.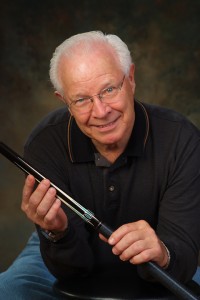 The second award presented was the "Lifetime Achievement Award". This prestigious award has only been given one other time in the 21 years of the ACA. The Award went to Jerry Pechauer of J. Pechauer Custom Cues. 2013 was also the 50 year anniversary of J. Pechauer Custom Cues. Jerry built his first cue in 1963 while doing cue repair as a sideline. 1963 was also a special year for Jerry with the birth of his son Joe.  Jerry continued to grow the business from a sideline to a full time business. Joe would build his first cue at age 14. After graduating high school he would come into the business full time and take over as president in 2007. Jerry was still involved and offering support and expertise. In 1993 they completed a new, atmosphere-controlled, state of the art facility which allows J. Pechauer Custom Cues to be made 100% in-house. Today the business has grown to a dealer base of over 400 located around the world.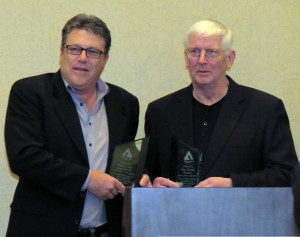 Left -Vice President Jerry Oliver & President Dave Jacoby
The next Awards were Special Recognition awards given to departing President Dave Jacoby and Vice President Jerry Oliver for their years of service. Dave will remain active as a member of the Board of Directors. The incoming President is Mike Capone and Vice President is Andy Gilbert.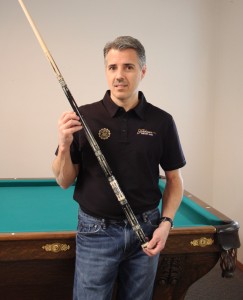 Joe Pechauer of J. Pechauer Custom Cues
The final awards of the night were for People's Choice Award. This award started in 2008. The winner is selected by votes of the cue buying public attending the Allen Hopkins Super Billiards Expo. The members of the ACA can enter a cue in the competition which is placed on display at the ACA booth for the first three days of the Expo. The competition allows the cue makers to show off their work as well as get feedback from the public on their designs. There are three awards presented, 1st: People's Choice Award, 2nd: First Runner Up and 3rd: Second Runner Up.
First Runner Up went to Brandon Jacoby of Jacoby Custom Cues who was also the 2012 First Runner Up. Second Runner Up went to Pete Tonkin of Tonkin Custom Cues who was the 2012 People's Choice winner.
The 2013 People's Choice Award went to Joe Pechauer of J. Pechauer Custom Cues. The award was accepted by his father Jerry who said "He could not be prouder of his son and this award". The cue named Empyrean is described as a work of art on an ebony and ivory canvas created with 1324 inlays; 496 Sterling Silver, 224 Malachite, 96 Abalone, and 308 Ivory. The cue has been valued at $50,000.  Congratulations to all the winners!