Dennis Orcollo wins the first "Big Foot" 10 Ball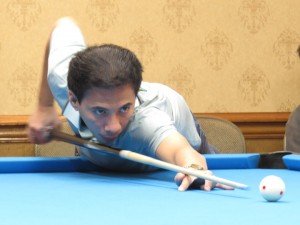 Day eight of the 15th Derby City Classic saw the completion of the "Big Foot" 10 Ball event.  Ronnie Alcano and Johnny Archer eliminated but each going home with $5,000.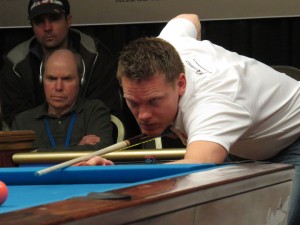 The final was Niels Feijen versus Dennis Orcollo. Niels would take and early lead but see it disappear as Dennis came charging back it what looked to be blow out match. But Niels kept grinding it out but came up short at 9 to 11. Dennis Orcollo wins the first "Big Foot" 10 Ball and takes home the $20,000 prize money. Niels Feijen takes second and the $10,000.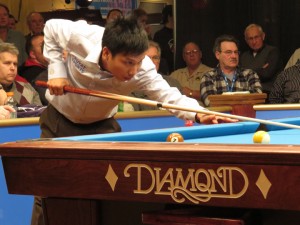 Alex Pagulayan
The 9 Ball even would come down to three players, Mike Dechaine, Alex Pagulayan and Shawn Putnam. Shawn got the bye and pass to the finals. The Semi-Final match came down to the final double hill game. When the smoke cleared Alex Pagulayan was moving on to the final. The up and down final at 5 to 5 saw Alex take the lead and with a 9 to 6 win becoming the 2013 9 Ball Champion.  Francisco Bustamante, the 2013 Banks Champion would also take home the $20,000 Master of the Table. Bustamante's finished first in the Banks, second in One pocket and 6th in the 9 Ball.
Reported by: Ricky Bryant