2013 Music City 9-Ball Open at J.O.B
Danny Smith wins 2013 Music City 9-Ball Open Nashville, Tennessee
For 26 years running, Nashville, Tennessee's premier billiard club, JOB Billiard Club, hosted the 26th annual Music City Open 9-Ball Championships held January 16-20, 2013.  Budweiser, Alex Brick Custom Cues, Diamond Billiard Products, Simonis Cloth, Nick Varner Cues and Cases, Accu-Rack at Outsvillie.com, and The Bigtruck Show/poolactiontv.com sponsored the event.
This was the third year for JOB's new owner, Ricky Gamble, as Jim Blaylock, previous owner, is still enjoying retirement, piloting his yacht around the country.  Ricky still has, former WPBA Touring Pro, Peg Ledman as General Manager of the club and they are keeping the tradition alive for JOB's.
Two Hall of Famers were present for this event"¦Johnny Archer and Buddy Hall.  Also, legendary player Bill Dunsmore entered this event.  Legends and tradition are commonplace at JOB's.
Tournament Director Steve McDonald had a busy weekend as 108 open division players and 32 ladies division players showed up for the competition that was held on 7-foot Diamond Smart Tables with Simonis Cloth.  With 28 Diamond Bar Tables, JOB's provides the perfect venue for the event, as they can handle a large number of players with ease.  And this was one of the strongest fields ever for this event in both the Open Division and the Ladies Division.
This year all the action was covered via live streaming by Ray Hansen of PoolActionTv  Productions.
Action got kicked-off Wednesday night with a 9-ball, race-to-9, single elimination mini tournament. Won by Johnathan Pinegar.
The main tournament format is 9-ball, race-to-11, double elimination in the Open Division and race-to-7 in the Ladies Division. This tournament has always been a full double elimination event.
On Saturday night, JOB's always has Midnight Madness at this tournament.  This always proves to be a great event, as it drew in a expanded field of 16 players in a single elimination format, race-to-11, paid out first and second place.  It was a $500 entry, so that makes $8,000 to the winners.  This year Johnny Archer and Eric Durbin, won the Midnight Madness.
In the 9-Ball Open Division it went the full two sets in the final with, Danny Smith defeating Larry Nevel.
A raffle cue was given away just before the finals and the lucky winner of Alex Brick Custom Cue was Sam Zuaiter:
The following are tournament results:
   Danny Smith Winner                        Larry Nevel 2nd

Open Division- 108 Players -Added by J.O.B's $6,000
1st            Danny Smith                                           $4,000
2nd            Larry Nevel                                            $2,300
3rd            Josh O'Neil                                             $1,500
4th            Joey GREY                                              $1,000
5/6th        Shannon Dalton, Eric DurbIn        $700 ea
7/8th            Johnny Archer, Johnathan Pinegar $400 ea
Paid out 24 places

Nicole Keeney  from Littleton, CO wins 2nd year in a row.
Ladies Division – Full Field -32 Players
Added by J.O.B's $1,000
1st            Nicole Keeney                                    $1,000
2nd            Liz Lovey                                               $650
3rd            Sharon Miller                                        $450
4th            Samantha Patton                                  $280
5/6th        Kim Housman, Jessica Mollinet       $200 ea
7/8th          Amy Jones, Christy Hardin                     $150 ea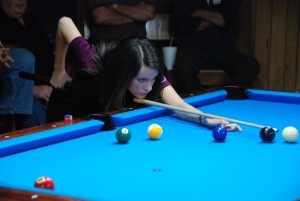 Liz Lovey from Daton, OH came in 2nd Place
Mini 68 players
1st            Johnathan Pinegar                   $470
2nd           Nick Hickerson                        $300
3/4           Dwayne Hale,John Gabriel   $165
When all said and done over a whopping $42,500 was paid out at this event.