Day one at the Derby City Classic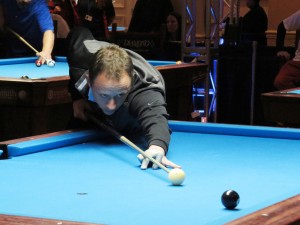 Day one of the 15th Derby City Classic was kicked off with a field of 353 players in the 9-Ball Banks event.  The event is single elimination with a onetime buy back option. Round one was completed and after the buy back time the second draw for round 2 was done at 8PM.  Round 2 started Friday night with the final matches of the night starting at 10:15PM and the remaining 2nd round will be Saturday morning. Shane VanBoening, who took 2nd palace in the 2012 Banks, found himself in buy back line after being defeated in the first round by Shannon Murphy of Ohio.
MORE TO COME AS THE DAYS GO ON.