KELLY FISHER WINS CHINA OPEN & ORCOLLO WINS IN A MASTER CLASS!
FISHER IN A ROUT!
KELLY FISHER WINS THE 2012 CHINA OPEN WITH A 9-2 DRUBBING OF CHINA'S ZHOU DOUDOU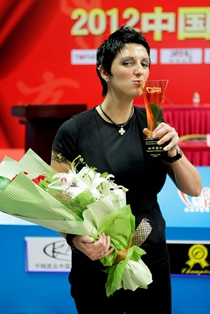 By Ted Lerner/WPA Press Officer
Photos Courtesy Tai Chengzhe and Yu Yan/Top147.com
(Shanghai)–Britain's Kelly Fisher came into Sunday's final at the China Open feeling pretty good about her game. But even she had no idea just how good things were about to get.
With an eye squarely on the prize, and clearly on greatness as well, Fisher put in an electrifying performance as she completely routed an overmatched Zhou Doudou of China, 9-2, to capture the 2012 China Open.
The entire match took just 45 minutes, and in that short span of time, Fisher left no doubt that she is the premier performer in the women's game at the moment, and by the looks of it, for the foreseeable future.
With two world titles and years more experience in her arsenal, Fisher was obviously favoured coming into the match with Zhou, who at 20 years old had never before played in a final of an international tournament. Still, with China's government backed sports system churning out young world beaters, most people expected the match to be close.
While Fisher completely dominated the proceedings, she did get plenty of help along the way from Zhou, who could never find a groove. After Fisher nabbed the opening rack in the alternate break match, Zhou completely missed an elementary 2 ball in rack two. Zhou got away with it as she accidentally snookered Fisher and ended up winning the rack. But it was a portent of things to come. And in a hurry.
"When she missed that two ball, I figured right there that she's not as settled as me," Fisher said after the match. Indeed Fisher smelled blood, and Zhou sensed a hungry shark was on the prowl as she missed a makeable 9-ball in rack three to help put Fisher up 2-1.
Two racks later Zhou missed another 9-ball to put Fisher up 4-1. From there the match was for all intents and purposes over.  Fisher's confidence was sky high and palpable to the several hundred fans watching at the Shanghai Pudong Yuanshen Stadium arena. Zhou, meanwhile, played as if she had been struck by the fear of a higher power.
Within minutes of being up 4-2, Fisher looked to be in a different galaxy as she went ahead 7 -2.  Zhou then scratched in rack 10 and Fisher went up 8-2. Putting an exclamation point on the proceedings, the Brit then broke and ran for the final slam dunk and another big time title on her resume.
Afterwards, as fans mobbed her for photos and autographs, Fisher seemed to be in awe of what she had just done, and struggled the find words to fit the moment.
"I'm absolutely thrilled," she said. "I went in confident. How can I explain it? You go out on tour. You know the odds are against you with the standard being so high now. You can get knocked out at any stage of a tournament.  But I'm feeling great about my game.
"I felt more prepared and I came in with confidence. Winning the World 9-ball championship in Shenyang gave me a boost. But getting knocked out in the World 10-ball in Manila this year knocked me down a bit. I just figured that I've won the World 9-ball, the World 10 ball, but I've never won the China Open, Now I have.
"She made a couple of errors and I played really well so there's not a lot she could have done. She's a fantastic player. I have a lot more experience than her. There's a lot of great players coming up now so I'm going to try and take it while I can.
"This is my peak in pool. I played for 8 years in the States and I was always asking myself, 'Was it going to happen? Could I win the big international events?' I knew I could do it. But actually doing it is another thing. I'm surprised but I couldn't ask for anything more."
Characteristic  of all  Chinese players, Zhou remained the model of sportsmanship in defeat.
"Kelly played really well and I made a few mistakes," Zhou said. "I'm satisfied with how I played in this tournament and I'm happy that I reached the final. I will try to learn from the experience and hopefully I can come back in the next tournament and do even better."
For winning the 2012 China Open, Fisher collected $30,000 while Zhou earned $15,000.
Final Result
Kelly Fisher(GBR) 9 – 2 Zhou Doudou(CHN)
*The World Pool and Billiard Association(WPA) is the governing body of the sport of pocket billiards. The 2012 China Open is being sponsored by Star Tables, Andy Cloth, Fury, Holiday Inn Shanghai Pudong.
ORCOLLO WINS IN A MASTER CLASS!
FILIPINO CAPTURES THE 2012 CHINA OPEN WITH A BRILLIANT 11-9 WIN OVER TAIPEI'S LU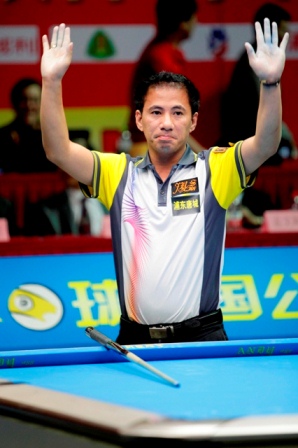 By Ted Lerner/WPA Press Officer
Photos Courtesy Tai Chengzhe and Yu Yan/Top147.com
(Shanghai)–With a grand finale performance that spoke of true greatness, the Philippines Dennis Orcollo capped an amazing week in Shanghai, winning the 2012 China Open Sunday afternoon with a brilliant 11-9 win over never-say-day Lu Hui Chan of Chinese-Taipei in front of several hundred people at the Shanghai Pudong Yuanshen Stadium arena.
Anyone who witnessed Orcollo's efforts out on the TV table today realized soon enough that they were watching a virtuoso at work.  Brilliant creative shot making, tenacious offense and defense, terrific concentration and the ability to absorb pressure were all on display from the 33 year old Filipino. The match nearly became a runaway but the fact that it wasn't spoke more of the courage of Lu, who did himself proud by battling back when it looked like he was finished.
But the beauty of Orcollo's massive victory in China didn't emanate from this one match. Orcollo spent the last four days grinding out some of the most hard core wins of his career. The field that descended on Shanghai was deep and at every turn players were leaving pieces of themselves out on the tables.  Orcollo actually lost his first match in the group stage 9-8 and had to win two tight matches on the losers' side to make it to the round of 32.
In the knockout stage which began Saturday, Orcullo put in yeoman's efforts in taking down three top Chinese players, all of whom brought their A-games to the arena. Today in the semi-final, Orcollo whipped Taiwan's red hot Chang Yu Lung.  And when it came time for the final, the Filipino was primed and ready. And so was Lu.
The match was high quality from the start as the pair split the first six racks, complete with two break and runs each and with both players potting extremely difficult balls.
It was then that Orcollo decided to put his foot to the floor as he went on a seven rack tear, executing creative combinations, kisses, rail first kicks and pots. Up 9-3 he was clearly in the zone and putting on a master class.
Chan could have easily given up hope but he stood his ground and managed to get two back to move the score  to 9-5. He then cleared when Orcollo scratched off the break, and then broke and cleared to get the score to 9-7. Orcollo countered to get to the hill and then so did Lu. Lu applied serious heat when he forced Orcollo into a foul and cleared to make the score 10-9.
With the pressure mounting Orcollo sucked it up and waited for his chance, which came in the 20th rack after Lu left the two ball showing.  The run out wasn't easy but since nothing this week had been it seemed only fitting.  When Orcollo sank the final 9 ball, he looked skyward, then bent over with his face down on the cloth for a few seconds as the emotions–exhaustion, elation, disbelief–came pouring out.
Clearly overjoyed, Orcollo afterward knew he had taken his game to another level this week in Shanghai. And he planned on making sure to remind himself and others for a long, long time.
"I feel great. This tournament is definitely more difficult to win than others that I've played in. It's really hard. There are so many good players here. You have to play consistently to win. I played really good all week. I was comfortable, I had good concentration, a good plan. I made sure not to show my emotions.
"This is the first time I played almost perfect from beginning to the end of a tournament. I lost my first match 9 – 8, then I win my next match 9-7, then qualified by winning 9-8. So when I qualified, I have a lot of confidence after that because I played good against good opponents.
"This is the first time I win a pro event in China. This is a big day for me, a wonderful day. This is the most special win of my career. It is amazing and I will never forget this. This trophy is going to go right in middle of my living room."
For winning the 2012 China Open, Orcollo pocketed $40,000. Lu took home $20,000.
Final Result
Dennis Orcollo(PHL) 9 – 2 Lu Hui Chan(TPE)
*The World Pool and Billiard Association(WPA) is the governing body of the sport of pocket billiards. The 2012 China Open is being sponsored by Star Tables, Andy Cloth, Fury, Holiday Inn Shanghai Pudong.