Southern Classic Wednesday Update: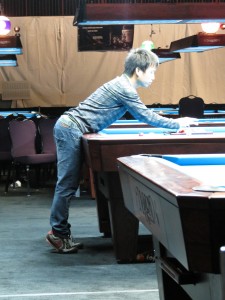 Alex Pagulayan racking on a 10 ft table
Southern Classic Wednesday Update:
The Diamond Tunica 10-Ball Challenge started with 16 players and after one full round is down to 8. The Johnny Archer defeated Stevie Moore in a Hill-Hill match on the first night and on the second night fans were treated to another Hill-Hill match between Earl Strickland and Shane Van Boening with Earl taking the win. The following is the first round
Charlie Bryant defeated David Gutierrez
Johnny Archer defeated Stevie Moore
Dennis Orcolo defeated Brandon Shuff
Phil Burford defeated Max Eberle
Ales Pagulayan defeated Darren Appleton
Jeremy Jones defeated Robb Saez
Earl Strickland defeated Shane Van Boening
Landon Shuffett defeated John Morra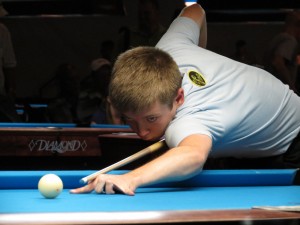 Landon Shuffett
Tonight in Round two of the single elimination event the matchups are:
Charlie Bryant vs Johnny Archer
Dennis Orcolo vs Phil Burford
Alex Pagulayan vs Jeremy Jones
Earl Strickland vs Landon Shuffett
Today will be the finials of the One Pocket and the second day of the 9 ball computation as well as the first day of the Artistic Pool Championship.