Amit Defeats Korea: China Still Chasing Yalin World 10-Ball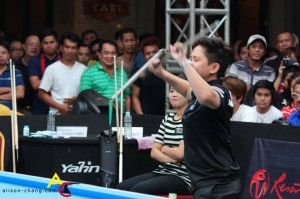 Manila, Philippines-   Rubilen Amit's quest to become the first ever two time World 10-Ball Champion is ony 2 matches away. Amit enters her 3rd semi-finals at the Worlds within 5 years. Meanwhile,  Han Yu is trying to give China it's first ever Gold at the Worlds , and first ever in a major outside of China.  Dragon Promotions brings the greatest women's tournament in the world once more to the Philippines with the 2013  Yalin Women's World 10-Ball Championship!  This year's edition will take place October 28th – November 4th,2013  to luxurious Resorts World Manila, an upscale hotel and casino adding onto the dynamic atmosphere of the coveted championship.  An elite 48 world class lady pros, the best of the best from 20 countries, will attend the event to decide who is the World Champion. Matches will air live daily from 2pm-7pm Manila time on www.insidepool.tv  and broadcasted worldwide by ABS-CBN Sports and affiliates.

Lights, camera and action: Extreme standing room only all day long at the Yalin Worlds
Amit jumped out to an early lead over Korea's Park and never let go. Park had just eliminated World #1 Sha Sha Liu of China, so Amit knew she could be dangerous. Park seemed to have run out of gas by the time she got to the quarter finals, and Amit cruised to a 8-1 win, with the crowd clearly behind her in each game.
"Having declining results here ever since my 2009 win has definitely been on my mind. So I've really trained hard for this one", explained Amit before the Worlds started a week ago.
Han Yu will be China's lone survivor from the original 8 players from her country that made it to Day 4. Yu had bronze medaled here at the Worlds in 2011. She has at least now matched that feat and looks to improve. China has been a powerhouse in pool nowadays, but their dominance has been primarily in mainland China. They have been winless here at the Yalin Women's World Championship because of what most people feel is neutral ground.
Today's semi-finals will be Kelly Fisher ENG vs Yu Han CHN  and Rubilen Amit PHL vs Pei Chen Tsai TPE
No Taiwanese  or Chinese has ever won the World 10-Ball. If Kelly or Rubilen wins, she will become the first player to win the World 10-Ball twice.
Watch it live at www.insidepool.tv      Www.womensworld10ball.com has complete group results.