Dick Jaspers wins his 25th World Cup in Porto Posted by Frits BAKKER on July 7, 2019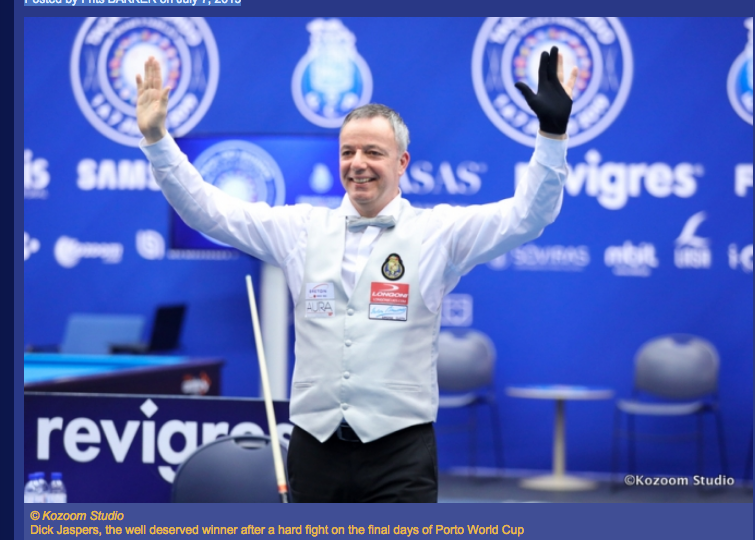 PORTO – The Dutchman Dick Jaspers has enriched his track record in Porto with a 25th victory in a World Cup. The home crowd in the FC Porto arena rewarded the world champion with a big applause after he defeated Korean HaengJik Kim in the final 40-36 in 21 innings. On the final day of the tournament, Jaspers not only showed his extremely high class, but most of all his feared mental power. The podium at the end was half European and half Asian with Dick Jaspers (gold), HaengJik Kim (silver), Lütfi Cenet and Myung-Woo Cho as the numbers three. The fourth 2019 World Cup was following the European Cup event, in which FC Porto with his leaders Dick Jaspers and Dani Sánchez just missed the golden medal. The Dutchman, who further strengthened his top position on the world ranking in Porto, donated the Portuguese stronghold a glorious climax.
The glitters fell down during the ceremony on the four well-deserved finalists, of whom Jaspers had to counter two frontal attacks on the last day in this World Cup. He did it first against Lütfi Cenet, not without luck in the shoot-out and in the final against HaengJik Kim with a sublime final sprint. "I had to work very hard in these two matches to reach this success," said Jaspers. "But I have proven again that I can take a punch. The victory over Dani (Sánchez) was a highlight and after that I got away quite well against Eddy Leppens. That makes me even more happy that I was able to win." The Dutchman already traveled up and down to his country this week to attend a graduation ceremony of his daughter Annet. After this World Cup, he leaves for the Netherlands again for a graduation of his son René, and then returns to Portugal for the Final Six. "I am very happy that I can still make time for my children this way."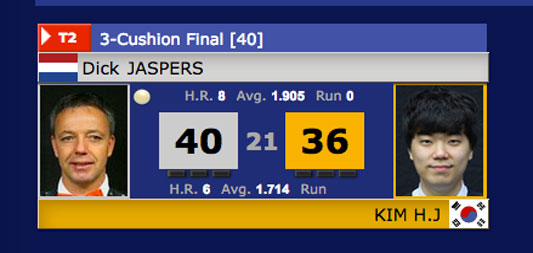 The final was launched by Jaspers with runs of 7, 3 and 8 for a 20-11 lead. Still, HaengJik Kim first came back to 30-30 and in the final even to 35-33. Jaspers showed the best final shot with runs of 5 and 2 for a 40-36 final score in 21. In his last four matches, Jaspers (among others with runs of 18 and 17) beat Eddy Leppens, Dani Sánchez, Lütfi Cenet and HaengJik Kim. HaengJik Kim defeated Eddy Merckx, Trung Hau Do Nguyen and Myung-Woo Cho before he had lost to Dick Jaspers in the final.
The most fascinating and miraculous match in this entire World Cup was the one between Dick Jaspers and Lütfi Cenet in the semi-finals. The Dutchman's fantastic start, with an early 17-run after his 18 on Saturday in his match against Dani Sánchez, was a highlight in the already brilliant performance of the world champion. He put Lütfi Cenet 23-9 down in seven innings, but the ice-cold Turk seemed not impressed. He started his catch-up race with two six runs and even took the lead in the 16th at 35-34. The miss, by a miscue, broke his rhythm for a while, but after three of Jaspers' minor innings, Cenet was the first to finish at 40-37. Jaspers came to a draw with three in the equalizer, making the shoot-out decisive to point out the winner.
Lütfi Cenet's miss (too long) opened the way for Jaspers to victory and a place in the final. "I often play my best matches against Jaspers, but this was the second or third time that I lost to him in a shootout", the whimsical, 39-year-old Turk mourned after a little rest. Cenet was the number 30 on the world ranking (now 22) before this World Cup, but was twice world champion with Turkey, including this year with Murat Naci Coklu in the final against the Netherlands.
Lütfi Cenet played an excellent World Cup in Porto with victories over Can Capak in the final qualifications, Semih Sayginer and HaengJik Kim in the first knock-out stage and Jung-Han Heo and Marco Zanetti on his way to the semi-finals. Cenet: "I feel ready for a new start after the world title in Viersen and this World Cup in Porto. The more I play strong opponents, the better my focus is and the better I feel. I showed it on Saturday against Zanetti and in this semi-final against Jaspers." The explination for his miss in the shoot-out: "The high tension, maybe. And I had no good contact at the ball."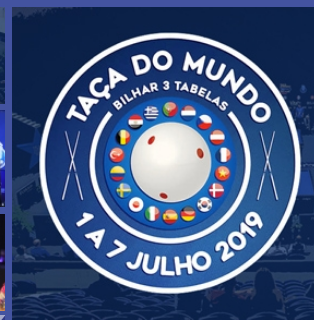 The Korean fight in the semi-finals was a one-way match. The more experienced HaengJik Kim (27) played a solid and modest game; Myung-Woo Cho (21) collapsed under the tension and stress, or just missed the feeling and bravery that made him so strong in the previous matches. Typical for his performance was young Korean's best run in this match: 3!!!! HaengJik Kim launched his attack in the sixth inning with 7 to 12-4, five innings later, directly after the break, with 6 to 27-7 and then hardly met any resistance from Cho, who strangely played half an average in fifteen innings. HaengJik was already at 33 in the 15th inning with a 6, but needed nine more innings for his last 7 points: 40-19 in 24.
Myung-Woo Cho couldn't find an explanation for his disappointing match. "I felt well before the start, not a bad condition, but the balls weren't be controlled as I wanted them."
The fourth World Cup in 2019 just missed the record of most high runs over 10: Two weeks ago in Blankenberge 53, now in Porto 52.
The Koreans In-Won Kang and Dong-Hoon Kim were the best day winners in the preliminaries, Eddy Leppens was the best in the final qualifying round, in which Myung-Woo Cho was the second runner-up to move up to the main draw.
Jacob Haack Sörensen was one of the star players, among others with a win over Dick Jaspers in the group stage of the main tournament. Dani Sánchez impressed as in his best days, before being eliminated by Jaspers, his leading player in FC Porto's team. Jef Philipoom, a former world champion in, played an excellent World Cup in his late days.
The players to whom a suspension was announced due to leaving to the Korean project, played their last World Cup. Frédéric Caudron said goodbye with a modest role: Myung-Woo Cho, the champion for the future, outplayed the Belgian in a high-level man-to-man fight.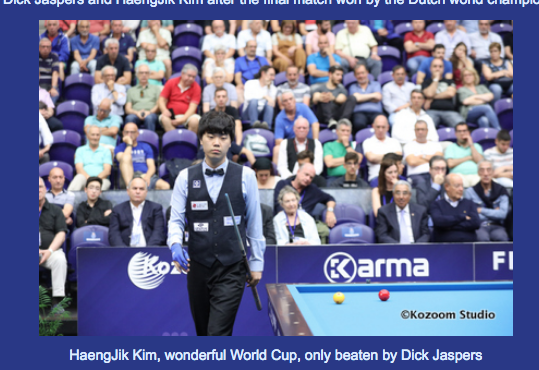 Dick Jaspers remains the number one ranked player in the world with a huge advantage over Frédéric Caudron and Marco Zanetti.
Mr. Farouk Barki, the UMB president, closed the World Cup with some friendly words to the players: "The UMB will always support you."
The final ranking in the World Cup in Porto:
1 Dick Jaspers 2.029-8
2 HaengJik Kim 1.935-13
3 Lütfi Cenet 1.818-13
4 Myung-Woo Cho 1.773-14
5 Dani Sánchez 2.243-13
6 Marco Zanetti 1.862-9
7 Dion Nelin 2.072-14
8 Trung Hau Do Nguyen 1.845-10
9 Eddy Merckx 2.064-10
10 Jacob Haack Sörensen 1.588-15
11 Tayfun Tasdemir 1.835-8
12 Jef Philipoom 1.794-12
13 Jae-Ho Cho 1.511-8
14 Eddy Leppens 1.500-11
15 Jung-Han Heo 1.494-9
16 Birol Uymaz 1.487-8
17 Nguyen Quoc Nguyen 1.416-10
18 Murat Naci Coklu 1.919-10
19 Frédéric Caudron 1.766-13
20 Dinh Nai Ngo 1.728-5.