A/D 9 Ball Tri-State Tournament held at Gotham City Billiards Brooklyn, N.Y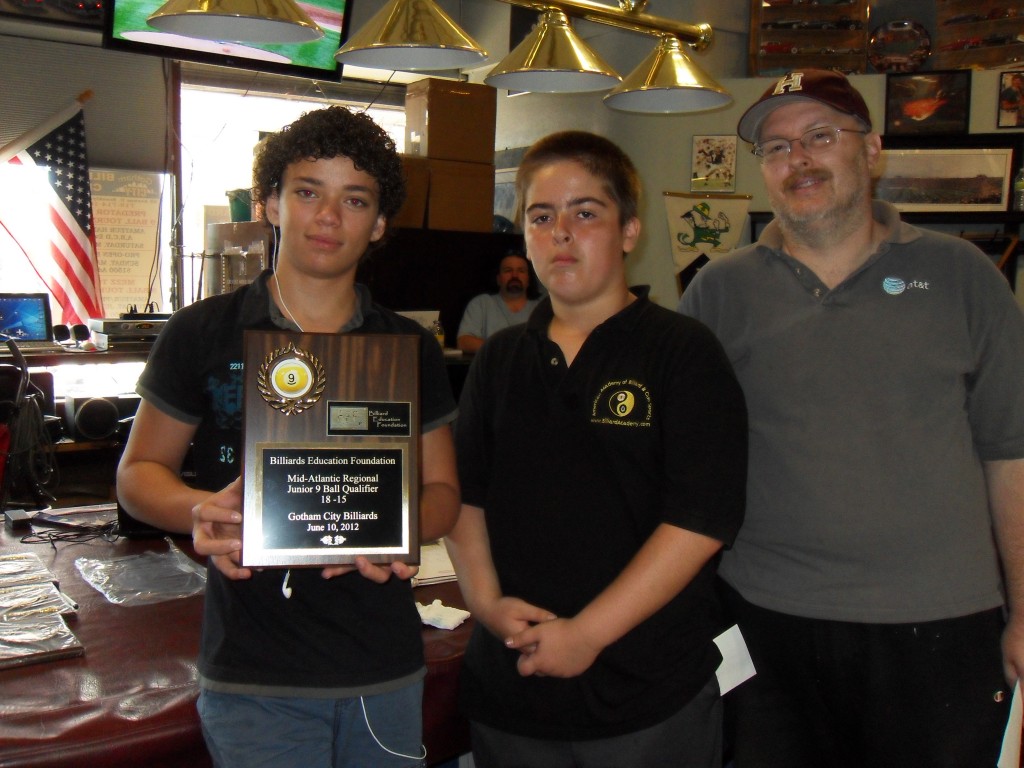 left to right: 1st place Brendon Hallock; 2nd place Sam Hoffman; right sponsor Bill Hoffman.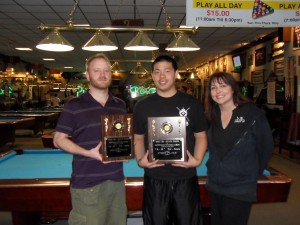 Left most  2nd Place Mike Harrington; 1st place – Richard Ng; owner Isabel Buckley.
Richard Ng wins his A/D 9 Ball Tri-State Tournament held at Gotham City Billiards Brooklyn, N.Y. His tournament trail included wins over Edward Ng 7 – 3; Raul Reyes 7 – 5; Paul Raval 7 – 0; Alex Osipov 7- 5; Scott Bannon 7 – 6 and Mike Harrington 7 – 6 to get into the Hot Seat. Mike then defeated Scott 7- 6 to face Rich for a second time.  The Final match was tied at 3 all before Rich gained the momentum and closed the match 7 – 3. Third place finisher Scott Bannon winning 6 matches and forth place finisher Mike Strassberg with a 5 & 2 win/loss record, deserve recognition for their fine performance. The next Tri-State event is a $1000 Added A/D at  Carom Cafe & Billiards in  Flushing, NY on June 16th, 2012.
Once again Kevin and Isabel hosted a great event in their beautiful room. Please provide a thank you to Sterling-Gaming, Ozone Billiards, Ron Tarr Cues, Kamui Tips, Phil Capelle, BlueBook Publishing, Human Kinetics for their sponsorship leading to this event.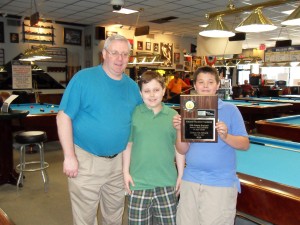 Owner Kevin Buckley, 2nd place Robert Buckley, right winner Thomas Rice.
In addition to the regular Tri-State event, Gotham Billiards in conjunction with Bill Hoffman conducted  two Mid-Atlantic qualifiers (14 years old & under, and tht 18 – 15 year old age bracket) for the Billiards Educational Fund  (BEF) – Junior National  Championship. Winner of the 14 & under group was Thomas Rice followed by 2nd place finisher Robert Buckley.