B/D Nine Ball, Tri-State event at Gotham City Billiards.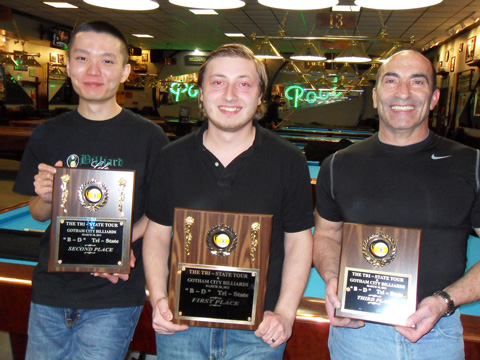 left to right:       2nd Place –  Nicholas Chan;  1st Place   – Koka Davladze ;   3nd Place  –  Joe Palone
Koka Davladze wins  Tri-State event at $1250 Added B/D 9 Ball event held at Gotham City Billiards in Brooklyn, N.Y. His tournament trail of 6 wins  and 1 loss, included wins over Tony Ignomirello 8 – 7; Edie Perez 7 – 4 ; Quin Y. Chen 8 – 5;  and Tyronnie Harlee 9 – 7;  before suffering a loss to Nicholas Chan 7 – 4 for the Hot Seat. From the loss side Koka Joe Palone 7 – 1, to face Nicholas a second time in the finals.  Koka finished the Finals in solid fashion with a 9 – 4 victory. Both third place finisher Joe Palone and Trevor Heal are to be congratulated for a strong showing with a 6 win/ 2 loss performance. Enough can not be said about the great equipment and hospitality of the Kevin and Isabel Buckley at Gotham Billiards.  The next Tri-State event is a $750 Added A/D at Port Richmond Billiards  in Brooklyn, NY on  March 24, 2012.  Please provide a thank you to Sterling-Gaming, Ozone Billiards, Ron Tarr Cues, Kamui Tips, Phil Capelle, BlueBook Publishing, Human Kinetics for their sponsorship leading to this event. Please leave tournament staff names out of this article, comments and credits to remain general.