Ladies Luckless at Predator International 10-Ball Championship
All 15 pro women in the event are now officially knocked into the losers side. None of the top WPBA or international women pros were able to make it out of round 1 and round 2. Of course it was a tall order from the start with 112 top players from around the globe. The 9th Annual Predator International 10-Ball Championship features live scoring of the entire event on www.Predator10ball.com . Ozone Billiards is sponsoring the site along with top sponsor JBETpoker.net on the Dragon Promotions production at the Riviera Hotel & Casino May 11-16,2009 during the BCAPL's National 8-Ball Championships.
Jasmin Ouschan after cruising through round 1, found herself in a losing battle against japan's Takami. Jasmin to her credit came back from a 9-6 deficit to tie at 9-9 but scratched the final game and lost. Yu Ram Cha faced USA' Sylver Ochoa and could not get going in a 10-6 loss. Vivian Villarreal got a lesson from USA top pro Shawn Putnam 10-2. Kelly Fisher lost a narrow 10-8 to Mike Davis.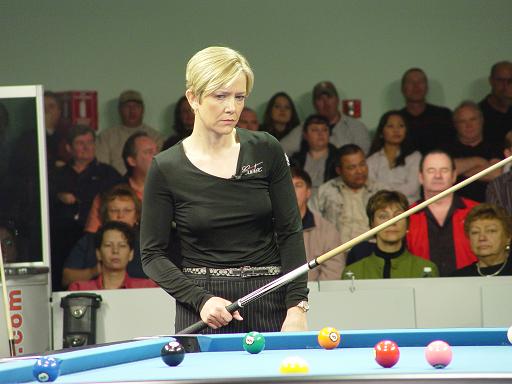 photo courtesy WPBA
The strong and valiant Fisher was not able to stay off Van Corteza
The nail in the coffin was Allison Fisher versus Filipino hot shot Lee Van Corteza. Fisher, hailed to be the top women's player in history, looked strong at a 3-0 lead, but the tables quickly turned as she was outplayed by the Filipino and succumbed 10-6.
Many ladies will still be in through tomorrow including Jeanette Lee, Yu Ram Cha, and more.
Players or fans wanting info please email world10ballchampionships@gmail.com or call 1-407-782-4978 www.dragonpromotions.com
For more info on The Predator International 10-Ball Championships goto www.predator10ball.com
Ozone Billiards www.ozonebilliards.com is also joined by www.Jbetpoker.net, Simonis Cloth, Diamond Tables, Aramith Balls, Laser Rack, Uni-Loc, and the event host BCA Pool Leagues in this Dragon Promotions production.
Predator Group, an international billiards industry leader, is focused on bringing constant innovation and game-improving equipment to billiards players worldwide. Headquartered in Jacksonville, Florida, USA, Predator Group's core brands include Predator Cues – high-end (professional level) cues with revolutionary technology to enhance performance, Poison Billiards – recreational cues with cutting-edge designs and Predator engineering for best-in-class playability, and Uni-Loc® – precision billiards equipment manufacturer. For more information regarding Predator Group's products, visit www.predatorgroup.com.
Dragon Promotions is one of the leading producers of billiard programming in the world today. Dragon produces over 40 events a year airing on networks in the Philippines, USA, Korea, India, and Europe such as ABS-CBN, ESPN, MBC ESPN, XTM, XPORTS, and Euro Sport. Events include The Women's World 10-Ball Championship, The World 14.1 Championship, The Predator International 10-Ball Championship, King & Queen of Carom, Empress Cup, Pro Pool Schools, Women's Trickshot Challenge, World Junior 10-Ball Championships, Korea vs USA, and many more. Dragon also manages some of the world's best players including Mika Immonen, Shanelle Loraine, Mike Davis, Yu Ram Cha, Raj Hundal, , Rodney Morris, Charlie Williams, and many more.