Winner of Summer Classic II
Winner John Hennsesse                Justin Bergman 2nd Place
48 players came to battle to see who would be the winner of the Summer Classic II. Another dominating performance by Hennsesse taking down both the Mid-Night Madness and Summer Classic Tournament.
Atmosphere was great all weekend. Over $7,000 was paid out over the weekend and all had fun and good food.
As always Woody Custom Cues was on hand to take care of all the players cue needs.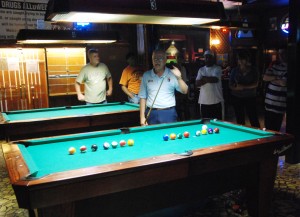 Tom "Dr. Cue" Rossman Artistic EZPN Champion made a
special guest appearance and dazzles the crowd with his Amazing trick shots.
The crowd was lining up for his autographs and all had a great time.
MIDNIGHT MADNESS
ENTRY WAS $150
Race to  9, Single Elim and played on Diamond bar boxes
It was a great match between Hennsessee and Perez, but Hennsesee taken it
9-7 and the winner received $1000 and 2nd $200
JOHN HENNSESSEE
SERGIO PEREZ
CHUCK RAULSTON
PAUL DODGE
RICKY LEATHERWOOD
KENNY LOFTIS
DANNY KEY
ROB SACZ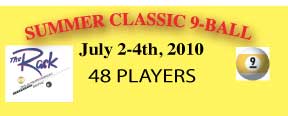 Check back later to find out more results.

Name of players are listed below
SUMMER CLASSIC 2011
NAMES
1
CORY BESINGER
2
TREY HARRINGTON
3
REX HARRINGTON
4
CARLOS RAMOS
5
WILL SIMOINS
6
GERALD MILIONE
7
JASON FOUTCH
8
JAMES MULLIN
9
JOHNNY FLINT
10
JOHN WILLIS
11
HENRY GOODMAN
12
ROB SAEZ
13
ERIC HICKS
14
JAY CARTER
15
EDDIE ADAMS
16
MARSHALL BEACH
17
VIRGIL DAVENPOST
18
ISAAC RUNNERLS
19
RON ALLEN
20
BENARD WALKER
21
BOB HUNT
22
JOSH GILMORE
23
A.J. JONES
24
DANNY KEY
25
MATT MARTIN
26
ANDY SHORT
27
PAUL DODGE
28
CHUCK RAULSON
29
WADE KEELING
30
HENNSESSEE
31
AMANDA
32
SERGIO PEREZ
33
WILL TALYOR
34
KENNY LOFIS
35
GREG DICKENS
36
DUSTIN VO
37
PETER GEE
38
STEVE FARLEY
39
JON KEIPER
40
MAX TERTHUNE
41
JUSTIN BERGMAN
42
MIKE MERCURIO
43
BOBBY EARL
44
CHRIS SWORD
45
LUKE SUTLIFFE
46
RICKY LETTERWOOD
47
DUSTIN WILKINS
48
TAZ HOLIDAY