U.S.A Wins The Partypoker MOSCONI CUP 2018
Europe 9 – 11 USA
Match 16      Albin Ouschan 4 – 5 Skyler Woodward                      
Match 17      Jayson Shaw 5 – 3 Tyler Styer
Match 18      Niels Feijen 5 – 1 Corey Deuel
Match 19      Eklent Kaci 5 – 2 Billy Thorpe
Match 20      Alex Kazakis 3 – 5 Shane van Boening
THE partypoker MOSCONI CUP has changed hands for the first time in eight years as Team USA enjoyed a thrilling and dramatic 11-9 victory at the Alexandra Palace tonight. The last time they lifted the Cup was as long ago as 2009 and it was the same man – Shane Van Boening – who deposited the final 9 ball with a 3/9 combination to beat Alexander Kazakis and win the Cup.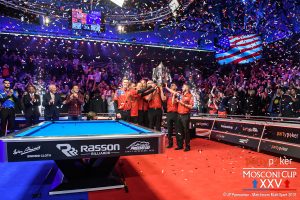 For Van Boening it was his second MC win in 12 starts as his combo secured victory; "I've never felt so much pressure in my whole life, it was a guess shot! All those years struggling and we've finally won. I'm so proud of these guys and all the fans out there."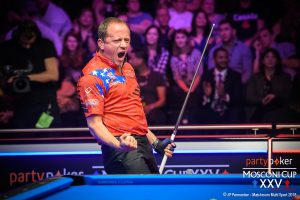 "It means a lot to me. We worked hard together and I learned a lot from all these guys and have become a better player. We all get along and respect each other and the other team and that is important and that's why we won, through working hard together."
The Americans had led 9-6 going into the final day after having won the three daily sessions 3-2 apiece – the first time since 2005. Euro captain Marcus Chamat understandably needed to pack his early order out with his biggest guns and he went with Albin Ouschan who had won his previous singles match on Wednesday.
He faced Skyler Woodward, who thus far was having a dream Mosconi Cup after such a disappointing time last year. Like so many of the matches this week, it went down to a decider and after some exchanges on the 1 ball, Woodward took out a great jump shot on the 1 ball to pocket it and set up a superb run-out to put Team USA on the hill.
Every match was now do-or-die for the European team and it was Jayson Shaw who kept them alive as he beat Tyler Styer 5-3. The young American made too many mistakes for a player of Shaw's obvious quality as the score moved to 10-7 to the USA.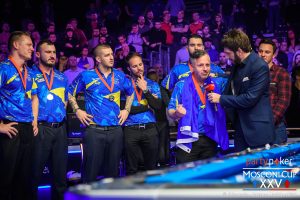 There was more Euro fightback in the next match as Niels Feijen looked a different player to the tentative performer of the first three days as he beat Corey Deuel. The American had been vulnerable throughout the week and Feijen capitalised on that.
With the score at 10-8 now, the Europeans were feeling a lot better than the start of the evening. And they pilled the pressure on the Americans as World No.1 Klenti Kaci came good to beat Billy Thorpe 5-2. It was now a pressure cooker in the arena and with the score 10-9, the Americans needed one and the Europeans needed two.
The stage was set for Shane Van Boening to complete the victory as he overcame a game Alexander Kazakis to send the US team and fans in delirium.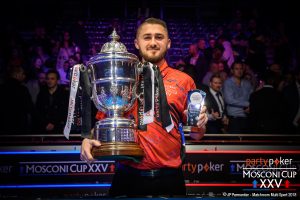 Skyler Woodward, who was named MVP for his leading tally of points said, ""I'm so happy that we won it! It feels great to help the team win. When one plays great, all of us play great and we couldn't have won it without each other.
"I couldn't play any worse than last year! Johan helped me out developing my stroke over the past six months and I got more committed, quit drinking and started practicing more."
Finally, super-skipper Johan Ruijsink added, "It was completely different from handling Europe and more than hard work. They battled so hard on the last day. We worked for half a year and everyone puts in a lot of sacrifices and this is unbelievable. We're a team, we're committed and we work hard.
"We made a line up for last day with an anchor man at the front and anchor man at the back and anything else was a bonus. I'm so happy for Shane that he secured the Cup with a great combination.
"Jeremy Jones has got that table knowledge, experience and is a genuine character. Every time when I needed to be aware of behaviour of players, he's looking at table and the strokes. I can't explain how much he meant to the team with his work and knowledge and passion for pool."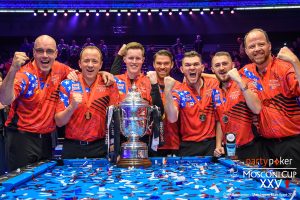 RECORD FIGURES MAKE 2018 THE MOST SUCCESSFUL YEAR EVER FOR PARTYPOKER MOSCONI CUP
USA's dramatic partypoker Mosconi Cup victory was witnessed by record viewers around the world and the highest live gate in the tournament's history with close to 2,500 fans packed into Alexandra Palace, London each night as America defeated Europe 11-9 to win back the famous trophy.
Shown live by networks in over 130 countries worldwide, the drama of the 2018 partypoker Mosconi Cup was enjoyed by viewers across the globe. In USA, Central and South America and on the Indian Subcontinent the tournament's partnership with Facebook meant fans were able to enjoy a free live stream, which was seen by over 2million people. The continued growth of pool's biggest tournament was further evidenced online, where the partypoker Mosconi Cup's digital footprint continued to expand, reaching and engaging with more fans than ever before.
Already, tickets for the 2019 partypoker Mosconi Cup – to take place at Mandalay Bay Resort, Las Vegas from November 25-28 – have seen their highest ever opening-week sales, with Gold seating sold out. As a result, there will be an increase in both win and appearance fees for the 2019 partypoker Mosconi Cup with both winners' and runners-up prize money increased by 50%.
Emily Frazer, Chief Operation Officer of promoters Matchroom Multi Sport, said: "After our most successful and entertaining year at the partypoker Mosconi Cup, it only felt right to reward the players with an increase in prize money by 50%.
"This year's event reached our highest live attendance numbers, television and live stream viewership and is now ranked as the best event in this sport – and therefore it should be taken to the next level. The atmosphere was electric at the Alexandra Palace and we have our 2,500 fans to thank for this and we only hope to recreate this at the Mandalay Bay from November 25th.
"Pool is in a great place right now, and let's make sure everyone knows it!"
Tickets for the 2019 partypoker Mosconi Cup are available now at www.mosconicup.com. Prices start at $48 per session with season tickets at $161 silver. Gold seating is now sold out. VIP Platinum packages are available priced $225 per day or $950 for all four days and include a breakfast buffet, unlimited drinks, VIP seating in the front three rows and much more.