Xiao-Ting Pan Unleashes the Fury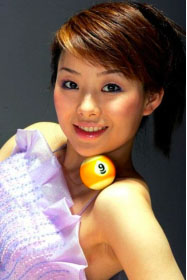 Xiao-Ting Pan Unleashes the Fury
Charlotte, NC – June 1, 2011
Fury Cues is proud to announce the addition of their most recent pro player representative, Xiao-Ting Pan. Pan's talent and growing list of achievements have made her one of the most famous female players in China.
Pan burst onto the American pool scene in 2006 with a number of wins in regional tournaments, and even secured WPBA Rookie of the Year honors. The following year, 2007, she proceeded to win the WPBA Great Lakes Classic event and the WPA World 9-Ball Ladies Championship. In 2008, she captured the Generationpool.com Open 9-Ball Ladies Championship, and then went on to win the 2010 WPBA Tour Championship.
"To have a true international champion such as Xiao-Ting Pan representing Fury Cues is thrilling, and a testament to the progress of craftsmanship Fury Cues have made since they debuted at the Super Billiards Expo in 2003" says Matt Carter, general manager of Sterling Gaming, the exclusive distributor for Fury Cues in North America. "Pan joins American John Schmidt and UK native Kelly Fisher as world champions who stake their careers on the quality of Fury Cues and we are very excited about what the future holds for this talented group of players."
For more information about Fury Cues visit http://www.fury-cues.com/ or contact the exclusive North American distributor, Sterling Gaming, 3372 Smith Farm Rd, Matthews, NC 28104 877-283-7444, http://www.sterling-gaming.com/.