Carbin Captures Opening 2011 USSA Snooker Tour Event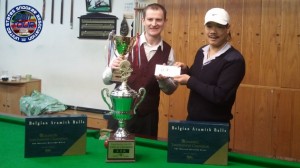 Winner of Event 1 of the 2011 USSA Tour, Paul Carbin
(pictured left) with the proprietor of the Prince Snooker Club,
Tommy Chen, presenting the trophy
Paul Carbin (Queens, NY) has captured the Prince Snooker Classic – Event 1 of the 2011 United States Snooker Association (USSA) Tour, sponsored by Aramith billiard balls and Strachan West Of England snooker cloth, with victory at the Prince Snooker Club in Brooklyn, NY, February 26-27. Carbin, who honed his considerable snooker skills back in his native Ireland, was a losing semifinalist in this event last year, though this year secured his first ever USSA Tour event win with a 4-2 victory in the final over Henry Wong.
Carbin's progress to the final was very comfortable, as he eased through the group phase to advance into the knockout stage of the event without losing a frame, recording successive Group C 2-0 match wins over Tommy Chen, Ahmed Mehega and Peter Chen, to top the group. Carbin then faced Chen Yan Jun, who finished runner-up of Group D, in the quarterfinals and raced away to a 3-0 success to set up a semifinal match-up against the reigning and twice United States National Snooker Champion, Ahmed Aly (Brooklyn, NY). Aly, who had won Group B with three successive 2-0 victories and had advanced through the quarterfinals by overcoming the runner-up of Group A, Ng Guo Ning, by a 3-1 scoreline, defeated Carbin at this stage of the event last year, but Carbin proved to be too tough of an opponent on this occasion and ran out a surprising 4-1 winner.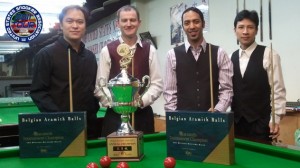 The four semifinalists of Event 1 of the 2011 USSA Tour,
(pictured left to right) Henry Wong, Paul Carbin, Ahmed Aly and Yan Y. Zhen
Wong's passage to the final was somewhat more difficult after finishing top of Group D, as he then got through his quarterfinal tie against the runner-up of Group B, Laszlo Kovacs, by a narrow 3-2 margin. Wong then faced Yan Y. Zhen in the semifinals, who had previously topped Group A in good form with three 2-0 match successes before then – claiming a 3-2 quarterfinal success over Group C runner-up Tommy Chen. This semifinal encounter was a repeat of their Round of 16 match in last year's United States National Snooker Championship at the Embassy Billiards Club in San Gabriel, California. Wong won that tie 3-2 and this again went down to the final frame as Yan again succumbed to a 4-3 loss.
The USSA would like to give its thanks to all the participants of this event, and also to Tommy Chen, the proprietor of the Prince Snooker Club for his continued support in hosting yet another successful USSA Tour event.
The USSA Tour next moves on to California for a new event to be staged at the Ace Snooker Club in San Mateo over the weekend of March 26 & 27.
– Remaining 2011 USSA National Snooker Tour Schedule –
· San Mateo, CA – ACE Snooker Club – Contact Eric Ng (415-317-9999)
March 26 -27, 2011
· Las Vegas, NV – Las Vegas Cue Club – Contact Jimmy Wych (702-302-6222)
April 2-3, 2011
· Brooklyn, NY – Club 147 – Contact Jian Qiang Wang (718-415-2335)
April 9-10, 2011
· Mountain View, CA – Shoreline Billiards – Ajeya Prabhakar (USSA rep. – Tel. 408-203-6721)
April 23-24, 2011
Mountain View, CA – California Billiard Club – Bob Jewett (USSA rep. – Tel. 408-615-7479)
May 14-15, 2011