The Pearl" Heads to UAE for 2011 World 8-Ball Championship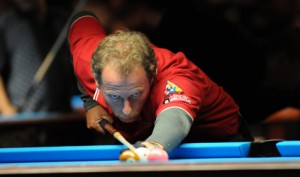 After a 3 year hiatus from the world pool stage, legend Earl "the Pearl" Strickland is back and in prime form. "The Pearl" will once again be representing the United States in the World 8-Ball Championships February 19-26, 2011 in the United Arab Emirates.
Sponsored by Mike Gulyassy Custom Cues, Ice Breakers Billiards, and CueSports International (CSI), Strickland received his well earned invite to the world 8-Ball event due to his stellar comeback throughout the past year. In 2010, he started the year winning the 8-Ball division of the U.S. Bar Table Championships and ended the year winning the Steve Mizerak Championship and tied for 7-8th in the Turning Stone Classic XVI.
Strickland ascended the U.S. ranks quickly in 2010 and is currently the 6th highest rated U.S. player. Buzz has already started about the possibility of Strickland once again being invited to play on the U.S. Mosconi Cup Team. If this occurs, it would mark Strickland's 14th and unprecedented year playing in the popular and revered U.S. vs. Europe team event produced by UK firm Matchroom Sport.
While some argue that competitive pool is a young man's sport, the 2006 Hall of Fame recipient, 5 time U.S. Open 9-Ball and the 6 time world champion is poised to prove that perception wrong. At 49 Strickland is playing better than ever and is more determined than ever to win. Also known for his natural athletic ability, "the Pearl" adheres to a regime that includes running approximately 8 miles a day. He is also known for his prowess on the golf course.
The world 8-Ball event conflicts with the 18th U.S. Bar Table Championships, which is produced by Strickland sponsor CSI. However, CSI fully supports "the Pearl" in his decision to play in Fujairah and wishes him the best in the World 8-Ball Championship. For more information about Earl Strickland visit his page on the CSI site at www.playcsipool.com.
CueSports International is dedicated to creating more choices for all players. CSI is the parent company of the BCA Pool League and the USA Pool League. CSI also produces independent events such as the U.S. Bar Table Championships, the Jay Swanson Memorial and the U.S. Open 10-Ball Championship. Visit www.playcsipool.com, www.playbca.com and www.playusapool.com for more information about CSI and its divisions.